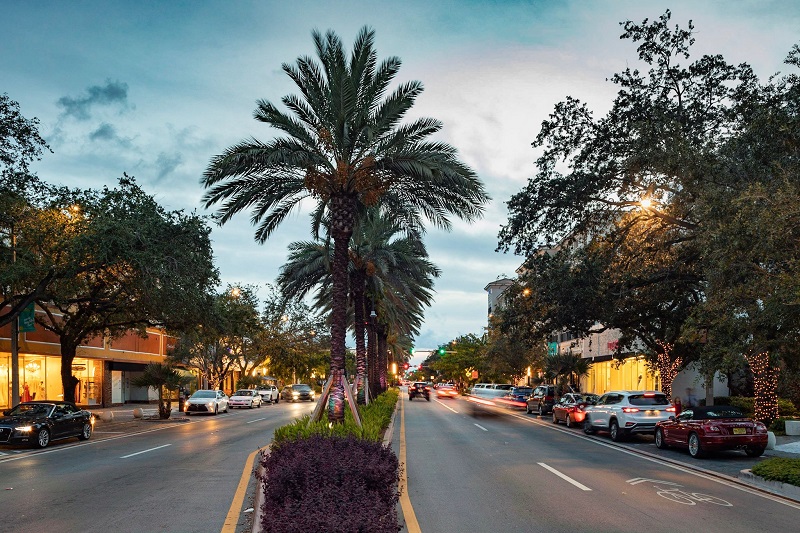 Representing tenants and businesses that form the soul of The City Beautiful's bustling Downtown for over 25 years, The Business Improvement District (BID) of Coral Gables commemorates a prestigious moment for the city this year. Downtown Coral Gables, with its Miracle Mile, is an elegant and sophisticated destination for dining and entertainment. The BID curates special events year round to attract locals and tourists alike to the growing area featuring the inaugural 'Sip & Savor in the Gables' event taking place starting July 14 through July 31, 2022.
The BID's mission to market and advocate for the Downtown area extends to creating unique programs and events, creating a lively epicenter infused with international flair, one-of-a-kind offerings and experiences in the community and more. In previous years, BID developed many successful culinary programs and initiatives including the famed Coral Gables Restaurant Week and Culinary Month among other events.
Sip & Savor in the Gables is an inaugural summer program aimed to celebrate the area's cuisine and creativity where a selection of participating restaurants will offer diners a cocktail and appetizer special. The menu items will be priced individually ranging from $7-$12 and available daily from 4-7PM throughout the two weeks. Patrons can expect an impressive culinary journey featuring curated cocktails and bites from top chefs and mixologists in Downtown Coral Gables.
This year's Sip & Savor in the Gables lineup boasts more than 20 restaurants including: Bay 13, Calista Greek Seafood Taverna, Calle 23, Cebada Rooftop, Copper 29, Crudos ArtHouse, Fogo de Chão, Gustave, Kao Sushi and Grill, La Palomina Parrilla De Autor, Luca Osteria, Opera Italian Restaurant, Talavera Cocina Mexicana, Tempo Restaurant, Tur Kitchen, Vinya Table, Zitz Sum, Zucca and 77 Sportbar. Each restaurant will offer a special Sip & Savor menu featuring specials for diners to enjoy.
"We're thrilled to launch Sip & Savor as our first-ever summer wide happy hour-esque program to introduce diners to the growing culinary scene in Downtown Gables," said Aura Reinhardt, Executive Director of the Coral Gables BID. "We're always striving to give back to the Downtown Coral Gables community and restaurant scene and this event will attract foodies, families, wine lovers and people of all ages to the BID throughout the summer and beyond."
The two-week program will kick off with an exclusive, special cocktail reception that will take place on July 13 to officially launch Sip & Savor in the Gables to the community.
To celebrate 25 years of thriving business, the Coral Gables BID has launched ongoing events, and creative initiatives that will be showcased throughout 2022: the six concert performances hosted in partnership with the Frost School of Music in Downtown on McBride Plaza, or the Capture Coral Gables photography competition at the CG Museum, Downtown Community clean ups or pop-up Shakespeare shorts in courtyards and gardens throughout town among other events.
For more information about Sip & Savor in the Gables and its participating restaurants and menus, visit www.ExperienceCoralGables.com.
WEBSITE / SOCIAL MEDIA
Website: www.ExperienceCoralGables.com / https://www.ExperienceCoralGables.com/Sip-Savor
Facebook: /ExperienceCoralGables
Instagram: @ExperienceCoralGables
ABOUT BUSINESS IMPROVEMENT DISTRICT OF CORAL GABLES
The Business Improvement District (BID) is an autonomous non-profit organization dedicated to advancing commercial vitality in Downtown Coral Gables and Miracle Mile—a 19-block area in the city core designated as the District. Providing marketing and advocacy support for property owners and businesses, the BID counts among its members 370 businesses, of which approximately 260 are retail and restaurant establishments, as well as 128 property owners. Since its establishment 25 years ago in July 1997, BID has served as a catalyst for positive change spearheading myriad initiatives and events, including Giralda Under the Stars, Coral Gables Culinary Month, Halloween on the Mile, the Instagram worthy Fall Pumpkins Arch, Winter Holiday Market and more. For more information, please visit: www.experiencecoralgables.com.