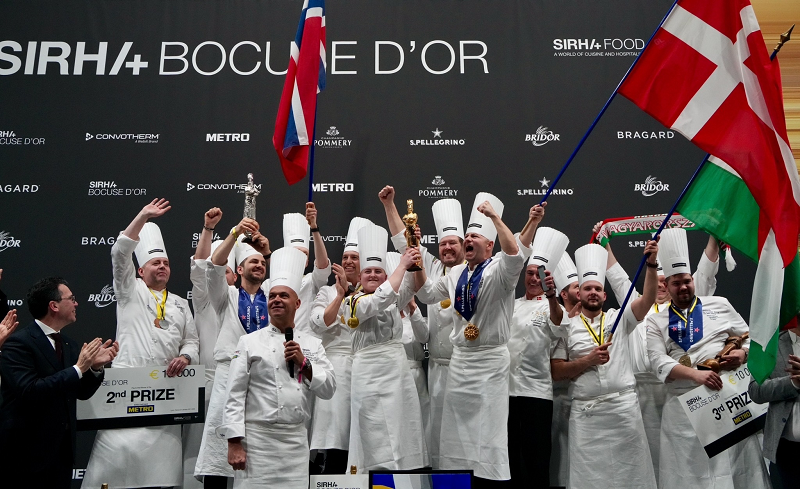 On 23rd January 2023, after two days of high-level competition, the victory of Denmark represented by Brian Mark Hansen and his commis Elisabeth Madsen closes the 19th Grand Final of the Bocuse d'Or, thus succeeding the French Davy Tissot, Bocuse d'Or 2021. The team from Norway, composed of the chef Filip August Bendi and his commis Leon Haarberg Nilsen came second and won the Bocuse d'Argent, while Hungary represented by Bence Dalnoki and his commis Patrik Nyikos completed the podium.
Photo credit: White Mirror
The 24 members of the Jury gave their verdict after five and a half hours of tests, rewarding technique, product presentation and non-waste.
"An innovative and inspiring edition for future generations! attests Jérôme Bocuse, President of the Bocuse d'Or. The Feed The Kids test is the perfect expression of the importance of introducing young people to eating well and thus carrying the values of tomorrow's chefs."
All the candidates had to highlight monkfish for the platter test, and sublimate squash during the new "Feed The Kids" test, aimed at promoting education on eating well among the younger generations.
"I came here in all humility, to be inspired by those chefs, explains Dominique Crenn, Honorary President of this edition. I loved that there were so many countries, so many different cultures, and they all told us their story, not the one of others. The children who watched the Bocuse d'Or can now say to themselves, I can also be there, I also have a story to tell."
The results of the Grand Final of the Bocuse d'Or 2023
Bocuse d'Or : Denmark – Brian Mark Hansen
Bocuse d'Argent : Norway – Filip August Bendi
Bocuse de Bronze : Hungary – Bence Dalnoki
4th: Sweden – Jimmi Eriksson
5th: France – Naïs Pirollet
6th: Finland – Johan Kurkela
7th: United-Kingdom – Ian Musgrave
8th: Iceland – Sigurjón Bragi Geirsson
9th: United States – Jeffery Hayashi
10th: Switzerland – Christoph Hunziker
11th: Canada – Samuel Sirois
12th: Japan – Tomoyuki Ishii
13th: Estonia – Alexander Gureev
14th: Belgium – Sam Van Houcke
15th: New-Zealand – Will Mordido
16th: Colombia – Carlos Pajaro
17th: China – Nick Yuli Lin
18th: Australia – Alex Mcintosh
19th: Mauritius – Kritesh Halkory
20th: South Korea – Byeonghyen Hwang
21st: Chile – Ari Zuñiga Salas
22nd: Mexico – Marcelo Hisaki
23rd: Morocco – Faical Zahraoui
24th: Sri Lanka – Mihishan Rashminga Silva
Best commis award: Norway – Leon Haarberg Nilsen
Best "Feed the Kids" test award: France – Naïs Pirollet
Best theme on a platter award: Sweden – Jimmi Eriksson
Social Commitment Award: Mexico – Marcelo Hisaki
After his victory during the European selections, Brian Mark Hansen once again succeeded in making Danish gastronomy shine at this Grand Final, taking over from Ronni Vexøe Mortensen, runner-up in 2021. Based on the theme of fairy tales and inspired by the famous Danish author Hans Christian Andersen, Brian Mark Hansen's menu was a hit with the jury.
The next major event will be held in Trondheim, Norway, for the Bocuse d'Or Europe 2024, which will take place on 19th and 20th March 2024 for the European selections for the next Bocuse d'Or.