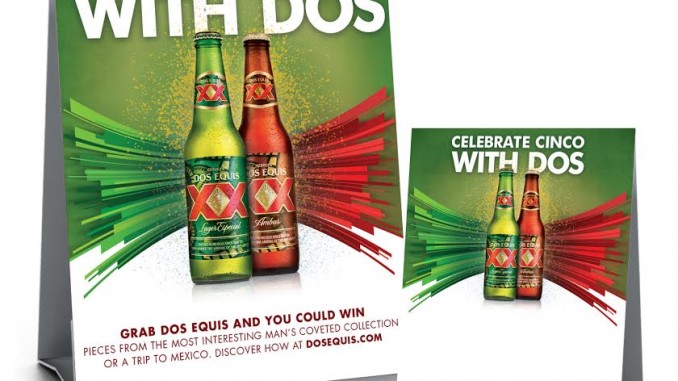 DOS EQUIS ENCOURAGES CONSUMERS TO CELEBRATE CINCO WITH DOS
Dos Equis is making a festive day even more interesting by giving LDA+ consumers everything they need for their best Cinco de Mayo celebration ever. The fully-comprehensive, 360° program featuring national TV advertising, media partnerships, limited edition packaging and a national sweepstakes, will encourage consumers to celebrate with Dos Equis and enter for a chance to win items from the Most Interesting Man's coveted collection of worldly possessions guaranteed to upgrade any Cinco de Mayo Celebration.
"As the upscale Mexican import of choice, Dos Equis Cinco de Mayo program has all the elements to stand out from the competition during the weeks leading up to Cinco de Mayo, a holiday typically cluttered with Mexican beer brand promotions," said Andrew Katz, VP Marketing for Dos Equis. "By upping the stakes and making things even more interesting this celebratory season, Dos Equis will be the beer of choice for Cinco de Mayo."
To drive awareness of the program, dedicated TV spots running from late March through Cinco de Mayo accompanied by heavy-up social media support will initiate program buzz and drive mass conversation. Additionally, Dos Equis is partnering with digital vendors including Evite, Google Search, Ibotta, and Drizly to deliver targeted content and offers designed to drive shoppers online to enter the sweepstakes and in-store to purchase Dos Equis.
In-store, eye-catching, scalable displays will encourage shoppers to choose Dos Equis to elevate their Cinco celebrations. In addition, limited-edition primary and secondary packaging for Dos Equis Lager and Ambar will drive appeal and purchase while compelling IRC (instant redeemable coupon) and MIR (mail in rebate) offers (where legal) provide retailers with secondary display opportunities to drive higher basket rings. On-premise, custom designed POS elements will drive engagement and incremental sales of Dos Equis. In select accounts, Dos Equis ambassadors will be on hand to sample patrons (where legal), invite them to enter the sweepstakes and encourage them to choose Dos Equis for a more interesting Cinco celebration.
Through pre-shop tactics, in-store and on-premise merchandising and on pack messaging, Dos Equis will invite consumers to enter the program sweepstakes for a chance to win items from the Most Interesting Man's coveted collection of worldly possessions. Whether it's a trip to his hacienda in Mexico, his Spanish guitar as seen in last year's Cinco commercial or the portrait of a woman from his last TV appearance, all prizes are one of a kind items guaranteed to upgrade any Cinco celebration. https://www.youtube.com/watch?v=NDLKZ6c0JW0.
The call to action will drive consumers to dosequis.com, which will serve as the hub for fans, shoppers and patrons to enter the sweepstakes and get tips on how to celebrate Cinco.
"Dos Equis' Cinco de Mayo programs are a proven success," continued Katz. "The Dos Equis franchise outpaces the competition during the week leading up to and including Cinco[1]. Our 2016 program is designed to take our consumers and our retail partners Cinco de Mayo experience to even greater heights in 2016."
About HEINEKEN USA
HEINEKEN USA Inc., the nation's leading upscale beer importer, is a subsidiary of Heineken International BV, the world's most international brewer. European brands imported into the U.S. include Heineken, the world's most international beer brand, Strongbow Hard Apple Ciders, Desperados, Amstel Light, and Newcastle Brown Ale. HEINEKEN USA also imports the Dos Equis Franchise, Tecate Franchise, Sol, Indio, Carta Blanca and Bohemia brands from Mexico. For the latest information on our company and brands, follow us on Twitter @HeinekenUSACorp, or visit HEINEKENUSA.com.