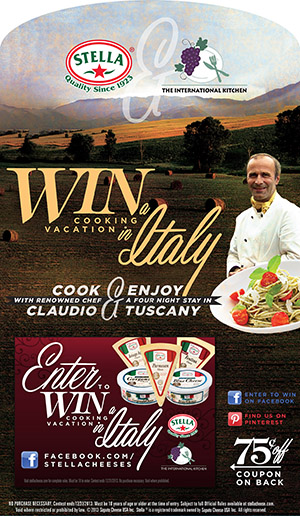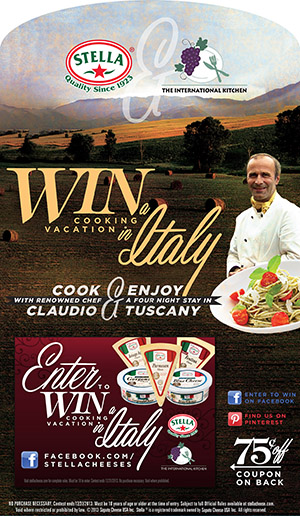 One lucky consumer will be rewarded with a cooking adventure for two in Tuscany, Italy, as part of Stella cheeses' November/December enter-to-win contest. The winner's holiday will include round-trip airfare and participation in "A Classic Tuscan Table with Chef Claudio," an authentic, hands-on cooking course featuring simple yet refined Tuscan dishes. Complimentary lodging at Chef Claudio's charming cottages, a series of guided wine tastings and cultural excursions to the surrounding area are also included in the prize package.
"Stella cheeses are perfect in a wide variety of dishes, but even with these great flavors to work with, it's easy to fall into a culinary rut," says Katie Jury, Marketing Manager for Saputo Cheese USA Inc.'s specialty cheese brands. "We couldn't think of a better way to re-energize one lucky contestant's love of cooking than an immersive cooking vacation. Who wouldn't want to learn how to make classic Italian recipes from a world-famous professional chef in the midst of the breathtaking meadows, vineyards and olive groves of Tuscany?"
In-store shelf talkers with tear pads featuring a coupon can be found in participating retailers throughout the contest. Additionally, consumers with smart phones can connect directly to the contest website to access the online entry form and contest rules. Full contest details, including an entry form, will also be available on the brand's Facebook page.
Details about the Stella "Win a Cooking Vacation in Italy!" promotion will be available on the contest website throughout the promotion. Additionally, contest information and product serving suggestions can be found on the brand's Pinterest page. The contest winner will be announced on the brand's Facebook page.
About Stella Cheeses
The Stella brand of award-winning Italian-style specialty cheeses combines old world craftsmanship with rich dairy heritage, dating back to 1923. This world-class brand offers a wide range of traditional flavors that infuse meals with a hint of the Italian countryside, making each day in the kitchen an exciting new adventure.
About Saputo
Saputo produces, markets, and distributes a wide array of dairy products of the utmost quality, including cheese, fluid milk, extended shelf-life milk and cream products, cultured products and dairy ingredients. Saputo is one of the top ten dairy processors in the world, the largest in Canada, the third largest in Argentina and among the top three cheese producers in the United States. Our products are sold in more than 40 countries under well-known brand names such as Saputo, Alexis de Portneuf, Armstrong, Baxter, Dairyland, Dragone, DuVillage 1860, Friendship, Frigo Cheese Heads, Great Midwest, King's Choice, Kingsey, La Paulina, Milk2Go, Neilson, Nutrilait, Ricrem, Salemville, Stella and Treasure Cave. Saputo Inc. is a publicly traded company whose shares are listed on the Toronto Stock Exchange under the symbol "SAP".