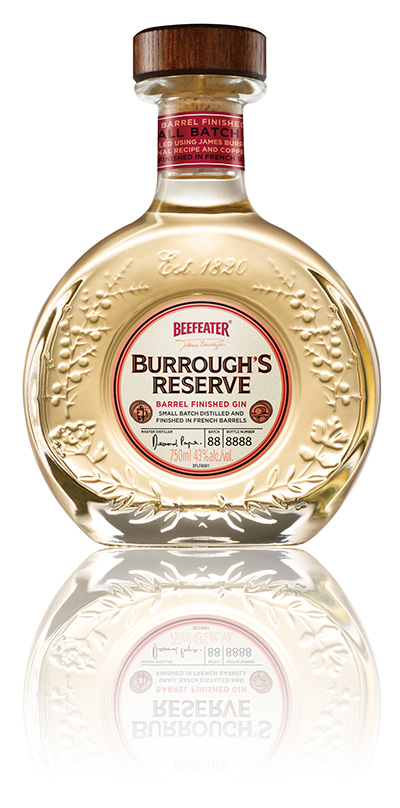 Experience English Gin like never before with the launch of rare barrel-finished Burrough's Reserve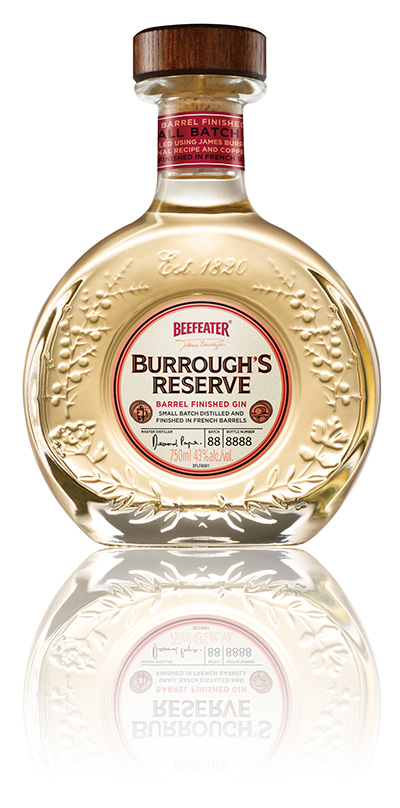 Beefeater, the world's best-selling premium gin, has today announced the US availability of Beefeater Burrough's Reserve, a hand-crafted, ultra-premium gin unlike any other, created as a small batch offering by Master Distiller Desmond Payne.
Burrough's Reserve is made using the original Beefeater recipe and is distilled in the original copper "Still Number 12" of Beefeater founder James Burrough, which resides in the Beefeater Kennington distillery today located in the heart of London. Still Number 12 produces very small batches of a sophisticated spirit with its own intriguing character. The batches are so limited that each bottle of Burrough's Reserve displays its batch and bottle number on the label.
After distillation, the gin undergoes a bespoke process, where it is finished in rare oak barrels that have been hand selected by Desmond Payne. The result of the resting period is a remarkable transformation, imbuing the gin with the subtle characteristics of the oak and residual flavors from the casks, with a look of liquid gold. A deeply complex gin with an unrivalled character, Burrough's Reserve defies preconceptions of traditional gin. Its long and complex finish encourages the drinker to linger over the liquid, allowing the subtle citrus flavors to develop, which lead on to juniper before finishing on gentle spice.
Desmond Payne explains, "I wanted to create something truly unique that celebrated the distilling heritage of Beefeater. I had been interested in resting gin for a while and knew that if the cask was right, we could make a really exciting new gin that changed people's perceptions of the spirit. I felt that the use of oak casks and Still Number 12 would introduce a new character to the gin, elevating it to a place that had not been explored before. I expect Burrough's Reserve to appeal to individuals who enjoy challenging convention and exploring new sensory experiences with gin."
Exclusively available from select bars and retailers in the U.S., Burrough's Reserve will be presented in a distinctive embossed glass bottle and is set to redefine the gin category. It should be sipped chilled and neat, presenting a new experience for those seeking to explore the world of premium quality gin.
ABOUT PERNOD RICARD USA
Pernod Ricard USA is the premium spirits and wine company in the U.S., and the largest subsidiary of Paris, France-based Pernod Ricard SA, which employs more than 18,000 people worldwide and is listed on the NYSE Euronext exchange. The company's leading spirits and wines include such prestigious brands as Absolut Vodka, Chivas Regal Scotch Whisky, The Glenlivet Single Malt Scotch Whisky, Jameson Irish Whiskey, Malibu, Kahlúa Liqueur, Beefeater Gin, Plymouth Gin, Seagram's Extra Dry Gin, Martell Cognac, Hiram Walker Liqueurs, Pernod, Ricard and Avión Tequila (through a joint venture with Tequila Avión); such superior wines as Jacob's Creek and Brancott Estate; and such exquisite champagnes and sparkling wines as Perrier-Jouët Champagne, G.H. Mumm Champagne and Mumm Napa sparkling wines.
Pernod Ricard USA is based in New York, New York, and has roughly 850 employees across the country. Pernod Ricard USA urges all adults to consume its products responsibly and has an active campaign to promote responsible drinking. For more information on this, please visit: www.acceptresponsibility.org.