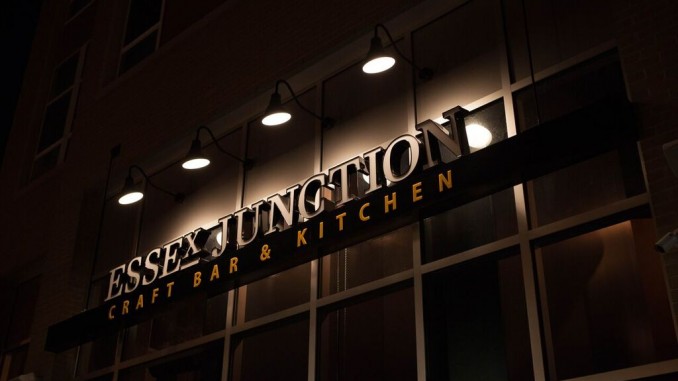 ESSEX JUNCTION, A 200 SEAT GASTROPUB DESTINATION TO OPEN MID-JANUARY IN BLOOMFIELD, NJ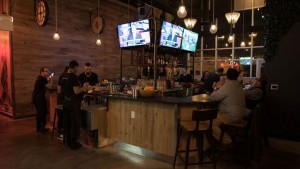 Experience Management Group opens Essex Junction Craft Kitchen & Bar, a neighborhood restaurant and craft beer bar in the heart of rapidly growing downtown Bloomfield, NJ. The 200 seat gastropub offers guests signature dishes of elevated comfort food accompanied by a rotating list of 40 craft beers with 16 on tap, a fun cocktail program revolving around notable New Jersey natives and artisanal wines. The owners have created a lively, accessible area destination where guests can enjoy breakfast, lunch, and dinner daily along with weekend brunch and happy hour. Located just steps from the Bloomfield train station, Essex Junction will also be serving breakfast from a convenient pass-thru window for commuters on the go. The stunning 4,080 sf. seat custom-designed space has a dining area for 90, bar space for 70 and 40 seats outside for seasonal, al fresco dining.
CEO & Partner Jeremy Goldberg, a North Caldwell native, CIA graduate and 3-star Miami restaurateur, has returned to his New Jersey roots to open Essex Junction. Jeremy said, "Community is of utmost importance to me and I am proud to open a fun, community social gathering place that I believe area residents will enjoy." Jeremy was recently voted onto the Bloomfield Center Alliance's Board.
As part of its mission to support community, Essex Junction will run an ongoing promotion to benefit the Bloomfield Educational Foundation – when guests order and then post their Jersey celebrity namesake cocktails on social media (and show evidence of same to their server), 50% of the proceeds of that drink purchase will be donated. In addition, there will be other special events and activities such as "Friday Buck a Shuck Oysters", trivia night and more supporting local causes. Essex Junction is also proud to feature New Jersey local businesses' products such as craft beer from Magnify, Carton, Kane, Rinn Duin breweries; spirits from Jersey Spirits Distilling Co.; dessert from Anthony's Cheesecake.
Essex Junction, the first of several planned gastropub concepts by the group, is a polished industrial chic space designed by JAB Design Group and is one of several new businesses sprouting in Bloomfield, a town undergoing major redevelopment. The space features the work of talented and in-demand Brooklyn graffiti artist Nicholas Forker and incorporates Bloomfield historical references.
Bloomfield's Mayor Michael Venezia stated, "We are excited Essex Junction chose Bloomfield as their home and the redevelopment is attracting more top tier talent from around the country. We are pleased to welcome them, along with other new businesses that are quickly making Bloomfield's downtown a vibrant, new destination."
Consulting Chef Doug Vincent, a CIA graduate and successful restaurant consultant in New Jersey, has created a menu of house-made dishes with universal appeal using quality, seasonal ingredients including some vegetarian items that are sure to please such as:
SNACKS: chorizo mac and cheese and mini fish tacos – mango and avocado slaw;
APPETIZERS: Peking duck meatballs, beer braised PEI mussels, Asian-style crispy calamari with Sriracha aioli;
SALADS: quinoa – arugula, mint, green apple, roasted beets, goat cheese, citrus; sandwiches (choice of fries or salad): buttermilk fried chicken – bacon, tomato jam blue cheese slaw and Bloomfield burger – two custom blend patties, American cheese, secret sauce on potato bun;
ENTREES: beef short rib pappardelle, Atlantic salmon – sautéed spinach, warm quinoa salad; SIDES: orange caramel Brussels sprouts and truffled cauliflower gratin
DESSERTS: Paola's sticky icky bacon buns, Anthony's seasonal cheesecake.
The bar will have a strong craft beer focus, with 40 exceptional selections, 16 on-tap including four featured local NJ brews, a cold brew coffee and growler fills available. For the beer lover, a loyalty program will be available as well as discounts for New Jersey Craft Beer (NJCB) members. Artisanal wines by the glass ($8-15) and bottle, ranging from ($30 – $120) will be offered. The menu features a fun list of hand-crafted cocktails incorporating artisanal spirits and are named for famous New Jersey natives such as: The Queen's Cocktail (Queen Latifah), Premium 90210 (Ian Ziering). Specialty coffees and teas come from local Yogic Chai in Montclair. Juices from Liquiteria will also be available.
The space at Essex Junction will be available for semi-private events. Off premise catering available. Located just off Bloomfield Avenue, it is easily accessible from The Garden State Parkway (Exit 148), Routes 3 and 280. There is a parking garage and metered street parking available.
Essex Junction Craft Kitchen & Bar / 90 Washington Street, Bloomfield, NJ 07003