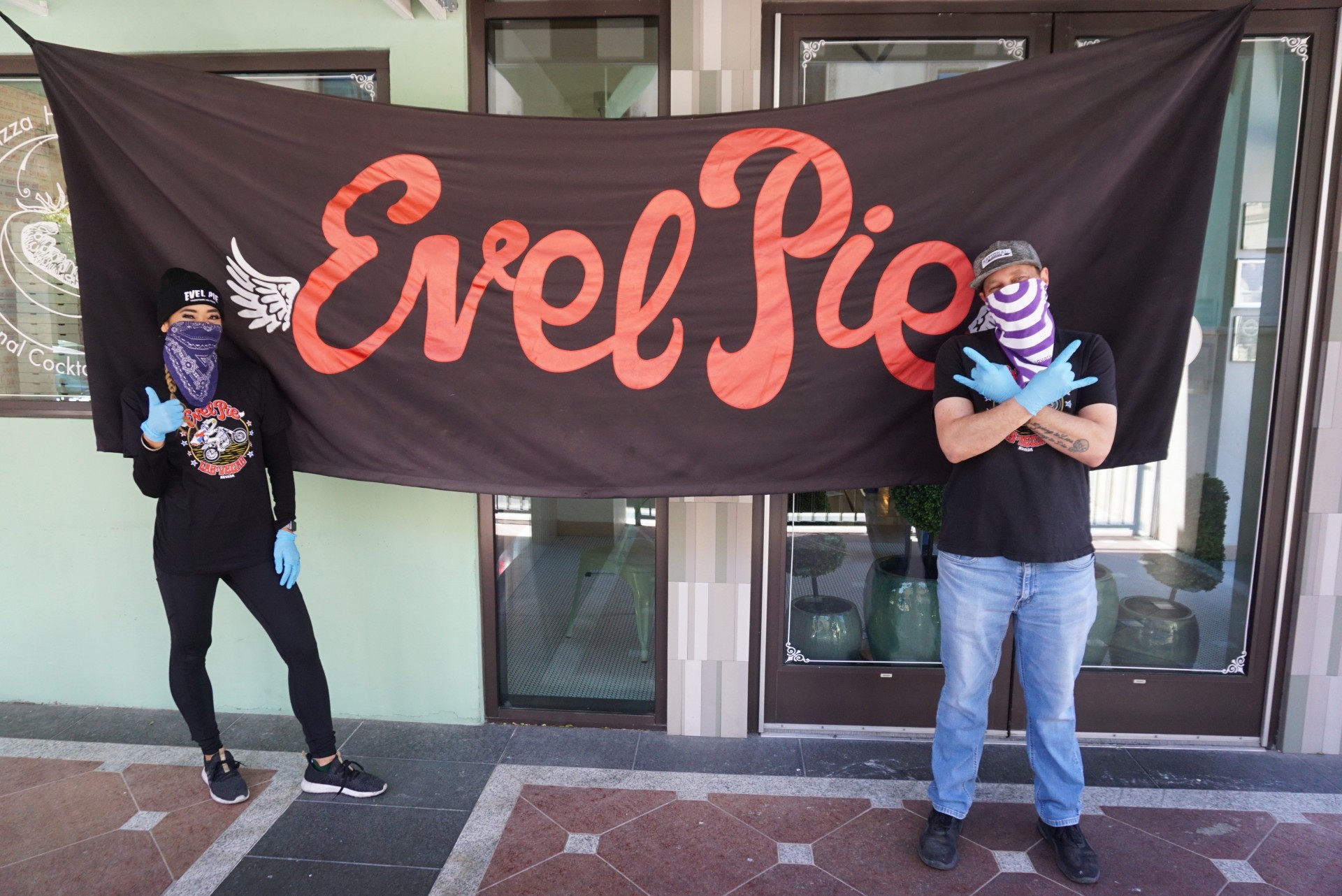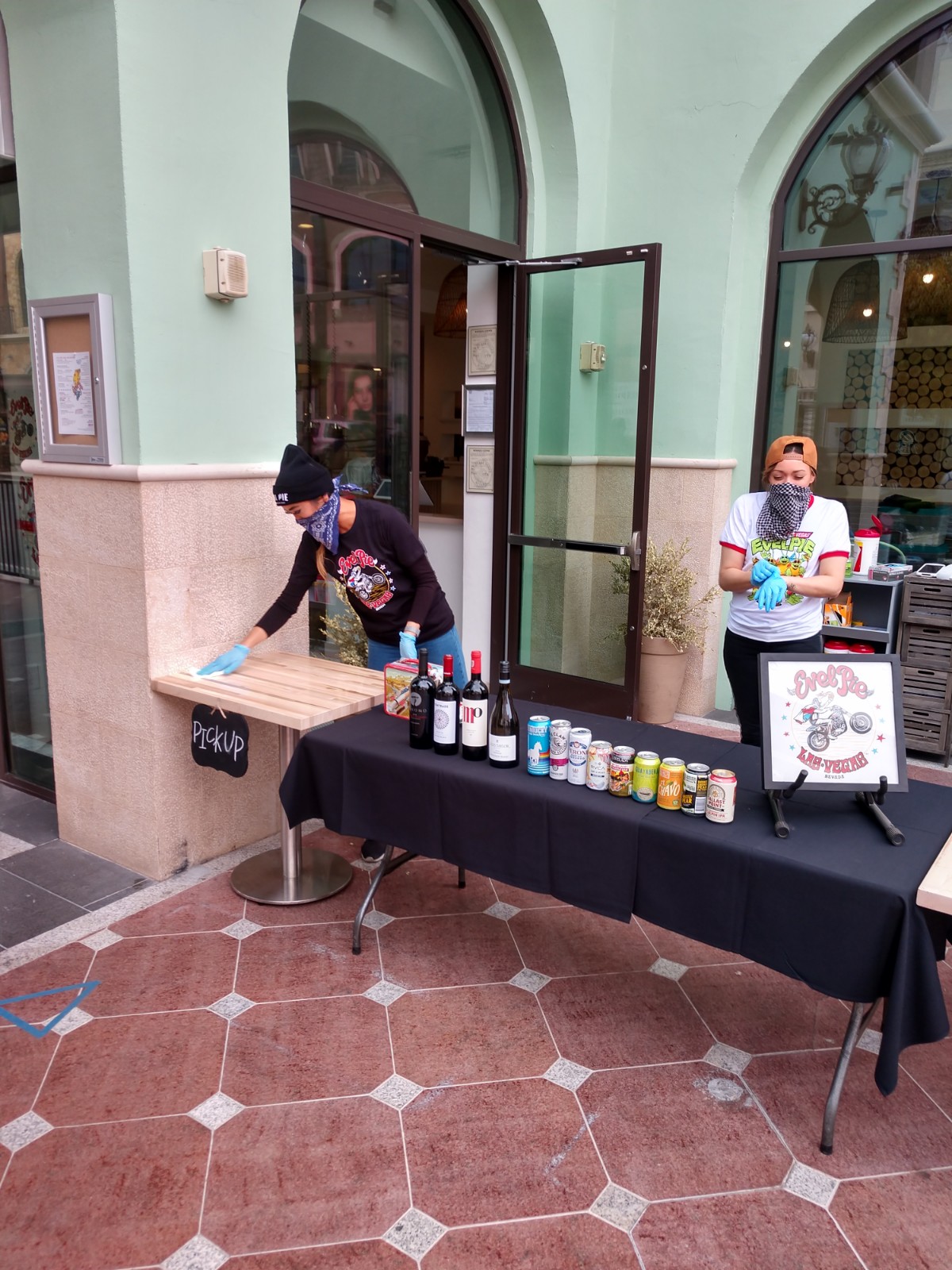 Temporary pop-up in Tivoli Village becomes a big success.
By Debbie Hall
Photos courtesy of Evel Pie
While restaurants are the hardest-hit business during the pandemic, new ways are being created to generate revenue, keep staff working, and feed hungry customers. Evel Pie, known for New York pizza slices, opened a special limited pop-up for pick up and delivery service utilizing the temporarily closed Ada's in Tivoli Village.
Evel Pie, located in the historic East Fremont District in downtown Vegas, closed its brick-and-mortar restaurant after orders from the governor of the state of Nevada that restaurants can only offer carry-out and delivery. Logistics of the location presented too many challenges to stay open for those options.
Ada's, a popular eatery in northwest Las Vegas, also decided to close during the quarantine instead of offering take-out and delivery. A deal was made between Ada's owner/chef James Trees and Branden Powers, creator and co-owner of Evel Pie, to sell food and create revenue for both businesses as well as provide jobs for staff members.
Evel Pie opened the special limited pop-up for pickup and delivery service on April 4, and its pizza was sold out within the hour. Utilizing Ada's space while that restaurant is on hiatus, the pop-up will offer Evel Pie whole pies, vegan pizza, salads, garlic knots, packaged beer, and wine from 4 to 8 p.m. Tuesday to Saturday for the duration of COVID-19 quarantine or until further notice. Only 60 pies will be available per night.
Evel Pie general manager Corey Horan oversees all pizza making and service. His team follows (and exceeds) all sanitation and hygiene protocols for the maximum safety of the public, including contactless pick-up.
"We are up to the challenge of cooking and making food that our customers can enjoy in complete confidence," says Horan. "We looked at our protocols to take even more detailed steps."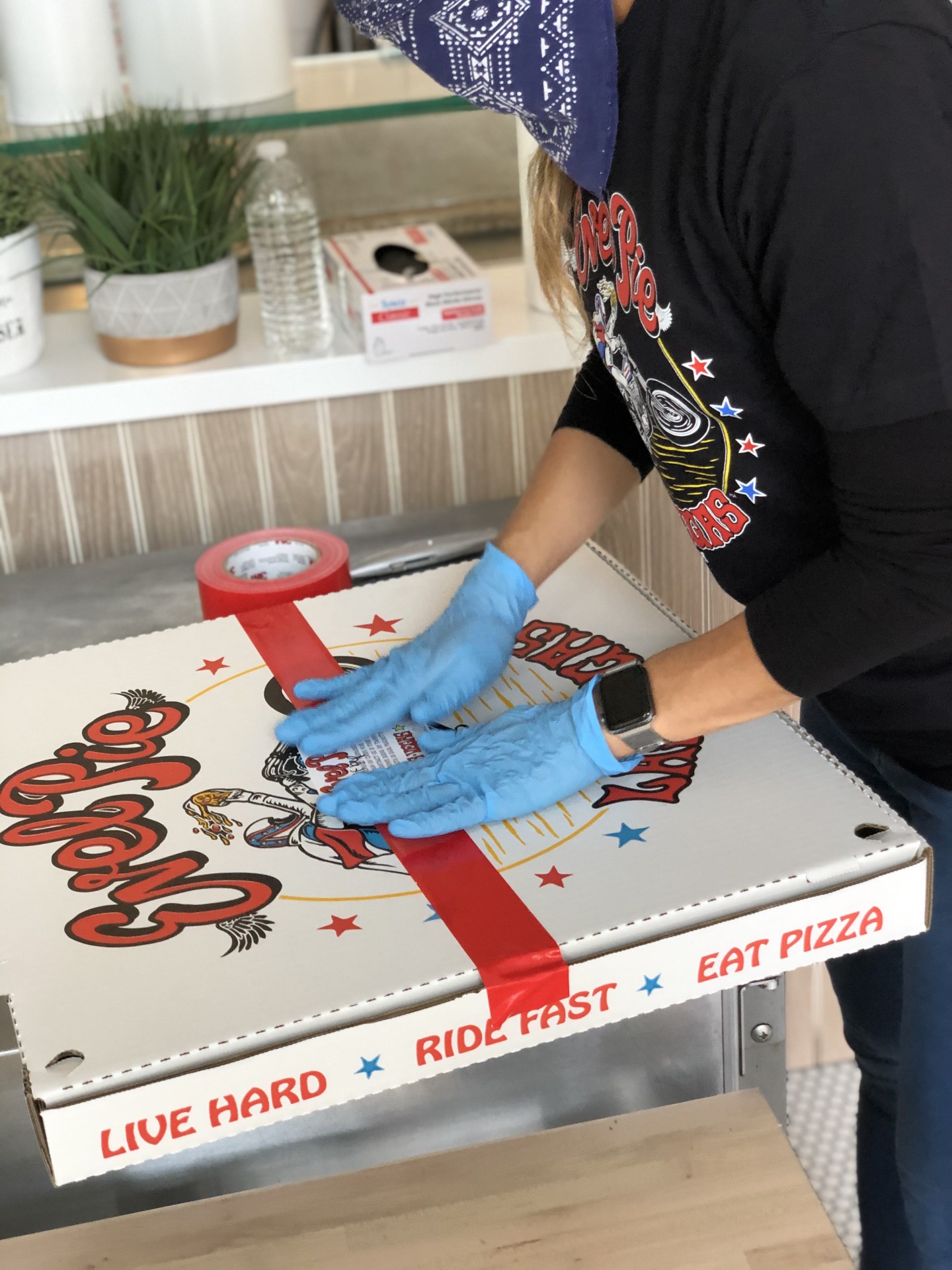 The first step is that every restaurant worker will be required to wear a mask (or bandana) and gloves at all times. Hands and surfaces are sanitized between every order. Pizza boxes will be taped and another sticker will be adhered to indicate that every procedure was taken to keep it safe.
Evel Pie, inspired by legendary daredevil Evel Knievel, resonates with the tag line "Live Hard, Ride Fast, Eat Pizza." Created by Powers and High Horse Entertainment in collaboration with the Knievel family, Evel Pie offers New York pizza slices with dive bar cocktails and local beers in place featuring memorabilia, pinball machines, a stuffed bighorn sheep, and a bronze statue of Evel Knievel. Evel Pie has won several accolades, including recognition from the International Pizza Expo, Best of Las Vegas, Gayot, and Silver State Culinary Awards.
This is a temporary pop-up. Evel Pie in the Fremont East district and Ada's both plan to resume their normal service as soon as the quarantine is lifted. However, with this new business model, both restaurants create revenue and increase sales in centric business circles, including suppliers, delivery people, and products such as pizza boxes. It is also an opportunity for Evel Pie to reach new customers in a different community generating new business when it opens again in downtown Vegas.
Follow Evel Pie on Twitter, Instagram, and Facebook for updates on the menu, service, and other details. Orders are taken via phone at (702) 840-6460, and limited delivery is also available using Postmates.