By Debbie Hall
Photos courtesy of The PR&F Awards
PR%F Awards 2021, the original buyers' competition, is going unmasked! The deadline to submit brands for consideration for the hotly anticipated PR%F Awards 2021 is rapidly approaching.
The judges, beverage industry buyers, anticipate finding new brands to tempt their guests and consumers with high-quality spirits, wines, beers, mixers, and cocktails. This prestigious honor for winners (along with potential business) is the ultimate competition with more than 300 categories. The multiplicity of buyers matches the diversity of the PR%F Awards.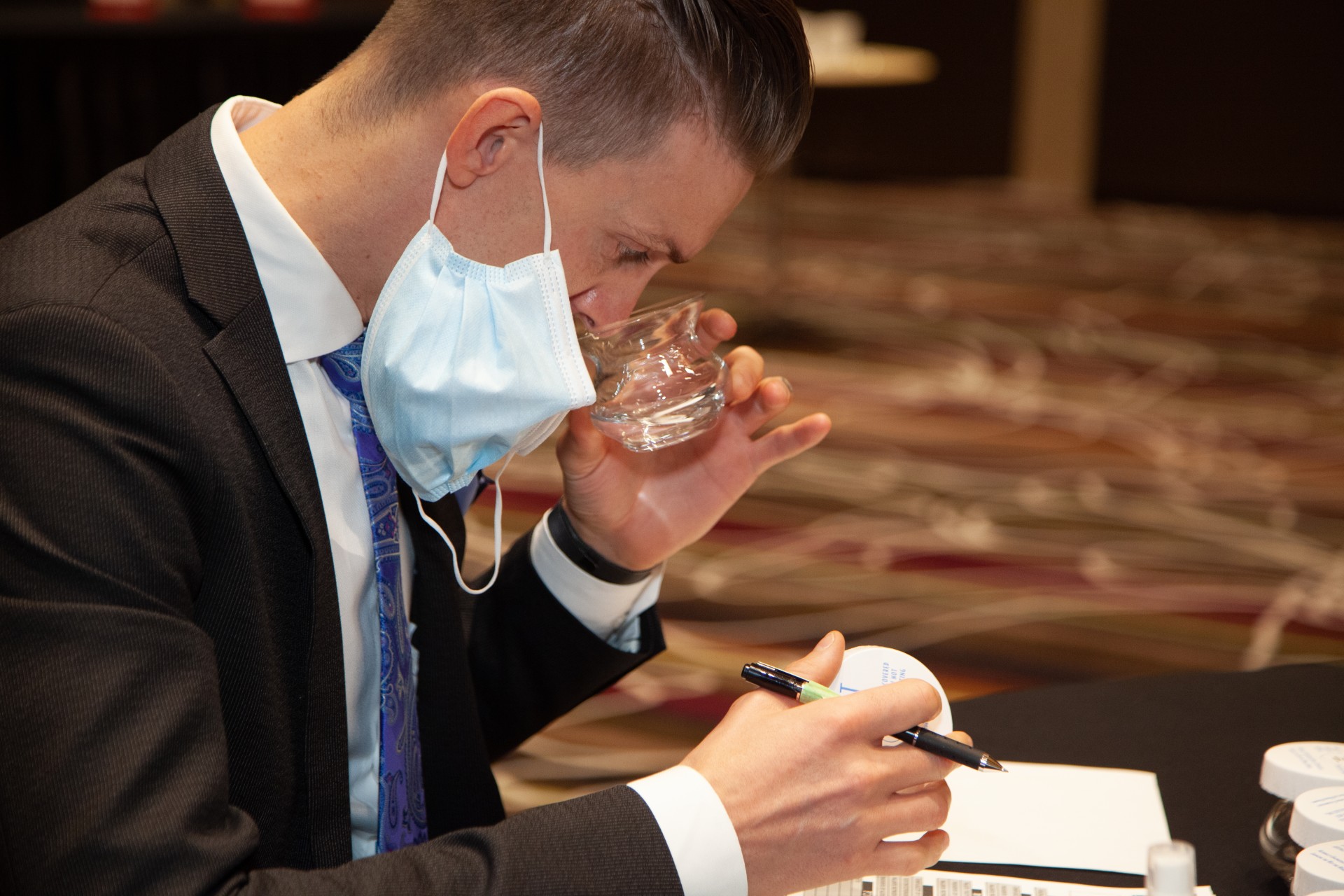 PR%F Awards 2021 is now two competitions in one—PR%F Awards-Masked, Double-Blind Tasting and PR%F Awards-Unmasked, The Total Package. PR%F Awards credits the diverse and distinctive categories of international and domestic spirits, wine, and other beverages. Every submission will automatically be entered in both competitions, with the opportunity to win TWO medals per entry.
For more bang for the buck, along with entry into both PR%F Awards competitions, another package includes a streaming video hosted by James Beard Award winner Jennifer English will be presented on PR%F Live! Along with an in-depth interview with the brand creator about their brand, Jennifer will do a taste evaluation on air. This video will be given to the brand for their marketing and distributed to all PR%F Awards outlets and
The judges are looking forward to the total exposure of products being judged in addition to the double-blind tasting experience. As evidenced by Fox's television shows, The Unmasked Singer and The Unmasked Dancer, the new, entertaining procedure for judging encompasses intrigue, expectations, surprises, and big reveals.
The PR%F Awards will continue its tradition of creating a double-blind tasting competition with buyers rating submissions in all categories in a 100-point rating system. After tasting points are accumulated, the distinguished panel of judges will evaluate each brand unmasked, showing their naked contents. Judges will see and feel the bottle, can, or product, read the ingredients and see the overall marketing package (look, feel, and approach) the brands want to convey to the patron. The submission process will include a 400-word synopsis of the brand (written by the entrant), including the wholesale and retail price points submitted to all judges.
"We are very pleased to expand our PR%F Awards platform in 2021 to include a competition duo—blind tasting for one medal and The Total Package for an additional medal. While an exquisite taste is top of the list for buyers, the look, feel, and the personal stories, each told by the entrant, also add to a buyer's desire to acquire a brand," says Michele D. Tell, executive director of PR%F Awards.
PR&F Awards continues to grow and evaluate, adding new categories of trendsetting beverages. One of the biggest trendsetters, according to CBS News, is canned wine and ready-to-drink packaged beverage (RTD), including cocktails, wine, fusion, margarita, bloody Mary, and bourbon.
The inclusion of the Women-Owned Spirits category in PR%F Awards showcases the explosion of women-owned brands, female master distillers, blenders, mixologists, and executives as diverse and distinct as their product.
"We have always thought big about this business and had some experiences of not being taken seriously—maybe because we are women, not with traditional industry backgrounds or because our brand name rhymed, or all of the above. Essentially the message was to stay in our lane. Instead of being discouraged, we used that energy to fuel the fire and make our brand a huge success. Success is way better than revenge. We have proved you can be successful, have a fun brand, and do it in a way that works for us," explains co-founders Erica Blumenthal and Nikki Huganir of Yes Way Rosé.
People around the world love their carbonated drinks, as evidenced by the category of spirited seltzers climbing in sales, according to VinePair. The category of mixers includes energy drinks, fruit, coffee (caffeine and caffeine-free), tea (caffeine and caffeine-free), tonic, ginger beer, water, and CBD-infused beverages. Mocktails also embrace the new era of spiritless with its own category. Other categories include New World whiskey, champagne, sparkling wines, Japanese whiskey, novelties, coffee liquors, frozen concoctions, boxed wines, and ciders.
Subcategories include Kosher, organic, and gluten-free. One product can be entered in multiple categories, so for example, if it is also gluten-free, it can be entered in the gluten-free category as well.
The rating system is Century Award (100 Points voted unanimously), Double Gold (96 to 99 points, Gold (91 to 95 points), Silver (85 to 90 points), and Bronze (79 to 85 points).
The entrant fee is $495 per entry/SKU for submission into two competitions—PR%F Awards Masked Tasting Competition and PR%F Awards Unmasked for The Total Package Competition.
All submissions must arrive at Opulent Wines & Spirits no later than Sept. 3 at 5 p.m. Pacific Time. Submissions can be mailed to Opulent Wines & Spirits, Attn: The PR%F Awards, 4691 S. Valley View Blvd., Las Vegas, Nevada, 89103. For those with distribution in Nevada, contact the distributor directly to arrange for shipment to Opulent Wine & Spirits. Without an importer to the US, international entrants contact PR&F's exclusive importer, PARK STREET, at competitions@parkstreet.com to arrange for import to the US. For more information about this outstanding opportunity, specifications, and pricing, email proofawardsvegas@gmail.com, info@proofawards.com, or call 1-888-959-7260.
The PR&F Awards 2021 private judging competition will be held Sept. 28-29 at the Westgate Las Vegas Resort & Casino (westgateresorts.com/hotels/nevada/las-vegas/westgate-las-vegas-resort-casino). For more information, visit www.proofawards.com.
Are YOU ready to see what is behind the mask honoring the best while predicting the trends? The judges are ready…