Chef's Roll is the new "LinkedIn for chefs". It's an international online platform where all chefs, from ​seasoned ​and mid-career, to those on the rise and recent culinary school graduates can finally develop an online presence that matches the quality of their craft. It's bringing the culinary world together and changing the way chefs promote themselves. Casting producers for culinary TV shows are using it to find talent and hospitality groups are posting top jobs. Each month, Food & Beverage Magazine will share an interview with a chef spotlighted on Chef's Roll. It may be a famous chef with a restaurant empire or a sous chef ready to helm their own kitchen. Follow us each month through the magazine and on Facebook and Twitter to get to know some of the intriguing people in our culinary community. Visit chefsroll.com to get to know some of our chefs​ or for a chance to get in the spotlight.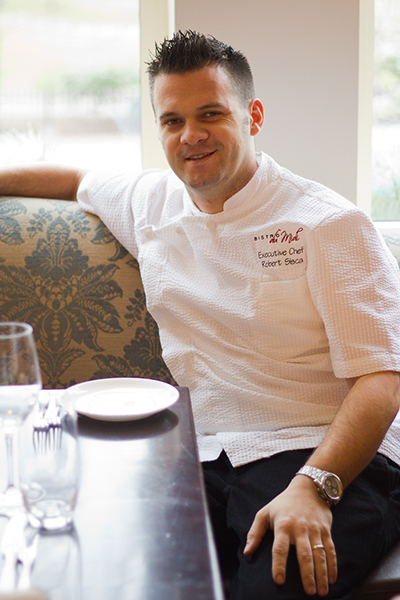 What does your typical day look like?
Every day is a little different but on an average, here it is. I recently had twins so my days are a little longer.
7am boys wake up and play with kids.
8am feed boys and put for nap afterwards
9:30am Mom, mother in –law and/or sister come over to watch boys
10am head to work from my home in Rhode Island
11am Walk in Bistro, say hello to all staff and check email
11:15am Meet with opening sous chef to discuss how the morning was, any shorts on produce, dairy, fish or meat?
11:30am Look at prep sheets for line cooks, go over fresh pasta pars with pasta prep guy, then look over daily tasting menu.
11:30 am open for lunch and go over any daily specials with servers
12pm filter through emails and respond
12:15pm Log onto Chef's Roll and add some pictures or videos
1-3pm work on specials, new menu items or techniques to try
4pm staff meal for all employees. Take a quick break and answer rest of emails
4:30 pre-meeting with staff to discuss tasting menu, new menu items, oysters, Charcuterie, bouillabaisse fish or anything else BOH or FOH related
5pm dinner service starts.
6pm tasting menu for chefs table. Greet guests and serve amuse bouche and first couple of courses
10pm close kitchen and head home.
11pm Walk in door and say hello to my wife. Talk about our day, how the kids were? Anything different? How work was, and when are we going on vacation?
12am go to sleep and wake up and do it all over again
What techniques and tools do you use to keep yourself organized?
Email is like my check list. If it's in my inbox, it will be completed ASAP. If I have over 10 emails, I feel behind. I also use an old school calendar. Write all events in there, days off, vacations, VIPs coming for dinner etc.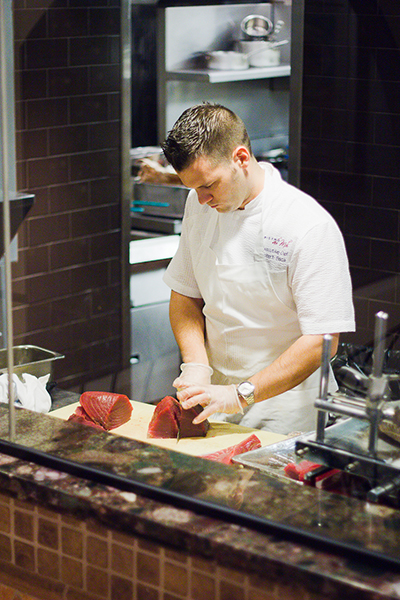 Was there a person in your career who really made a difference?
There were several. My mom for teaching me some basics to cooking in High school. Eric Ripert was a huge mentor in my career. I spent a little over 4 years at Le Bernardin and it was the best culinary experience I could have asked for
Where do you think the most significant growth will occur in the Food & Beverage Industry in the next few years?
As much as I love fine dining, I feel like many restaurants are going for the more casual atmosphere. Chefs are still creating stunning dishes and service is still amazing, but in a much less fussy, fun atmosphere
What's your first memory of your love for cooking?
Making Zuppa de Pesce with my Grandparents. This was a tradition that we always had for Christmas eve. 11 types of seafood simmered it into a light tomato sauce and served over linguini. Still to this day, I love having this on Christmas eve.
When did you know you wanted to be a Chef?
I always loved to cook in high school and worked at a couple of restaurants. Then I enrolled in Johnson & Wales and decided to give it a try. It was very tough in the beginning but once I got into fine dining, I was hooked.
Where were you trained, and how difficult was your training?
I started my training at Johnson & Wales. I feel that was just the beginning. Working at numerous restaurants, working under great chefs is where I feel I learned the most. I still feel the training never ends. I constantly push myself to think of new techniques, and ideas. I try to always read and to teach myself something new.
What do you love most about your job?
The creativity of a dish. I have a long commute to work, whether it's on my way to or from work, I am always thinking of food. If I think of something, I email it to myself and try it when I am at work. Sometimes it's perfect, and sometimes they don't work at all. But the passion and emotion that goes into creating a dish, watching someone really enjoy it, is such a great feeling
Describe your style in three words.
Passionate, Creative, Fun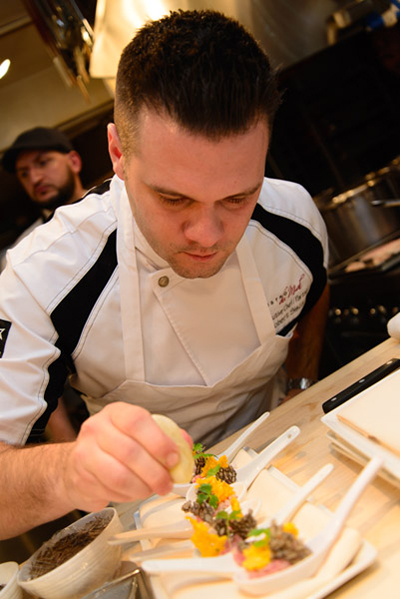 What's your favorite dish to create?
All styles of Crudo. Working in New England and at Le Bernardin, really gave me a passion for seafood.
Where do you draw your creative inspiration from?
Always think about flavors, textures, and colors. Try to work in all three to create a dish
What four ingredients are necessary in your kitchen?
Salt
Stock (base) (veal jus, chicken jus, etc)
Olive Oil
Butter
If you could prepare a meal for anyone, who would it be and what would you make?
Thomas Keller, Ferran Adria, Daniel Boulud and Eric Ripert. 4 totally different chefs but all amazing. I would create a dish that resembles something similar to their cuisine
What are you most proud of in your career?
There is not one particular moment. Working my way up to where I am now is what I am most proud of. Just being an accomplished chef makes me proud
Who is your biggest supporter?
All of my family especially my wife. Anyone that can deal with Chefs hours, Holidays and Chef's stress is amazing and she is the best
What would you want to have as your last meal?
French Baguette and cured meats.
Are there any foods you just don't like?
No, I didn't eat everything growing up but now I eat just about everything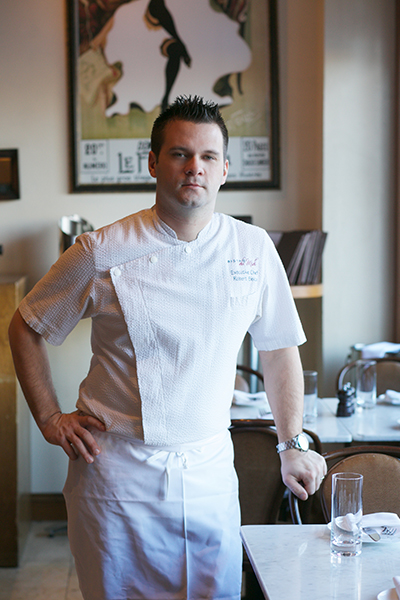 What do you think is the most challenging ingredient to work with?
Seafood, if you don't cook it properly, it can be very dry
Do you do the cooking at home?
I don't cook a lot at home now. My wife does most of the cooking. We are currently renovating my home kitchen so when that's done, maybe I'll cook a little more. My Mom and mother in-law are amazing cooks so I leave holidays up to them
Funniest kitchen incident?
When a new hire comes in and I tell them to go to pastry and ask for a "soufflé pump"
Favorite kitchen equipment or gadget?
Sharp Knife, Cake tester, Vacuum Pack machine, ISI Gun
What are 3 things that you consider to be your cooking strengths.
If you had just one wish, what would it be?
Are you working on any big projects now?
New Home Kitchen. Always thinking about expanding Bistro du Midi but the right fit has not come up yet
If you were to give someone just one piece of advice, what would it be?
Be a line cook for as long as you can. Don't rush into making money too early. Work under as many chefs as possible and not for just a year. 3-4 years each. Really learn all you can from each chef and carry it with you in your career
About Chefs Roll
Chef's Roll is a new digital platform that connects chefs and other culinary professionals from across the globe. Recently launched and already used by chefs from more than 25 countries, Chef's Roll is quickly becoming the world's largest networking platform for culinarians, from culinary students to Michelin starred toques. It gives culinary professionals a place to tell their full story, both visually and through the written word, so they can better connect with everyone from potential customers and other chefs to restaurateurs looking to hire and casting producers. For more information please visit chefsroll.com.
About Food & Beverage Magazine
Food & Beverage Magazine is the first name in the B2B Foodservice/Hospitality information highway. Serving our readers the informational needs of the entire full-service segment of the industry while, keeping our readers on the cutting edge with authoritative coverage of trends and industry news. Our subscription base consists of industry decision-making professionals including Food & Beverage Directors, Wine Directors, Independent Restaurant Owners and Executive Chefs. Food & Beverage Magazine, being the accepted voice in the industry far exceeding other industry publications in quality, readership, controlled circulation and content with a low (CPM). Our readers collectively serve over 13 billion meals annually. These full service restaurateurs, executives and decision makers are responsible for $125 billion in annual sales. For more information please visit.. wait.. you are already here! Cheers!