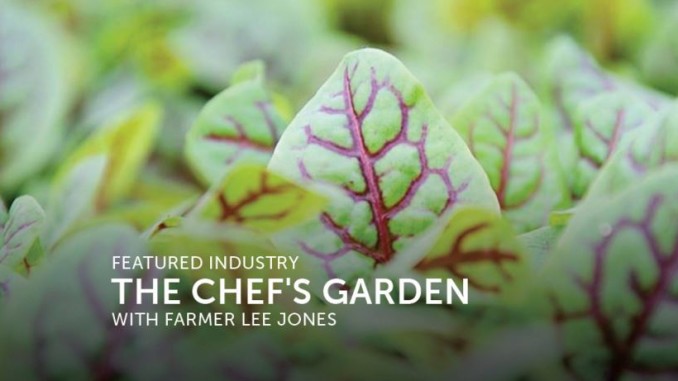 FARMER LEE JONES: THE CHEF'S GARDEN
Farmer Lee Jones is a sustainable grower of specialty and heirloom vegetables, herbs, microgreens, and edible flowers for chefs and restaurants all over the world. He has been in the farming industry for over 30 years and manages his 300 acre family farm called The Chef's Garden in Huron, Ohio. Farmer Jones and the farm have won multiple awards including The James Beard Foundation's Who's Who in Food & Beverage Award in 2011 and The Daily Meal's "60 Coolest People in Food" recognition every year from 2012 to present. Farmer Lee Jones currently sits on the advisory boards of Modern Farmer, Chef Concept and Chef Magazine and services notable restaurants including Grace, Brooklyn Fare, Eleven Madison Park, Per Se, Collichio & Sons, Le Bernardin, and Uchi. See our conversation with Jones below.

Produce can be purchased at The Chef's Garden and through Omaha Steaks where consumers can purchase a selection of specialty boxes.
How did you get introduced to farming?
Farming is in my DNA. I always wanted to follow in the footsteps of my fathers. I am part of our family farm, The Chef's Garden. We grow specialty and heirloom vegetables, herbs, microgreens, and edible flowers for chefs and restaurants all over the world in our 300 acre farm. Only a third of the land is planted at a time, with the rest of the acreage planted with cover crops to help rebuild the soil's nutrients naturally.
When did The Chef's Garden get started?
Before we became The Chef's Garden, my father, brother and I harvested and packed produce to take to the Cleveland farmers' markets every week. We also sold produce daily from a stand in front of our farm home. In the 1980s, a severe hailstorm caused us to lose a significant number of crops and threatened our survival in agriculture but I met a chef who was interested in purchasing squash blossoms. So as we rebuilt, the family made a decision to focus on what chefs needed. 30 years later, we grow over 600 products, focusing on the needs of the chefs we work with. We also have an experimental garden now to test quality and growing of possible new crops.
What is the best thing about your job?
The best would be learning to work in harmony with nature and not against it. I always go back to the saying… "If you love what you do you will never work a day in your life".
Does The Chef's Garden have any particular growing practices?
We are committed to sustainable agricultural practices that replenish nutrients depleted from the soil. The sustainable farming methods we employ allow our products to grow naturally to achieve optimum flavor and nutrient levels. In order to produce the healthiest plants possible, we let the land sit fallow and plant specific cover crops for compost. Healthy plants are better able to resist weeds and insects, enabling us to avoid pesticides and other chemicals that are commonly used to control them. We hand-harvest our produce and deliver overnight – 24 hours from ground to plate.
How do you deal with problematic weeds, insects, harsh weather?
We use organic methods like cover crop and use compost teas to help microbial communities thrive. We also cultivate the weeds naturally. During harsh weather we use reemay to protect plants from frost and build cold frames to protect some vegetables throughout the winter months.
What's the best piece of advice you can give to those gardening at home?
The same advice that my father gave me: The best fertilizer is the soles of your feet.
Do you host any dinner parties at the farm?
We host dinners, culinary workshops, chef retreats and team building experiences at The Culinary Vegetable Institute. Give us a call 419.499.7500. We welcome the idea to collaborate.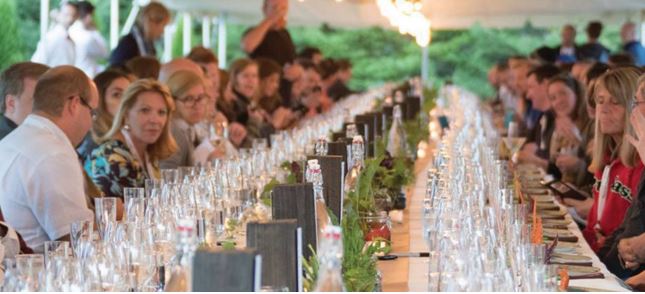 What is your goal as a farmer?
Our goal at The Chef's Garden is to redefine sustainable agriculture to create a model that will attract and retain young farmers. Our future generations must be encouraged to protect our farmland and to continue providing safe, flavorful products with the nutrients necessary to build a healthy America.
What do you wish people knew about your profession?
Farming is about patience and perseverance. There are many highs and many lows. For us, sustainable agriculture is a blend of science, intuition, research, perseverance, and a constant stream of making mistakes at a faster rate than the competition so that we learn from them.
Learn more about Farmer Lee Jones and The Chef's Garden on his Chef's Roll Industry Profile.