Survivors get ready to hop on as Mad Rex IPA debuts in cans, kegs and bottles
starting at special launch event on February 15th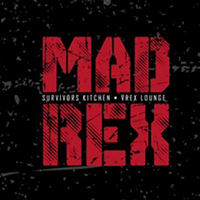 Mad Rex Restaurant and VR Lounge (1000 Frankford Ave) announces the debut of the world's first post-apocalypse themed beer. Survivors can hop on and raise a glass in the new world. The world's first post-apocalypse themed restaurant and virtual reality lounge teams up with local brewery Blueprint Brewing Co. for the debut of Mad Rex IPA in cans, kegs and bottles. Mad Rex IPA will debut to the public during a free beer launch party on February 15, 2018 from 7:00pm to 10:00pm with free beer tastings, games, prizes, complimentary appetizers, meet/greet with the brewers and more. Mad Rex also developed and will debut its first custom VR experience that will give consumers a tour of Blueprint Brewing Co.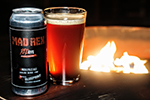 "Mad Rex IPA is a custom blood red rye IPA that we helped create as the perfect beer for the post apocalyptic survivor," said Mad Rex Partner Michael Johnigean. "We wanted to work with and support an up-and-coming local brewery. Together, with Blueprint Brewing Co., we created an end product that is an uncovering of subtle rye spice and sweet bright West Coast hop flavor. This custom, exclusive beer was created to pair with our from-scratch kitchen menu. Like the food, we wanted a bar and beer program that went above and beyond and set the bar high."
Mad Rex, located in Philadelphia's Fishtown neighborhood, will now extend beyond a restaurant and virtual reality lounge to now expand the brand with its first custom designed publicly available beer, plus its first custom designed VR experience.
Until now, Mad Rex IPA was only available in limited quantities at the restaurant's main bar. The restaurant's number one selling draft will now expand into the marketplace and be sold direct to consumers, in bottle shops, through the brewery and to other bars/restaurants. Starting on February 15, 2018, 16 ounce cans will be available to the public in singles, four packs and in a 24 can case, as well as kegs, through Blueprint Brewing Co. Later in spring, bottles will also start distribution. Mad Rex is also exploring adding growlers to this beer program. When the Mad Rex IPA bottles debut they will feature a custom and groundbreaking skull design that will coordinate with the interior decor and props that are found inside of Mad Rex.
"When we set out to open the world's first post-apocalypse restaurant and bar, we wanted to give customers a memorable, interactive and authentic experience they couldn't get anywhere else. From our scratch menu, to our individually hand-painted menus, to interior art displays by local and global artists, to black rock cooking, to pink himalayan salt ice cream, to a full virtual experience, we strive to be as creative as possible in executing our vision," added Johnigean. "Expanding with a custom beer, and a custom VR experience, was the next natural step to challenge our passionate team."
After Mad Rex IPA is launched in the marketplace, look for the owners of Mad Rex to partner on other future exclusive brews. Mad Rex IPA is just the start of this process.
Mad Rex is excited to partner with the new local brewer Blueprint Brewing Company. The idea to design a custom beer was part of the Mad Rex vision even before the doors opened. One of the partners of Mad Rex had connections with the recently opened Blueprint in 2017, and the idea was born for a collaboration. Johnigean added, "We met with Blueprint and found synergy. Once we opened we found Mad Rex IPA was popular and was developing a cult following, so we went back and started to re-examine and expand that partnership with Blueprint. "
As an extra layer to the partnership, Mad Rex has worked with Blueprint to design a special 360 degree virtual reality tour of the Blueprint Brewing Co. production facility – guests can take a virtual tour in the VR lounge at Mad Rex – and get to see the Harleysville plant up close and personal without leaving Fishtown. This partnership also is the first time Mad Rex has tested the waters and aided in production of a custom virtual reality experience. Look for future virtual reality experience partnerships for Mad Rex in the future. Blueprint will also give away a free flight of beer at Blueprint's Harleysville faculty after the launch when guests take the VR tour at Mad Rex.
"The best partnerships are those that let all parties get creative and that in the end benefit everyone involved. We wanted to capitalize on this new emerging brewer, tap into their expertise, but also support their work by giving them a unique way to expand awareness they couldn't get anywhere else. Come in and tour the brewing plant without even leaving Fishtown. How cool is that?," added Johnigean.
SPECIAL LAUNCH EVENT
Mad Rex will celebrate the expansion into the beer business with a special Mad Rex IPA Launch Party on February 15, 2018 at Mad Rex from 7:00pm to 10:00pm. The free party will feature Mad Rex IPA samplings, $4 Mad Rex IPA drafts, DJ, a beer pong tournament, prizes, and entertainment. Enjoy complimentary appetizers during the first hour from 7:00pm to 8:00pm. Come meet the brewers from Blueprint and find out about the brewery and the beer design process. The first cans of Mad Rex IPA will also be available for a limited-edition sale. Guests will also enjoy a free Blueprint VR tour experience with an offer for a free flight when they physically visit the plant out in Haryleysville.
ABOUT BLUEPRINT BREWING CO.
Blueprint Brewing Co., Harleysville's first brewery, brews everything from IPAs to Stouts and everything in between. Founders Kyle Fetch, Jason School and Cory McDonald have taken their passion for both great beer and great times and built something truly special with a 6400 square foot facility that features an 1800 square foot tasting room. McDonald says, "It's not just us, but our neighbors and friends who bring what we love about beer to life! It's all about community. We want to give people great beer, both gluten free and gluten full, and to bring back the joy of beer to those that have lost it. After all, it is God's greatest creation!
For ordering information for bars, restaurants, bottle shops and distribution centers, please contact Blueprint Brewing Co. at (267) 649-7006.