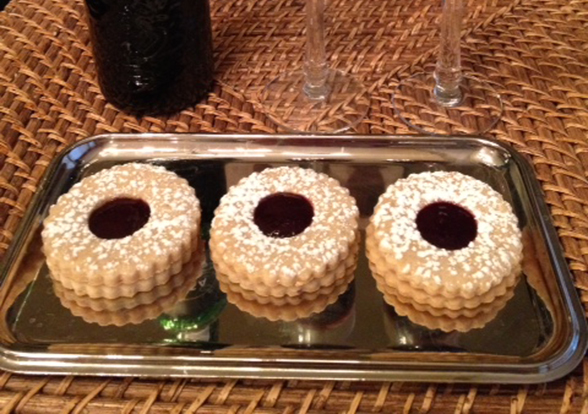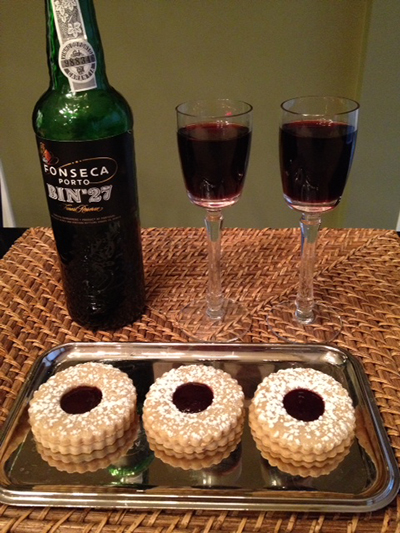 The renowned Port house of Fonseca has named Marsha Brooks of Carmel, IN, as the Grand Prize winner of the second annual "BIN 27 Port & Cookie Rumble," for her "Port Wine Blackberry Jam and Goat Cheese Linzer" creation.
Cookie lovers nationwide were invited to submit their favorite, original cookie recipe that pairs best with Fonseca BIN 27 Port, for a chance to win prizes that any foodie would find hard to resist. All recipes were judged by famed chocolatier Jacques Torres, award-winning cookbook author Dorie Greenspan and Departures wine columnist, Peter Weltman.
Marsha's recipe was selected from more than 150 recipes, submitted via BIN 27's Facebook page. As the grand prize winner, Marsha looks forward to receiving a pair of tickets to the Food & Wine Classic at Aspen (June 20th – 22nd, 2014), as well as two fantastic prizes from contest partner, KitchenAid: a Freestanding Induction Range and a KitchenAid Pro Line Series 7-Qt Bowl Lift Stand Mixer. Marsha is a self-taught cook and "loves any reason to bake for family and friends."
Christine Provo of Fairlawn, NJ, who received nearly 900 votes, won the People's Choice prize for her "Running Foodie's Chocolate Chip" cookies. Christine combines her love of running with her "foodie side" on She Runs She Eats (runningfoodie.blogspot). She will receive the KitchenAid Pro Line Series 7-Qt Bowl Lift Stand Mixer.
For judge Dorie Greenspan, "this year's cookies were terrific . . . lots of unusual flavor combinations, lots of sweet-savory mixes, a trend in baking. Choosing this year's winner was a tough, but delicious and exciting job. Marsha's winning Linzer cookie has it all: looks, taste, texture and imagination. It's also a fooler. At first glimpse, you're sure it's a beautiful, classic Linzer cookie, but one bite and you get the surprise – a hidden layer of tangy honey-lemon goat cheese. Because of its walnuts, blackberry-Port jam and goat cheese, it's the perfect cookie to 'pal around' with BIN 27."
Judge Jacques Torres adds, "The Cookie Rumble is so much fun. Who can say no to Port and cookies? My second year judging was even more difficult than the first! There were definitely some unique recipes. Congratulations to the winners!"

PORT WINE BLACKBERRY JAM AND GOAT CHEESE LINZER COOKIES:
Yields: 3 dozen 2-inch sandwich cookies
Ingredients
2/3 cup walnuts
½ cup brown sugar, divided
2½ cups flour
½ tsp baking powder
½ tsp kosher salt
1 cup (2 sticks) unsalted butter, softened
1 large egg
1 tsp vanilla
¼ cup powdered sugar
1 cup Port wine blackberry jam (recipe below can be made up to 2 days in advance)
4 oz goat cheese, softened
1 tsp honey
Zest of one lemon
Directions
Preheat the oven to 350.
Spread the walnuts on a baking sheet and toast 6-8 minutes being careful not to burn. Let cool.
In a food processor, add the walnuts and ¼ cup of brown sugar and process until finely ground.
In a small bowl, sift the flour, baking powder and salt together and set aside.
In a large bowl, beat the softened butter and the remaining brown sugar until light and fluffy, 3-5 minutes.
Add in the egg and vanilla. Reduce the speed to low and gradually add in the walnuts and flour mixture. Mix until just combined.
With floured hands, form dough into two balls. Wrap each ball in plastic wrap and refrigerate until firm, about 2 hours (the dough can be made up to two days ahead and refrigerated).
Working with one dough ball at a time, remove the dough from the refrigerator.
On a lightly floured surface roll the dough to about 1/8 inch. Cut the dough into circles using a two inch cookie cutter.
On half of the cookies cut a smaller circle in the center.
Continue with the second dough ball.
Put cookies on a parchment lined cookie sheet one inch apart and bake for 8-9 minutes or until the edges are golden.
Transfer to wire racks to cool completely.
Port Wine Blackberry Jam Ingredients
3 cups blackberries
2 tbsp sugar
½ cup Fonseca BIN 27 Port
2 tsp corn starch
1 tsp lemon juice
Directions
Toss blackberries and sugar together in a bowl.
Add Fonseca BIN 27 and let macerate and refrigerate, at least 4 hours or best overnight.
Pour blackberries with all the liquid in a medium saucepan.
Warm the berries over medium heat, until softened.
Press the mixture through a fine mesh sieve or food mill to remove the seeds.
Place the purée and any liquid back in the saucepan and heat until boiling.
Combine the cornstarch and 2 tbsp of the heated liquid and stir until there are no lumps.
Pour corn starch mixture back into the pot and heat until thickened.
Transfer to a bowl and mix in lemon juice.
Refrigerate until cool, where it will thicken even more.
Combine the softened goat cheese, honey and lemon zest together.
Lightly sprinkle powdered sugar on the cookies with the holes in the center.
On the remaining cookies, spread ¼ – ½ tsp of the goat cheese mixture on the bottom, being careful not to break the cookie.
Spread a heaping ¾ teaspoon of jam on the cheese.
Top with the powdered sugar cookie and lightly press together, making sure the jam does not come out the sides.
Repeat the process and sandwich the remaining cookies in the same manner.
About Fonseca BIN 27
Created over a century ago and reserved for the winemaker's family consumption, BIN 27 was released commercially in 1972 and quickly became one of the top Ports consumed in the U.S. Produced primarily from wines from Fonseca's own quintas in the Cima Corgo and showing exceptional quality and consistency from year to year, BIN 27 is blended from reserve wines selected for their superb fruit character and depth of color. Its well-knit structure, rich, velvety full body and luscious blackcurrant and cherry bouquet and flavors finish on an intense, lingering note. For more information on the Ports of Fonseca, please visit fonseca.pt, follow us @FonsecaPort or like us on Facebook.