Successful Business Platform Leads to Expanded Partnership, Contract Extension RPM to Increase Investment in Competition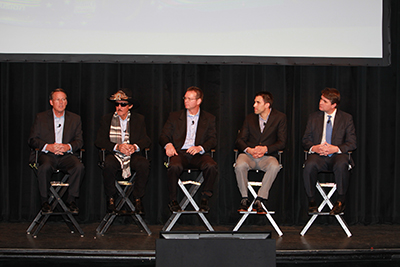 Smithfield Foods, Inc. and Richard Petty Motorsports (RPM), along with NASCAR officials, announced today a 3-year extension and increased investment in Smithfield Foods NASCAR program with Richard Petty Motorsports. The company and its family of brands, including Eckrich, Farmland, Gwaltney, Nathans and Smithfield, will return as primary sponsors of the legendary No. 43 Ford Fusion driven by Aric Almirola in the NASCAR Sprint Cup Series for 29 races in 2014 and beyond under a contract that extends through the end of the 2016 season. The announcement was made today during a luncheon in New York City hosted by Smithfield Foods, RPM and officials from NASCAR. The agreement increases support from 15 events in 2012 and 25 in 2013 to 29 events in 2014-2016. The partnership with Richard Petty Motorsports and the NASCAR Sprint Cup Series has been a very effective marketing platform for the world's largest pork processor, with in store promotional activities and tie-ins yielding successively incremental sales results.
"I believe in the power of NASCAR and Richard Petty Motorsports. My challenge to RPM was, to help Smithfield connect our brands with the sport's 80 plus million fans," commented Larry Pope, President and CEO of Smithfield Foods. "Our results completely validate our participation." Mr. Pope further offered, "I also expect that our increased investment will yield significant infrastructure steps that lead to our shared vision of Petty Rising to be realized." As identified by Mr. Pope, this long term commitment from Smithfield Foods will help support Richard Petty Motorsports' aggressive investment in competition, including the immediate development of a research and development group led by veteran NASCAR team engineer Scott McDougall.
"We are proud to see the goals of our partnership with Smithfield Foods exceed everyone's expectations," explained Richard Petty, co-owner of Richard Petty Motorsports. "During our first meeting with Smithfield, Larry was very candid in his belief that the NASCAR platform was perfectly aligned with their customer, but the only way he would invest in the sport was for us to prove the sport could produce growth for his brands. "This expanded partnership is evidence the platform has worked and continues to work," continued Petty. "We have worked very hard the past two seasons to position our team as business and marketing leaders in the NASCAR landscape. Smithfield's continued commitment with us for years to come will allow us to focus on winning on the track while still working with Smithfield Foods to expand their business."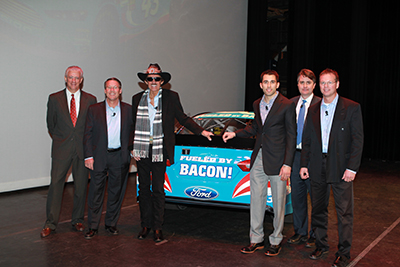 "Some of the world's most profitable and successful corporations choose to partner with NASCAR because its proven to drive business," said Jim O'Connell, NASCAR chief sales officer. "The extension between Richard Petty Motorsports and Smithfield Foods reinforces that blue-chip brands are confident our sport is positioned for future growth."
Almirola, who is in his second full season in the NASCAR Sprint Cup Series with RPM, turned heads posting four consecutive top-10 finishes at the start of the 2013 season. He scored a total of six top-10 and one top-five finish and went on to finish 18th in the point standing, an improvement of two spots from his first full season in the series. As the ambassador for Smithfield Foods, he has witnessed the success of the sponsorship first-hand.
"Having Smithfield expand their program each year is proof the NASCAR Sprint Cup Series platform and this partnership with RPM is exceeding the business goals of Smithfield and their brands," Almirola said. "I see the excitement at our appearances at-retail. We see it during the charity initiatives we are a part of with Smithfield's Helping Hungry Homes, Eckrich's Operation Inspiration and Farmland's support of Harvesters Food Bank. I'm proud to be a small part of Smithfield Foods and what they do to give back to local communities as part of our race program. More importantly, I'm proud to be an ambassador for their brands and am thankful for their commitment to allow us to compete for wins on the track."
In addition to the expansion of Smithfield Foods, RPM has also welcomed additional sponsors to the sport over the past two seasons including Strike 10 Entertainment, the Florida Department of Agriculture and Consumer Services, WinField and Twisted Tea.
The No. 43 Smithfield Foods Ford kicks off the 2014 season at the 56th annual Daytona 500 Sunday, February 23 live on FOX.
About Smithfield Foods
Smithfield Foods is a $12 billion global food company and the world's largest pork processor and hog producer. In the United States, the company is also the leader in numerous packaged meats categories with popular brands including Farmland, Smithfield, Eckrich, Armour and John Morrell. Smithfield Foods is committed to providing good food in a responsible way and maintains robust animal care, community involvement, employee safety, environmental, and food safety and quality programs. For more information, visit www.smithfieldfoods.com.
About Richard Petty Motorsports
A performance and marketing driven company, Richard Petty Motorsports, co-owned by NASCAR Hall of Famer Richard Petty and successful business entrepreneurs Andrew Murstein and Douglas Bergeron, is one of the most recognized brands in all of motorsports. With a history of over 200 wins and business partnerships with national and global leaders, today the race operation fields two teams in competition in the NASCAR Sprint Cup Series. Aric Almirola pilots the famous No. 43 Ford Fusion with primary partners Smithfield Foods, U.S. Air Force, STP, GoBowling.com and Fresh From Florida and Marcos Ambrose drives the No. 9 Ford Fusion with primary partners STANLEY, DEWALT, Mac Tools and Twisted Tea. In addition, Dakoda Armstrong will compete in the No. 43 Ford Mustang with primary partners WinField and Fresh From Florida for his first full-time season in the NASCAR Nationwide Series. The team is headquartered in Concord, N.C.