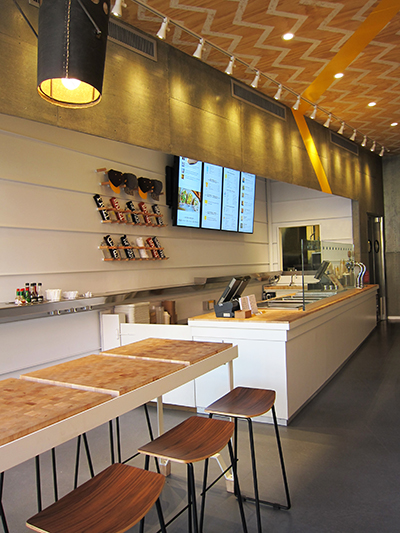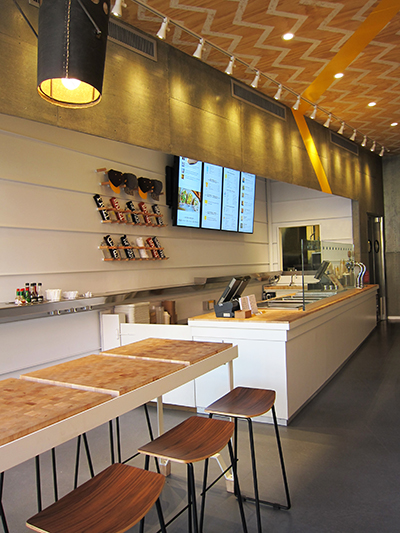 The potato has just moved from the side of the plate to its center. Potatopia, a restaurant that exalts the humble potato, is opening its first New York City location in Greenwich Village (378 Sixth Avenue at Waverly Place), adding a fresh, new option to Manhattan's dining scene. This potato-centric concept launched in 2011 when founder Allen Dikker opened the restaurant's first outpost in Edison, New Jersey, offers a customizable menu featuring nine different potato styles, premium toppings and house-made sauces.
"The potato has always been a staple side dish for Americans, but I believed it had the potential to take a starring role, not just be a supporting player," said Dikker. "After opening in New Jersey, long lines started to form and we began to develop a cult following. With the launch of Potatopia's first New York City location, we look forward to introducing diners to new ways to enjoy a familiar favorite and show them that the potato can be the foundation of a healthy, completely balanced meal."
An avid home cook, Dikker began creating sauces for his friends and family that proved to be so popular he began looking for ways to use them. He discovered that the potato was the perfect 'vehicle' for those sauces and the Potatopia seed was sown. Today, the concept is a fast-casual restaurant with a difference: Dikker offers only the highest quality fresh ingredients, locally-sourced whenever possible. Potatopia's premium proteins are sourced from Pat LaFrieda and are all-natural, free of hormones, antibiotics and MSG and prepared using a convection oven cooking method. In addition, only fat-free, high-oleic soybean oil which contains no saturated or trans fats is used in preparations calling for oil.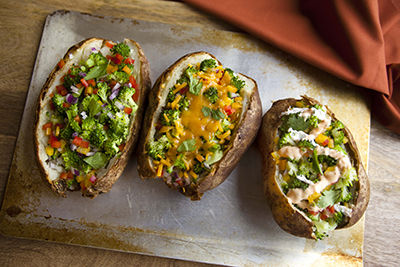 The Potatopia menu features 4 different potato varietals – Kennebec, Russet, Red Bliss and Jumbo Yam – in ten different styles – smashed, skin, baked regular, baked sweet, curly, shoestring, sweet potato crinkle, potato au gratin, and mashed pie, Potatopia's take on a Shepherd's Pie, with toppings nestled beneath mashed potatoes and baked to create a crispy crust. The chosen potato style may be topped with fresh vegetables such as mushrooms, red onion, broccoli and corn, and proteins including grass-fed steak, free-range chicken, shrimp, wood-smoked bacon and a sausage blend created exclusively for Potatopia. Cheese selections include Asiago, Cheddar, Parmesan, Pepperjack, and Swiss, and this list will be supplemented with special monthly offerings such as a Reserve Gruyere and Smoked Gouda. All combinations may be enhanced by Dikker's 14 proprietary house-made sauces in flavors that range from Garlic Aioli to Chipotle Ketchup, Truffle, Chili Pepper, Roasted Pepper, Ranch, Parmo, Chipotle Mayo, Savory Bacon and Curry.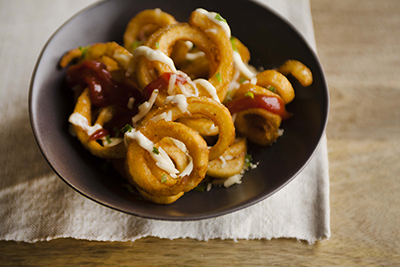 Menu options for breakfast, lunch, dinner and late-night snacks include signature meals with tongue-in-cheek names that take the "starch" out of the potato, such as, "I Think Therefore I Yam," sweet potato crinkle fries, house salt and pepper, Asiago and Parmesan cheeses, parsley, red onion, garlic and house made garlic aioli, the "Curly Sue," curly fries, house salt and pepper, Pepperjack and Parmesan cheeses, jalapeno, garlic, scallion, chipotle ketchup and garlic aioli, and "Frequent Friers," shoestring fries, house salt and pepper, Parmesan cheese, parsley, garlic and parmo aioli. The West Village outpost of Potatopia will also feature menu items that are unique to the location including the breakfast special "Lower East Sider," shoestring fries, scallion, house salt, lox, cilantro with sour cream. A custom-made beverage tap system will dispense organic sodas, and a variety of tea and juice options will also be available.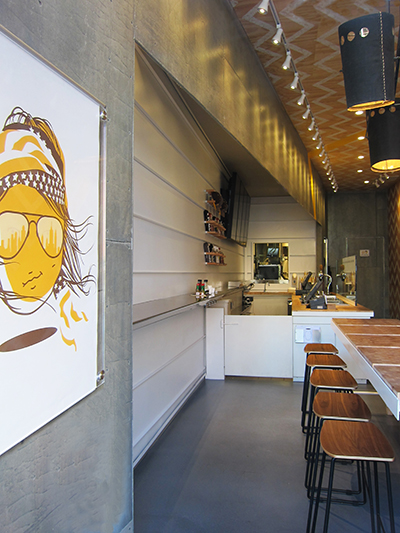 Riscala Agnese Design Group (RAD) created the visual identity of Potatopia, conveying utility with an edge. Principally designed using steel, wood and concrete, the space is softened by light pendants and herb planters created from burlap-lined recycled tires, and the whole is framed with plywood adorned with a signature ziz-zag pattern. Counter seating and steel framed modular butcher block units will offer seating for 12.
Fans of Dikker's proprietary, house-made sauces will be able to purchase them at the New York City location. Each order will be freshly dispensed upon purchase into a 12 oz bottle and will retail for $7.99. A range Potatopia merchandise such as t-shirts, hats, and newborn onesies will also be available for purchase at the New York City location.
Potatopia is now offering catering to customers hosting large events from its New York City and New Jersey locations.
Catering from Potatopia is a fun and fresh new option for office meetings, family celebrations or other gatherings and events. The unique and tasty offerings from Potatopia allow for diners to create their own meal with the countless potato and toppings selections.
For each order, you can select from 9 different potato preparations, available in half trays (feeds 5-7 people) or a full tray (feeds 10-14). Then choose eight different vegetable and two cheese toppings that will be served alongside the potatoes. Additionally, each tray comes with one bottle of Potatopia's signature house made sauces. Proteins are available for an extra charge as well as additional toppings and sauces. All orders come with stands, chafing dishes and utensils. Broken down, this selection of food starts at only $8 per person. Customers can also order trays of some of Potatopia's top signature meals including the Smashed Hit, I Therefore I Yam and the Curly Sue.
For catering orders in New York City or New Jersey, please call Potatopia at (888) 448-8821. Additional information is available at www.potatopia.com and the full catering menu is below for your reference.
ABOUT POTATOPIA:
Launched in the Menlo Park Mall by Allen Dikker in 2011, Potatopia offers a wide range of fresh potato options topped with high quality all-natural ingredients for a perfectly balanced meal. Diners can either create their own customized dishes, choosing from a menu of natural cut potato styles, delicious proteins and vegetable toppings, flavorful extras and signature sauces, or may simply select one of Potatopia's popular combinations. Potatopia West Village (378 Sixth Avenue, New York NY) serves breakfast, lunch, dinner and anything in-between, Sunday 10AM-10PM, Monday – Wednesday 7AM-12AM, Thursday – Saturday 7AM – 4AM. For more information, please visit Potatopia online at www.potatopia.com and find them on Facebook and Twitter.