The Newly Re-Launched Mayfair Hotel, And Open A New Dallas Office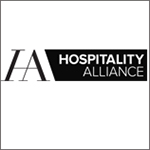 Hospitality Alliance, the national management, development and consulting company, announces today a new project, Sound View Greenport located on Long Island's North Fork. The property has brought in the lifestyle hotel and food and beverage veterans to revamp and manage all of its dining and nightlife venues as it comes off of a fresh renovation that brings the heritage 1935 waterfront hotel into the modern era. Alongside an overhaul of the property's signature restaurant, The Halyard, the Hospitality Alliance team is focusing on bringing a more cohesive, and expansive dining program to the location. In addition to a dynamic restaurant identity, the team at Hospitality Alliance, spearheaded by partners Kevin Lillis, Kelley Jones and Brendan McNamara aim to raise the bar on the property's beverage program.
In July 2018, The Mayfair Hotel – a historic 1926 hotel located in the emerging Westlake neighborhood of Downtown Los Angeles – will unveil a top-to-bottom renovation. Hospitality Alliance is managing the Mayfair's multi-faceted dining and bar options, including M Bar located in the lobby lounge, The Library Bar and a signature restaurant, Eve American bistro, with Executive Chef Scott Commings, "Hell's Kitchen" Season 12 winner, at the helm, as well as the pool deck and catering.
The firm has also been tapped to manage food & beverage operations at The Thunderbird Boutique Hotel in Downtown Las Vegas, NV, which includes the iconic Thunderbird Lounge, a gaming tavern and concert hall. The retro-chic lounge embodies the best of life on the Strip.
"We're excited to work with well-established business partners who want to deliver unique premium food and beverage options for their guests," said Kevin Lillis, Hospitality Alliance Chief Executive Officer. "The logical expansion of our business is to be in regions where there is a need for our services and that region now is Texas. The Texas office is the perfect complement to our presence on the East and West coasts."
Hospitality Alliance's third office is in Dallas, TX to oversee the company's many budding projects in the area, which include Food Hall at Crockett Row in Fort Worth, TX, which is slated to open on September 1 and another to-be-announced food hall in Dallas. The first of its kind in Fort Worth, the 16,000 square-foot food hall will feature a wide variety of cuisines, including anchor tenant Knife Burger by "Top Chef" alum John Tesar and Graze by Grady Spears. For more information, visit www.hospitalityalliance.com.
WEBSITE
www.hospitalityalliance.com
www.soundviewgreenport.com
www.thunderbirdhotellasvegas.com
www.crockettrow.com/food-hall-crockett-row/
www.mayfairla.com
ABOUT HOSPITALITY ALLIANCE
Hospitality Alliance is a national management, development and consulting company made up of award-winning experts in different areas of the hotel and food and beverage industries. Founded by industry veterans Kevin Lillis, Kelley Jones, and Brendan McNamara, Hospitality Alliance provides comprehensive services for hotels, restaurants, bars and developers including concept development, leasing, construction project management, hiring, training and opening of new concepts as well as ongoing operational management. The team has developed, opened and operated high profile restaurants, bars, and clubs in New York, Las Vegas, Los Angeles, Miami, and Chicago. Collectively, the principals have managed the operating teams of eight of the top 100 highest grossing restaurants in the United States and led the opening teams of five of the top 100 highest grossing restaurants in the United States in addition to creating some of the most successful independent hospitality brands in the market today. Through this broad experience, Hospitality Alliance delivers customized, fully integrated solutions to their clients.