The Iconic NYC Brand Celebrates Long Island Expansion
With Giveaways & Festivities on Saturday, July 7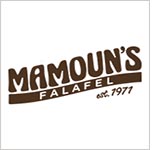 Mamoun's Falafel, the famed Manhattan-based concept known for being New York's oldest falafel restaurant, is opening the doors of its first Long Island outpost in Syosset, NY on Saturday, July 7. Beginning at 11 AM, the new shop, located at 408 Jericho Turnpike, will celebrate its Grand Opening with festivities such as:
FREE Mamoun's swag for the first 100 people in line
Entry into the Grand Prize Raffle drawings for prizes that include a
flat-screen TV and Beats headphones
The Syosset shop is the first Mamoun's Falafel to open on Long Island, joining the brand's seven existing locations in New York, New Jersey, Connecticut, and Dallas. In recent months, the brand has put in place an aggressive growth strategy that includes locations coming soon to Philadelphia and Fort Lee, NJ, followed by Staten Island,, Chicago and Atlanta. With the help of Mamoun's exclusive franchising partner, global franchising development company, Fransmart, the brand is positioned to develop locations in major media markets nationwide.
"It's taken Mamoun's nearly 50 years to bring our iconic falafel and Middle Eastern eats to Long Island, but we're more than thrilled that our beloved concept will now be more easily accessible to those in our own backyard," said Mamoun's CEO Hussam Chater. "The new store in Syosset will bring Mamoun's to people who have been loyal supporters of the brand for a long time, and we look forward to hopefully opening locations in more Long Island cities in the years to come."
Mamoun's Falafel has been dishing out authentic Middle Eastern cuisine since opening in New York City's Greenwich Village in 1971. The concept was started by Mamoun Chater, who built the menu using authentic Syrian recipes and natural ingredients and spices–the menu which is still offered at all stores today. The legacy and tradition of the brand is carried on today by Mamoun's four sons, who have continued to build up Mamoun's reputation for being the most authentic and flavorful falafel in Manhattan, as well as expanding the concept to major media markets across the country.
The falafel shop continues to expand its ever-growing fanbase with entry into each new market across the U.S. Mamoun's loyal following has helped the concept garner accolades like 'Best Falafel' and one of 'NYC's Most Iconic Sandwiches' from The New York Press and Eater NY, respectively. Mamoun's Falafel has also been included in the travel book "1,000 Places to See Before You Die," and has been featured on the Food Network, Travel Guide Channel, and on nationally syndicated television shows like The Rachael Ray Show and The Chew.
About Mamoun's Falafel:
Mamoun's Falafel is a New York City institution and one of the oldest falafel restaurants in Manhattan. Founded in 1971, the family-run business is dedicated to authentic traditional Middle Eastern cuisine including falafel, shawarma and hummus. Everything is made from scratch using only the freshest natural ingredients and the finest imported spices. The brand has been featured on Food Network and the Travel Guide Channel, and is listed in the book '1000 Places To See Before You Die.' Mamoun's Falafel currently operates 8 locations in New York City, New Jersey, Connecticut, and Texas.
About Fransmart:
Fransmart is the global leader in franchise development, turning emerging restaurant concepts into national and global brands for over 10 years. Company founder Dan Rowe identified and grew brands like Five Guys Burgers & Fries and Qdoba Mexican Grill from 1-5 unit businesses to the powerhouse chains they are today. Fransmart's current and past franchise development portfolio brands have opened more than 3,000 restaurants in 45 states and 35 countries. Fransmart and their partner brands are committed to franchise development growth—as of 2015, over 1,000 new restaurants are in development across their current portfolio.