Emeril's New Orleans Fish House Announces Jean Paul Labadie as New Chef de Cuisine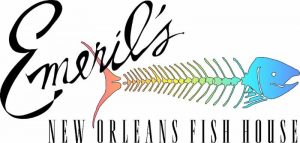 Emeril's New Orleans Fish House announces Jean Paul Labadie as the new chef de cuisine. Chef Labadie brings more than 20 years of culinary experience to this position and rejoins the Emeril's New Orleans Fish House team after initially working at the restaurant in 1996.
As chef de cuisine, Labadie will be directly involved with managing the kitchen, hiring new culinary staff and introducing new entree items to the menu.
"I am honored to be back working for Chef Emeril Lagasse in one of the greatest restaurants on the Las Vegas Strip," said Labadie. "I look forward to bringing Emeril's New Orleans hospitality and the best cuisine to our guests."
Labadie studied hotel and restaurant management at Iowa State University, eventually transferring to and graduating from Western Culinary Institute in Portland, Ore. In 1996, Labadie began working under acclaimed chef and Food Network personality, Emeril Lagasse, as a cook for his self-titled restaurant in New Orleans, La. From there he moved to Las Vegas where he was named sous chef at Emeril's New Orleans Fish House in the MGM Grand. Soon after being promoted to chef de cuisine, he was tapped to open Lagasse's newest venture Table 10 in The Palazzo Resort & Casino. Most recently he was the chef de cuisine at Searsucker at Caesars Palace.
Labadie was also featured on and won "Extreme Chef" on Food Network and served as a judge on "Throwdown with Bobby Flay."
"We are thrilled to welcome Chef Jean Paul back to Emeril's Fish House," said Mike Olsen, director of operations for Emeril Lagasse's Las Vegas restaurants. "His experience and history with Emeril's restaurants makes him a great addition to our culinary team."
About Chef Emeril Lagasse's Restaurants
Chef Emeril Lagasse is the chef/proprietor of 12 award-winning restaurants, including three in New Orleans (Emeril's, NOLA and Emeril's Delmonico); four in Las Vegas (Emeril's New Orleans Fish House, Delmonico Steakhouse, Table 10 and Lagasse's Stadium); two in Orlando (Emeril's Orlando and Emeril's Tchoup Chop); and three at the Sands Casino Resort Bethlehem in Pennsylvania (Emeril's Chop House, Burgers And More by Emeril and Emeril's Fish House). Lagasse opened his first restaurant, Emeril's New Orleans, in 1990 to national acclaim. He opened his first Las Vegas property, Emeril's New Orleans Fish House at the MGM Grand in 1995, followed by Delmonico Steakhouse in The Venetian Resort, Hotel & Casino in 1999 and Table 10 at the Grand Canal Shoppes at The Venetian l The Palazzo in 2008. Lagasse's restaurants consistently win critical praise and top ratings. Delmonico Steakhouse has received the prestigious "Grand Award" from Wine Spectator magazine every year since 2004.
About Emeril Lagasse
Chef Emeril Lagasse is the chef/proprietor of 12 restaurants in New Orleans, Las Vegas, Orlando and Bethlehem, PA. Lagasse's 13th restaurant, Meril, is slated to open in New Orleans in September 2016. As a national TV personality, he has hosted more than 2,000 shows on the Food Network, and is the food correspondent for ABC's "Good Morning America." Lagasse has appeared as a guest judge in four seasons of Bravo's hit food series, "Top Chef," was named a co-host for the tenth season of the "Rachael Ray Show," and in January 2016, he entered his fourth season of "Emeril's Florida" on the Cooking Channel. His latest project, Eat the World with Emeril Lagasse, an Amazon original series premieres September 2016. Lagasse is the best-selling author of 19 cookbooks, the latest, Essential Emeril: Favorite Recipes and Hard-Won Wisdom from My Life in the Kitchen, was released in October 2015. In 2002, Emeril established the Emeril Lagasse Foundation to support children's educational programs that inspire and mentor young people through the culinary arts, nutrition, healthy eating, and important life skills. To date, the Foundation has donated more than $7 million to community organizations in New Orleans, Las Vegas and on the Gulf Coast. In December 2015, Sequential Brands Group, Inc. (Nasdaq:SQBG) acquired the assets related to Emeril Lagasse's media and merchandising business, including television programming, cookbooks, the Emerils.com website and his licensed kitchen and food products. For more information, visit: emerils.com.