BIERHAUS NYC CELEBRATES OKTOBERFEST 2016 WITH CEREMONIAL KEG TAPPINGS, CELEBRITY APPEARANCES, NATIONAL BRATWURST EATING CHAMPIONSHIP, AND MORE!

Bierhaus NYC – New York City's headquarters for Oktoberfest 2016 events and festivities.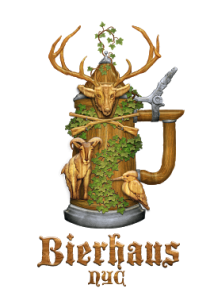 Bierhaus NYC, a Bavarian-style restaurant and bar conveniently located three blocks from Grand Central Station, is New York City's Oktoberfest headquarters with live music, world famous Hofbräu bier, authentic German cuisine, and fun for the whole family. Guests are encouraged to don their lederhosen and dirndls and head to Bierhaus NYC to experience Oktoberfest festivities that will continue from Sept. 17th until Oct. 31st.
Oktoberfest celebrations will kick-off at 12:00 p.m. on Saturday, Sept. 17th with the 58th German-American Steuben Parade. The parade will begin at 68th Street and Fifth Avenue and will end at 86th Street and Fifth Avenue in New York City. The celebrations will continue on at Bierhaus NYC with live music, a ceremonial keg tapping, and a Spanferkel, a traditional German pig roast. Jägermeister will be in attendance giving away free samples of Jägermeister and other fun giveaways!
On Friday, Sept. 30th, Bierhaus NYC will host a Celebrity Keg Tapping with Playboy's Miss Alyssa Arce.
Bierhaus NYC is heating things up this fall with Miss Alyssa Arce tapping a Hofbrau Keg in honor of Oktoberfest 2016.In addition to handing out free beers from the keg tapping, Alyssa will be there to greet fans and take photos. Alyssa has been featured as Playboy's Miss July 2014, GQ Magazine, Guess, FHM, Spike TV's Glory World Series Girls, Big Sean's "Blessed" music video, and many more! This event will take place on September 30th from 7pm-9pm.
Playboy's Miss Alyssa Arce returns to Bierhaus NYC on Saturday Oct. 1st to host a funky Oktoberfest competition.
Bierhaus NYC will hold their first ever "Dudes In Dirndls" competition on October 1st at 9pm. Bierhaus is looking for men who are interested in dolling up their look in a traditional Bavarian dress, called a dirndl, for a chance to win a cash prize of $300. Playboy's Miss Alyssa Arce is set to host the pageant competition, in which men will show off their best looks on the Bierhaus NYC stage. Alyssa will be judging contestants based on outfit, creativity, personality, overall appearance, and audience reaction. It will be a night filled with fun, laughter and lots of beer! Any men interested in participating in the "Dudes in Dirndls" competition is asked send an email, including their name and phone number, to marketing@bierhausnyc.com.
Bierhaus NYC will hold a family fun event, Kidtoberfest, on Sunday, Oct 2nd.
Games, coloring, face painting, and live music are all scheduled for Bierhaus NYC's Kidtoberest Celebration taking place from 1 to 3pm. Enjoy brunch with the family and make sure to bring the little ones, kids under ten eat free!
On Saturday, Oct. 29, Bierhaus NYC will host New York's only nationally sanctioned Oktoberfest eating championship with the 5th Annual Bierhaus NYC National Oktoberfest Bratwurst Eating Championship. Some of the nation's most recognized competitive eaters will gather at Bierhaus NYC at 4:00 p.m. to see who will have what it takes to conquer one of the most well known sausages in the world. Last year's champion, Molly Schuyler, will be back to beat her current world record of 50 bratwursts in eight minutes. Molly has crushed her male competitors the in the past years, and continues to reign as the best of the wurst. Registration is open to all interested participants. Prizes will be awarded as follows: First Place: $750 and a trophy, Second Place: $500, Third Place: $250, Fourth Place: $100. This event will be recognized nationally and will be the biggest event in New York City during Oktoberfest. A live band and an emcee will entertain guests during the event.
Throughout Oktoberfest, live bands will play nightly Tuesday through Saturday at Bierhaus NYC. While enjoying the live music, guests are encouraged to sample traditional soft pretzels imported from Bavaria, slow roasted pork shank served with sauerkraut, and a vast selection of wurst. As for drinks, Bierhaus NYC offers five varieties of Hofbräu bier on tap including the world renowned Hofbräu Oktoberfestbier. Guests can also choose to share a 2-liter 'boot' filled with bier or a shotski that consists of 4 shots attached to a wooden ski. Be sure to check out Bierhaus NYC's event calendar on their website for other fun Oktoberfest events!