Study shows shared-use kitchen trend growing, but suffering from regulatory roadblocks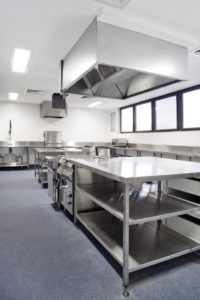 The Food Corridor, LLC, a Colorado-based software company that connects food entrepreneurs with commercial kitchen space, has released an in-depth report on the state of national shared-use kitchen policy. Based on surveys and interviews with more than 30 incubator and commissary kitchen operators from across the United States, the policy report concludes that inconsistencies in municipal, county, and state food codes may be limiting growth in local food systems. The report includes insights about kitchen clientele, best practices for onboarding clients, health department procedures and relationships, insurance considerations and the future of incubator kitchen policy. The report can be found at www.thefoodcorridor.com/resources/
For start-up and growing food businesses (i.e., food trucks, caterers, artisan food manufacturers, etc.), accessing commercial kitchen space is a challenge. By law, food businesses are required to use licensed kitchen facilities, something not always available and affordable to them.
"The concept of shared-use kitchens has grown considerably in recent years, stimulating an increase in food entrepreneurship and the creation of expanding local food economies," said Ashley Colpaart, co-founder of The Food Corridor. "However, the overall landscape of shared-use kitchens is suffering from unclear and inconsistent government regulations at local and regional levels. By adopting common definitions and eliminating regulatory redundancy, start-up food businesses will have increased opportunity to thrive."
In addition to legislative roadblocks, the report finds that food entrepreneurs are stymied due to limited access to critical infrastructure. Costs associated with outfitting a licensed commercial kitchen are estimated between $50,000-$500,000, depending on size and scope of the facility.
But like the shared office space sector, access to commercial kitchen space is emerging, reducing barriers to entry for food enterprises.
Established in 2016, The Food Corridor's mission is to enable efficiency, growth, and innovation in local food systems via a software-as-a-service management platform to assist operators of shared-use kitchens. The difficulties that food businesses experienced in navigating local regulations, and inadequate licensing options, prompted the study to help shared-use kitchens identify best practices and policies to support the emerging industry.
About The Food Corridor
The Food Corridor is an access economy technology built to support local food systems. The Fort Collins, Colo.-based virtual food hub connects food entrepreneurs with available and unused commercial kitchen spaces in an effort to regionalize food systems through reducing redundancy and increasing efficiencies. Its online platform provides scheduling, booking, client management, and financial transaction processing to enable food businesses access to commercial kitchen spaces. Learn more at www.thefoodcorridor.com, Facebook, Instagram and Twitter.