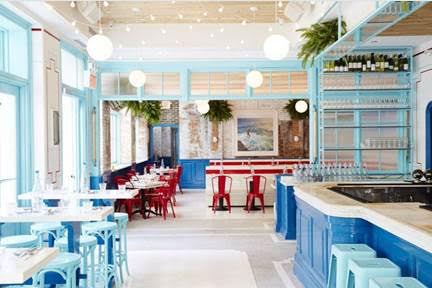 Pizza Beach Lower East Side: 167 Orchard Street (at Stanton St)
Located at 167 Orchard St, Pizza Beach LES is the second outpost to its original Upper East Side location. The vibrant venue is surrounded by large windows, bold colors, and bright string lights to make you feel like you are in paradise on even the coldest days. With its beach-designed theme filled with surfboards, hanging plants, cast open French doors, and photos of gorgeous beaches from around the world, Pizza Beach encompasses a 90s-retro Malibu vibe throughout the restaurant. The menu consists of delicious wood oven fired pizzas (available in gluten-free), salads, vegetables like the Cauliflower or Heirloom Carrots and healthy main dishes like Diver Scallops or Fire Grilled Pawns. Customers can close their eyes and imagine they are away on vacation anytime of the year, sipping on cocktails like the Hemingway Daiquiri or Watermelon Martini. Additionally, a private dining room is situated downstairs, seating up to 50 guests- perfect for private events, birthdays, dinner parties, pizza making classes and more.
Head down the to Lower East Side and meet us at the beach!