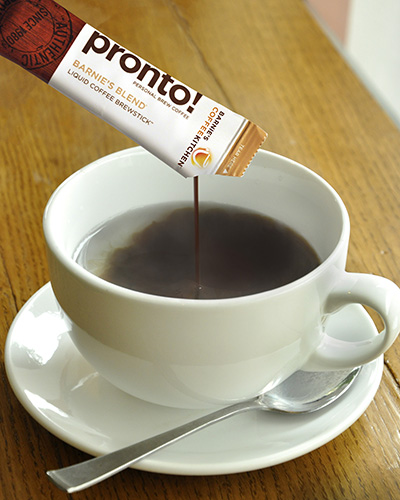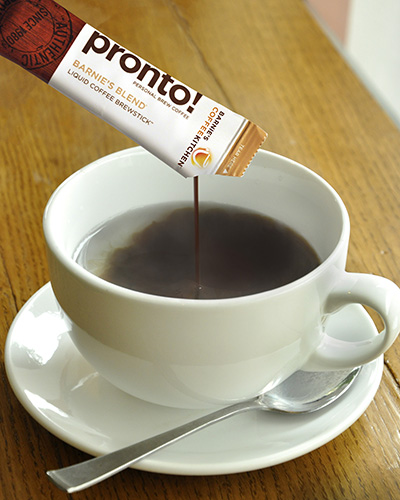 Tis the season for decadent sweets and treats, and therefore, tighter waistbands. Believe it or not, there are ways to incorporate rich flavors like crème brulee, white chocolate, and hazelnut into your day without adding hundreds of unwanted calories.
Pronto! a liquid coffee concentrate made from 100 percent Arabica beans, offers the experience of having a decadent cup of coffee, in a variety of flavors, at any time. Barnie's CoffeeKitchen Pronto! focuses on bringing out the individuality and unique characteristics of each and every coffee with their rich flavors. Whether you prefer a creamy, smooth blend, a savory, nutty taste, or sweet, delicate flavor, Pronto! offers seven all natural unsweetened selections: Barnie's Blend, Cool Café Blues, Crème Brulee, French Roast, Hawaiian Hazelnut, Southern Pecan, and Santa's White Christmas.
Barnie's Blend is the signature combination of prized South and Central American coffee beans. This delightful and comforting blend is sweet, balanced, and full-bodied with a well-rounded character that is pleasing anytime.
Cool Café Blues is an intriguing blend of Central and South American coffee flavored with rum, caramel, maple, nutty pecan, and sweet cinnamon. This spicy, sweet and nutty blend will make you feel relaxed. – -Crème Brulée blends the delicately delicious flavors of the classic cream and caramel dessert. Sweet, creamy vanilla and buttery caramel melt together in a perfectly balanced cup of coffee.
French Roast is a flavorful, mysterious pleasure. This enticing blend of South and Central American beans has been roasted to bring out flavors of caramel and deep chocolate for a delicate dark flavor. —–Hawaiian Hazelnut combines the flavors of rich, warm hazelnut and smooth, creamy coconut. This intriguing blend of South and Central American beans and sweet, nutty flavors will transport your senses to a tropical paradise.
Southern Pecan delivers the familiar warmth of Southern comforts. Nutty, buttery, slow-roasted Southern pecans are combined with a well-balanced coffee blend to create a cup that tastes like home. –Santa's White Christmas is America's Favorite Flavored Coffee that combines the flavors of coconut, nuts, sweet caramel and vanilla. This irresistible blend will satisfy any craving for something smooth, rich and wonderful.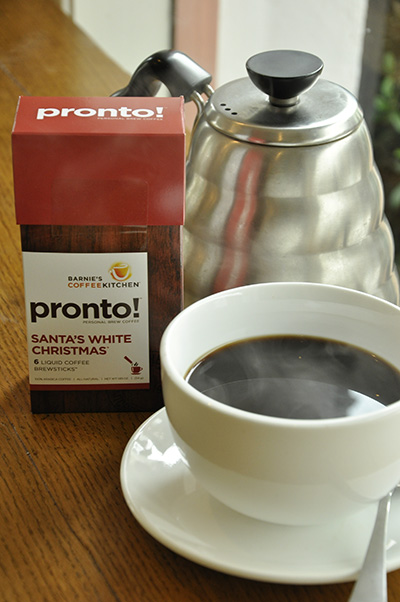 Rich flavor meets convenience with this new innovation in the coffee industry. Just add one brewstick to 10 ounces of hot or cold water. Let the concentrate dissolve and brew instantly; then, just stir and enjoy—anytime, anywhere making it easy to BYOC. Pronto! retails for $5.99 for a pack of 6 in select Walmart stores.
About Pronto!
Pronto! comes in a portable, easy to open package and dissolves quickly in hot or cold water so you can have a freshly brewed cup of gourmet coffee anytime, anywhere simply by adding water. This single serve, personal choice, cold brewed coffee is going to revolutionize the gourmet coffee industry. No coffee machine required and it's lower in acid, shelf stable and affordable.
About Barnie's Coffee & Tea Company
A Florida original, Barnie's Coffee & Tea Company was founded in 1980 near Orlando. Our first store opened their doors on Park Avenue in Winter Park with a clear purpose: to share the best coffee and tea from around the world with our neighbors and friends. Our company is committed to bringing you the finest in products and customer service.
Today, Barnie's Coffee & Tea has become Barnie's CoffeeKitchen, our natural evolution: coffee, food and community. From sourcing the best coffee beans from family farms and premier growers to sharing our enthusiasm for fresh ingredients, we believe in making coffee an experience. We are thrilled to share our chef-inspired values with you in each bag of our artfully roasted coffees. We offer over 50 coffees, each hand selected to respect the pivotal role coffee has played in global cultural traditions. We are also committed to supporting earth friendly and organic practices by offering a selection of Organic, Fair Trade and Rainforest Alliance coffees.
Barnie's headquarters is located in Orlando, FL and is privately owned. We currently have four company-owned Central Florida locations. Our coffees can also be found in thousands of Florida grocery stores, throughout the country through office coffee services, food service establishments and our website.