Limited-time dessert offering begins today at trend-setting Pie Five Pizza chain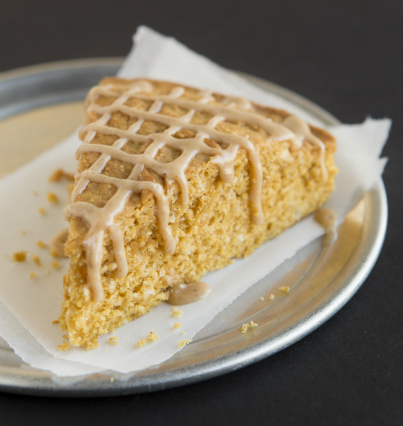 Every year around this time, Pie Five Pizza's culinary savant, Chef Andy Wittman, ventures into a nearby pumpkin patch to eagerly anticipate the arrival of the Great Pumpkin.
Let's be honest: Andy's not the sharpest knife in the drawer.
But he's a maestro in the kitchen; and this year, Andy's lonesome vigils provided inspiration for Pie Five's latest dessert sensation: the Pumpkin Patch Pie.
This delicious blend of fresh pumpkin, brown sugar, cinnamon, nutmeg and clove arrives at your nearest Pie Five Pizza today, October 14th, but will only be available through December 1st. So don't dilly dally.
"I don't care what anybody says, the Great Pumpkin is real. I saw it on TV," said Wittman, after leaving his therapist's office. "Regardless, I know everyone will believe in my Pumpkin Patch Pie. It's a delicious blend of cake and cookie made from real pumpkin and lots of other fresh ingredients. It's the perfect complement to a great personalized pizza at Pie Five this fall."
At Pie Five, guests can choose from more than a million combinations of handcrafted pizzas and a variety of specialty pie choices prepared in less than five minutes on one of four crusts. The rapidly growing chain is capitalizing on growing consumer demand for fresh dining options and artisan pizzas in stylish environments without the wait.
"Andy's a sweet boy, but I'm not sure where his Great Pumpkin obsession came from," whispered Granny Wittman out of the corner of her mouth. "But listen here, when he straps on his apron, he's a freaking genius. Don't tell him I said this, but his Pumpkin Patch Pie is so delicious, I just may steal the recipe for Thanksgiving."
Pie Five has been named a 2013 Top 50 Restaurant Brand of the Year, a 2012 Hot Concepts winner by Nation's Restaurant News, and one of "10 Hot New Restaurant Chains from Established Brands" by Forbes.com.
A subsidiary of Pizza Inn Holdings, Inc. (NASDAQ: PZZI), Pie Five now has 12 locations in Texas and one each in Kansas, North Carolina and Utah. Total announced franchise restaurants under contract currently number 105 in Florida, Kansas, Kentucky, Maryland, Missouri, Nebraska, North Carolina, Oklahoma, Texas, Utah and Virginia.
ABOUT PIE FIVE PIZZA CO.
Pie Five is a subsidiary of Pizza Inn Holdings, Inc., headquartered in the Dallas suburb of The Colony,Texas. Pizza Inn Holdings, Inc. is an owner, franchisor and supplier of a system of restaurants operating domestically and internationally. Pie Five Pizza Co. is a fast-casual concept offering individual pizzas made to order and cooked in less than five minutes. Founded in 1958, publicly traded Pizza Inn Holdings, Inc. (NASDAQ: PZZI) franchises approximately 300 restaurants and directly owns and operates 16 restaurants. For more information, please visit www.piefivepizza.com.