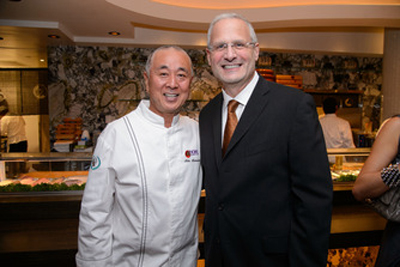 Chef Nobu and 27 Nobu executive chefs collaborated to present a history-making seven-course Omakase tasting menu to benefit Las Vegas charity Keep Memory Alive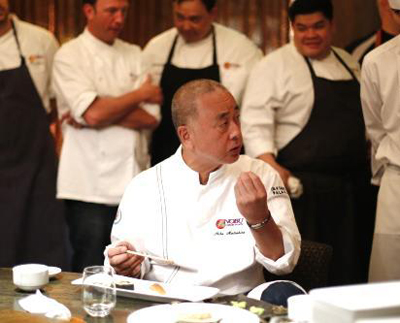 Acclaimed chef Nobu Matsuhisa and 27 of his executive and sushi chefs from across the country put their passions and skills to the test for the largest and most exciting Nobu culinary event in history. Nobu United, the culinary celebration at Nobu Hotel Caesars Palace Restaurant and Lounge, welcomed hundreds to delight in imaginative, never-before-seen dishes prepared in collaboration by Chef Nobu's talented team.
After months of collaboration and preparation, chefs representing Nobu Malibu, Nobu San Diego, Nobu Los Angeles, Nobu Dallas, Nobu Miami, Nobu New York, Nobu Next Door, Nobu Fifty Seven, Nobu Lanai, Nobu Waikiki, Nobu Caesars Palace Las Vegas, Nobu Hard Rock Las Vegas, Matsuhisa Vail and Matsuhisa Aspen energetically filled the 12,775 square-foot Nobu Caesars Palace restaurant with exceptional camaraderie and delectable dishes.
Guests enjoyed the company of Chef Nobu during the cocktail hour which showcased signature beverages and ingenious canapés prepared exclusively for this one-night only affair. As guests took their seats for the start of dinner service, the bustling culinary team delivered their A-game as they prepared and plated each dish to perfection. The highly anticipated Omakase menu included a delicate scallop baked in the shell and the masterful slow-cooked Wagyu rump accompanied king trumpet bone marrow with chestnuts and autumn flavors.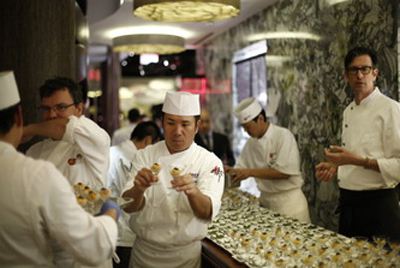 Those in attendance included Keep Memory Alive Founder Larry Ruvo, members of the prestigious Chaîne des Rôtisseurs, VIPs and foodies alike.
Recently lauded by Robb Report as one of "Luxury's Top 25 Most Innovative Brands," as well as being named one of the Top New Hotels of 2013 by CNN, Nobu further demonstrated its inventive culture and culinary creativity with this special one-night-only, collaborative dinner presentation.
A portion of the proceeds from Nobu United will benefit Keep Memory Alive supporting the Cleveland Clinic Lou Ruvo Center for Brain Health, which provides care to patients with memory and movement disorders at Cleveland Clinic locations across the United States.