In the past years, green powder drinks have become popular. These contain the green powder of the healthiest plants in the world. By drinking these powders, you get the nutritional value of these plants. Read on to discover why you should use these green drink cocktails.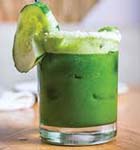 Read Digizine Version
Green drink cocktails are now becoming popular anywhere especially among health fanatics. The hype that goes along the well-publicized benefits of green tea is one of the many factors for the popularity of green drinks.
Green drink cocktails are made up of powdered green plants, vegetables and other herbs that work together to compensate the lack of nutritional values that are in our diets. It has been touted to provide many health benefits, especially if regularly incorporated in a daily diet.
There are many different kinds of green drinks to choose. Green drink cocktails are generally composed of different types of vegetables, herbal and whole grasses as well as nutritive grains. These and other essential herbs are concocted to produce only the best and the most nutritive value that a human body demands.
Green drink cocktails often come in powder form. Green drinks are also now popularly taken in capsules which are purposely manufactured for people with active lifestyle. These drinks are touted to provide many health benefits which are one of the many reasons it is now gaining popularity. Many components of green drink cocktails are said to be effective in lowering bad cholesterol level, improving digestion and strengthen the immune system.
These drinks also contain essential grasses and herbs which are carcinogens. Other components of these drinks also help in stabilizing blood pressure and improving mental acuity. The idea of making green drinks must have come from the health benefits that green tea is known for. Green tea is said to be a good anti-oxidant with the caffeine it contains.
This is why more and more drinks are now claiming to have green tea in them have hit the market, especially for health conscious individuals. This also leads to the fame that green drinks are now enjoying in many parts of the globe.
Now that these drinks are becoming famous, you can easily find many different kinds. Aside from powered sachets and capsule some green drink cocktails are now incorporated other beverages and snack foods. This enables health conscious individuals to gulp their favorite drinks with gusto minus the guilt of taking the hazards that goes along with other alcoholic beverages.
The most common and sellable form of these drinks in the market are those in capsule. These are big hit among young professionals who are always on the go and are health fanatics.
You need not have to spend too much on these drinks. There are many affordable products of this kind that are readily available in the market today. Aside from capsules and instant mixes, you can also choose to make your own at home. You simply have to purchase those powdered varieties and mix it with distilled water for maximum benefits.
However, you wish to take these drinks will not really affect the health benefits you will get from it. Whether you shall take the capsule or the power mix you are still assured of getting the benefits you wish to get from these drinks.
The bottom line is to ensure getting only the genuine products from reputable manufacturers. This should be your utmost concern in choosing the right green drink cocktails.