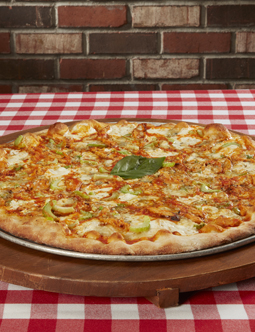 Known for its award-winning, coal-fired, brick oven pizza and calzones Grimaldi's Pizzeria announces its Fall Favorites menu, featuring signature items and classics with a twist. Set to debut September 1.
The appealing menu includes a new "Wedge" Salad complete with romaine lettuce, cherry tomatoes, red onions, blue cheese dressing, bacon, and gorgonzola; Buffalo Chicken Pizza, a twist on a classic with Frank's RedHot® Sauce, fire braised chicken breast, mozzarella, gorgonzola crumbles and celery all atop Grimaldi's coal brick-oven pizza crust; delicious new Green Apple Sangria; as well as rich, Caramel Apple Cheesecake featuring diced green apples served on a cinnamon sugar cookie crust topped with a caramel swirl and whipped cream and Chocolate Cheesecake with an Oreo® cookie crust for your sweet tooth.
All guests can enjoy Italian Sodas and Flavored lemonades fused with Monin® peach, green apple, and black cherry purees. For patrons 21 and over, sip on new craft cocktails including New York Sour, Peach Mule and Black Cherry Gimlet.

Grimaldi's Stoking Social Hour continues throughout each month held every weekday, Monday through Friday, from 3:30 p.m. to 6 p.m. (times may vary by location). Enjoy $2 off draft beers, $2 off glasses of wine (house wines excluded), and $2 off the Grimaldi's Bruschetta Trio and Antipasto Platters. For $25, the Stoking Social Hour menu features the popular Coalition pairing complete with a choice of Bruschetta Trio or small Antipasto platter and a bottle of wine. Starting Sept 1, guests have a choice between two Coalition wines – Tormaresca Chardonnay or Mamma Mia! Red Blend.
Additional fan favorites including Chef Selection pizzas, mouth-watering calzones, and a variety of fresh salads will be available throughout the duration of the Fall menu promotion.
About Grimaldi's Pizzeria:
In the world of pizza, Grimaldi's is an institution that has earned more awards than any other pizzeria in the country with more celebrity sightings than most 5-star restaurants. Using only the freshest ingredients, a "secret recipe" pizza sauce, handmade mozzarella cheese and dough, Grimaldi's serves traditional pizza (as it began in Naples, Italy) in an upscale yet casual, family oriented pizzeria. The intense heat of the oven evenly bakes the pies to create Grimaldi's famous crispy and smoky thin crust that Zagat has voted best pizza year after year.


For more information on Grimaldi's Pizzeria visit www.grimaldispizzeria.com "Like" Grimaldi's Pizzeria on Facebook: http://www.facebook.com/GrimaldisPizzeria Follow Grimaldi's Pizzeria on Twitter: www.twitter.com/grimaldispizza