The new eatery and lounge is the third collaboration between the firm and restaurateur Mark Kuller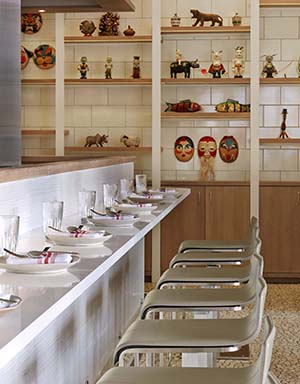 Award winning firm GrizForm Design Architects has teamed up with chef and restaurateur Mark Kuller to create Doi Moi / 2 Birds 1 Stone, a new restaurant and lounge concept in Washington, DC's Logan Circle area. This restaurant is the third concept to be rolled out by GrizForm and restaurateur Mark Kuller, following the success of the wine centric Proof and James Beard Award winning restaurant, Estadio.
For Doi Moi, both chef and designer sought to challenge themselves and create something very different. "We always want to create spaces that are fresh and new without repeating our designs," says firm principal Griz Dwight. "On this project, we didn't want to repeat themes and moods either. We wanted Doi Moi to be optimistic without a trace of nostalgia."
When creating the space, the design team and Kuller envisioned a clean and contemporary atmosphere that refreshingly strays away from DC's current restaurant scene. The bright and uplifting space features a fresh design aesthetic that complements Doi Moi's light, Vietnamese and Thai street food inspired fare.
When construction on the project began, the structure did pose some challenges, as half of the restaurant exists in a historic brick building and the other half in an adjacent new development. The historic area had rough brick and exposed beams while the new space was filled with floor to ceiling concrete. To pull the spaces together and make sure they would read as one, the team blew out the brick wall separating the two spaces and stitched them together with a white tile clad element that became the kitchen in the lower area and the bar in the upstairs space.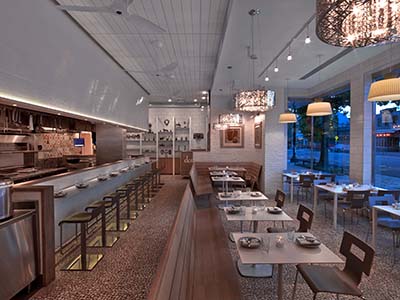 Doi Moi's architecture is mostly monochromatic with a white color palette employed throughout the space. The design team incorporated clean lines, glazed tiles, white brickwork and mosaic flooring into the design to emphasize this lightness. Pops of color can be found in two areas: on custom wooden shelving that showcases an eclectic mix of decorative pieces from Asia, including Vietnamese water puppets, and on a back wall, which is covered in a colorful mix of concrete tile. Dining room furnishings include a 30 foot long custom oak bench, high pressure white laminate tables, bent wood chairs with stainless steel legs, and taupe leather bar and kitchen counter stools.
For lower level bar 2 Birds 1 Stone, GrizForm kept the space just as bright and cool as the ground floor eatery with a customized wall mural by a local DC artist, a live edge wooden bartop, lounge seating, and brown leather booths.
"Doi Moi is optimism in the form of a restaurant," says Dwight. "The food is light, clean and fresh, so we wanted the design to reflect that."
GrizForm is improving the built environment one project at a time. The firm, founded in 2003 by Griz Dwight AIA, LEED AP, is a leading hospitality design and architecture firm with award winning work and a team that prides itself on its craftsmanship, strong attention to detail, awareness of historical context, and innovation. GrizForm produces creative solutions for clients, which include contemporary design concepts, cutting edge ways to solve design and architectural problems, and approaches to help push the design envelope further through the incorporation of unique materials or subtle historical references. Along with its strong interior design and architectural capabilities, GrizForm Design Architects designs and builds custom pieces from lighting to furniture to bring the client's vision to life,