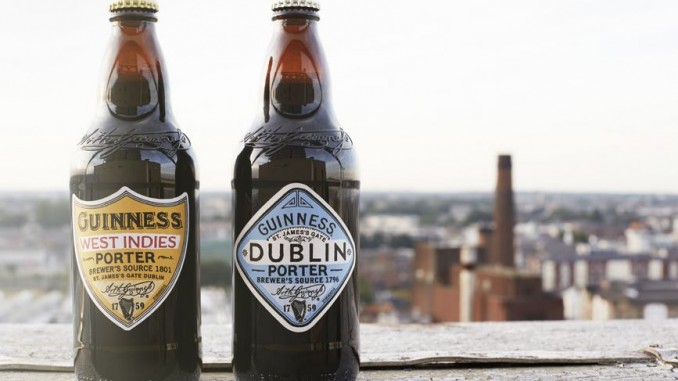 COMING TO AMERICA: GUINNESS DUBLIN PORTER AND WEST INDIES PORTER DEBUT FOR THE FIRST TIME
Iconic Brewery Brings a Taste of Brewing History to the U.S.
Since opening its gates, Guinness has been brewing up some of the best beers in the world for more than 250 years. For the first time in the U.S., the talented group of Guinness brewers is giving beer lovers a chance to taste a bit of the brewery's history with Guinness™ Dublin Porter and Guinness™ West Indies Porter – two beers based on recipes found in Guinness brewing books from more than 200 years ago. The Guinness™ Dublin Porter and West Indies Porter were developed by The Brewers Project, a small group of talented Guinness brewers in Dublin charged with exploring and creating new recipes, reinterpreting old ones, and bringing exciting new beers to life.
"Each beer in this collection is telling part of the Guinness story, not just our beer but our people who made it, capturing the enterprising spirit and credible talent of our brewers then and now," said Emma Giles, Brand Director, Guinness North America. "This is the first time the Dublin Porter and West Indies Porter will be available in the U.S. since their original incarnations more than 200 years ago. It's a great example of what our brewers are capable of and shows how passionate they are about pushing boundaries and bringing quality brews to today's beer lovers to enjoy responsibly."
Previously only available in Ireland and the UK, Guinness is bringing these two porters stateside for the first time and offering American beer lovers a chance to experience how Guinness might have tasted more than two hundred years ago. Further capturing the essence of the historical recipes, each brew also features a stylized label modeled after the original bottle designs.
Guinness™ Dublin Porter – Originally created in 1796 during a time when porters were all the rage in London, Guinness brewed up its own Irish version of the style at St. James's Gate and shipped to England. While the porter originated in London, the Guinness brewer's Irish take on the style proved quite popular with its earthy and lively flavor. Today, the Dublin Porter delivers a sweet, smooth beer with dark caramel and hoppy aroma notes with a burnt biscuit finish for a beer reminiscent of a different time — when after a hard day's work, you'd visit your local haunt for a porter, the "working man's beer," and Guinness would have been the respected choice. (3.8% Alc/Vol)
Guinness™ West Indies Porter – Constantly pushing the envelope to showcase what its brewers could do, Guinness sought to create a porter that could maintain its quality taste and freshness aboard West Indies-bound ships across the ocean for more than a month. In 1801, the brewers at Guinness rose to the challenge, developing a beer with higher hops and more gravity that didn't just survive the journey, but offered a unique new beer. Based on the original recipe, today's porter remains an immensely flavorful beer, with generous hops and notes of caramel-toffee giving it a sweet, almost chocolate aroma. In fact, this beer was a precursor to Guinness™ Foreign Extra Stout enjoyed all over the world today. (6% Alc/Vol)
"Guinness has long been home to some of the best and brightest brewers from all around the world, and throughout the years, these brewers have been responsible for creating some of the best beers out there which have largely been catalogued within our Brewers Diaries," said Eibhlin Colgan, Guinness Archivist. "So much of what Guinness was is part of who we are now, and our brewers are very proud of that storied brewing history which makes the Dublin Porter and West Indies Porter so exciting – it's a collaboration between our brewers past and present."
For more than 256 years, Guinness has been brewing great beer, starting with brewing ales, and then porters, before perfecting the brand's iconic stout. Both beers are available in the U.S. as part of The Brewers Project Pack, a collection of Guinness beers showcasing the innovative spirit of Guinness and the commitment to producing quality beer including the Guinness™ Dublin Porter, Guinness™ West Indies Porter, and Guinness™ Extra Stout. The Guinness™ Dublin Porter and West Indies Porter arrive in America on the heels of other recent beers from The Brewers Project, including Guinness™ Blonde™ American Lager, and Guinness™ Nitro IPA, available only in America.
Available nationwide in 11.2 oz. bottles beginning February 2016, the Guinness™ Dublin Porter and West Indies Porter can be purchased at participating Costco, Sam's, BJ's, and Total Wine & More locations nationally as part of The Brewers Project Pack, for manufacturer's suggested retail price of $21.99.
Whether enjoying a beer from The Brewers Project Pack or any Guinness beer, please drink responsibly.
About Guinness™
The GUINNESS brand was established in 1759, when Arthur Guinness signed a 9,000 year lease on St. James's Gate Brewery in Dublin. Brewed using four main ingredients, water, barley (malted & roasted), hops and yeast, GUINNESS is the world's most popular stout. The iconic beer is brewed in 49 countries worldwide and sold in over 150 with almost 9 million glasses of GUINNESS enjoyed every day around the world. The most GUINNESS is sold in Great Britain, Ireland, USA, Nigeria and Cameroon. More information can be found at www.guinness.com.