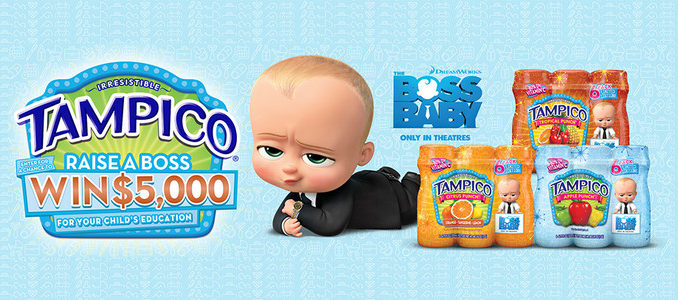 Tampico Introduces 'Raise a Boss' Promotion with $5,000 Grand Prize for a Child's Education
Tampico teams up with DreamWorks Animation's The Boss Baby Bringing the Movie to Life for Consumers through Fun Packaging, Movie Gift Cards, and Colorful Inspiration for Families Everywhere
DreamWorks Animation's The Boss Baby Arrives in Theaters March 31, 2017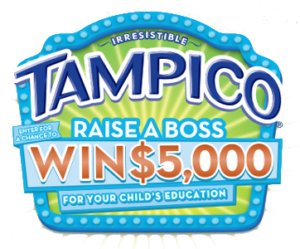 Inspired by the animated comedy DreamWorks Animation's The Boss Baby, Tampico Beverages, one of the world's leading beverage brands, is introducing its "Raise a Boss" promotion. Participants in the promotion will receive a free digital activity book and a chance to win prizes including $10 movie gift cards and a grand prize educational scholarship of $5,000. The "Raise a Boss" promotion runs from March 1 through April 30.
The Boss Baby, in theaters March 31, is a new animated comedy for all ages, which celebrates family, unity and love. Told with sly wit, the story follows two brothers – a briefcase carrying, suit wearing "baby" and his jealous seven-year-old sibling – who become unlikely allies as they go on a hilarious adventure to thwart an evil villain and save the world.
Participation is easy:
Buy a Tampico 6-pack or 24-pack between

March 1 and April 30

and star/check the item(s) and date on the receipt.
Snap a clear cell phone photo of the entire receipt.
Text Tampico at 811811 for submission instructions, or email the photo to redeem@tampicoraiseaboss.com. Processing takes up to 24 hours.
After the photo is submitted, you will receive an automatic confirmation and a request to complete a registration form. If a confirmation or offer code is not received, email help@tampicoraiseaboss.com.
Each purchase made qualifies entrants for an additional entry in to the gift card and grand prize drawing, so the more Tampico multi-packs you buy, the better your chances of winning!
Participants must be age 13 or older to be eligible. For more information and for no purchase method of entry, visit TampicoRaiseaBoss.com.
About Tampico Beverages
Tampico Beverages, one of the world's leading manufacturers and marketers of high-quality and value-added juice drink concentrates, has served its line of irresistible, fruit-flavored drinks for more than 20 years. Its popular beverages are sold in more than 48 countries worldwide. In addition to a longstanding tradition of success, the brand is continuously evolving, as seen in its 20-ounce single-serve packaging and campaigns to create greater appeal among young adults. Founded in 1989 in Chicago, Tampico maintains a leadership position as the No. 1 selling refrigerated citrus punch brand in groceries across America. The company also is actively engaged with consumers through its integrated social media programs including "Piñata Bash," "Act on Impulse," "Colorful Living," "Emojiball," and "Color your World" campaigns. For more information, visit Tampico.com.