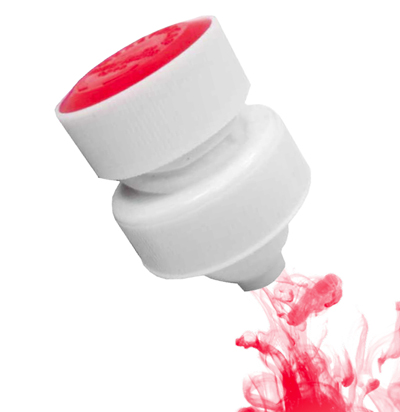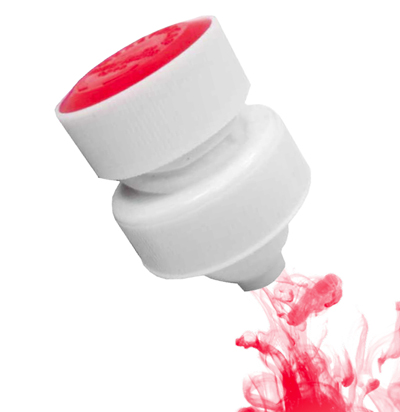 In a time where drink containers are usually limited to a cup, a can or a bottle, H2M Beverages has paired creativity with technology to create unique new
beverage concepts that give their products an edge—and their achievements haven't gone unnoticed. H2M Beverages was recently awarded two different awards at the 2013 Beverage Innovation Awards in September for the unique bottle design of their star drink, 989 OnDemand.
The only company to receive two awards at the ceremony, H2M Beverages took home the prize for "Best New Beverage Concept" as well as "Best Closure" for their vitamin-enhanced drink, 989 OnDemand. The secret to the drink's success is in the air-tight cap, which stores all vitamins, minerals and electrolytes until it is opened by the user—ensuring ultimate freshness at the exact moment of consumption. 989 OnDemand comes in an assortment of delicious flavors including grape, orange, punch, lemon lime, pomegranate blueberry and kiwi strawberry.
The patented cap, a two-piece unit designed to hold liquid or solid in an air-tight chamber, releases a combination of essential vitamins, minerals and electrolytes into the water when the cap is twisted by the consumer. Once the cap's contents have been released, the bottom portion is turned counter-clockwise to remove, allowing access to the bottle's now freshly-mixed ingredients.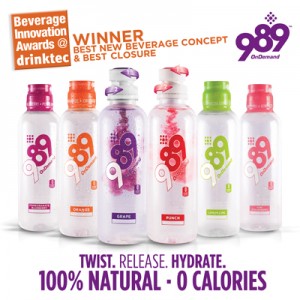 The 2013 Beverage Innovation Awards saw more than 370 entries from 40 different countries. The competition consisted of 29 different categories ranging from Best Dairy Drink to Best Brand Marketing Campaign, and awarded the brightest and best in the beverage industry for their achievements.
About H2M Beverages
Based in Pompton Lakes, New Jersey, H2M Beverages, LLC develops, manufactures, sells, and markets beverages. The portfolio, comprised of Liquid Lightning energy drink, Herbal Mist Tea and 989 OnDemand, is sold through retail partners nationwide. H2M is committed to including the best quality ingredients in great tasting beverage offerings that deliver energizing, rehydrating and relaxing experiences. For more information about the company or its beverage portfolio, visit: h2mbeverages.com