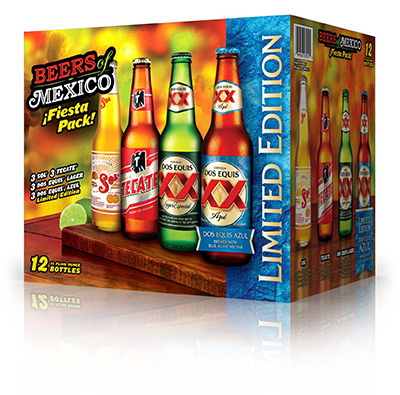 As the summer approaches, HEINEKEN USA is helping LDA millennials enhance the season's celebrations with an updated version of its Beers of Mexico variety pack. New this summer, Dos Equis Azul – a blend of signature golden wheat lager and blue agave – is joining Dos Equis Lager, Tecate and Sol, creating the perfect summer party pack for LDA consumers who seek variety and thirst for excitement. The Beers of Mexico Fiesta Pack, available in 12 packs of bottles or cans, offers summer socializers the opportunity to experience and share four of HEINEKEN USA's outstanding Mexican beers in one convenient pack.
"The variety pack segment in the US beer market is gaining momentum and is ready to hit full stride as we head into the summer season when entertaining hits its peak," said Gwendolyn Boyce, Brand Director, HEINEKEN USA. "The addition of limited edition Dos Equis Azul adds a new smooth and refreshing taste to the variety pack, providing another reason for shoppers to choose the Beers of Mexico pack for their summer fiestas."
For retailers, the Beers of Mexico pack leverages the high-margin HEINEKEN USA portfolio of Mexican brands and provides a range of party relevant cross merchandising opportunities to drive higher basket rings. Channel-specific IRC (instant redeemable coupons) and MIR (mail in rebate) offers (where legal) on high indexing fiesta related items will encourage take away of the Beers of Mexico pack and cross category products. Custom POS and a 12-case cross-merchandising stacker highlight the addition of Dos Equis Azul and provide shoppers with convenient, one-stop shopping solutions.
Boyce added, "Our Mexican beers embody the social and celebratory spirit of summer and provides summer hosts with a pack that will turn any party into a fiesta. We are excited to, once again, offer consumers this high-demand summer variety pack but with a twist – the addition of new Dos Equis Azul."
The Beers of Mexico Summer program runs June 1st through August 31st.
About HEINEKEN USA
HEINEKEN USA Inc., the nation's leading upscale beer importer, is a subsidiary of Heineken International BV, the world's most international brewer. European brands imported into the U.S. include Heineken, the world's most international beer brand, Strongbow Hard Apple Ciders, Desperados, Amstel Light, and Newcastle Brown Ale. HEINEKEN USA also imports the Dos Equis Franchise, Tecate Franchise, Sol, Indio, Carta Blanca and Bohemia brands from Mexico. For the latest information on our company and brands, follow us on Twitter @HeinekenUSACorp, or visit HEINEKENUSA.com