HEINEKEN USA Recognizes Andrews Distributing with 2017 Red Star Award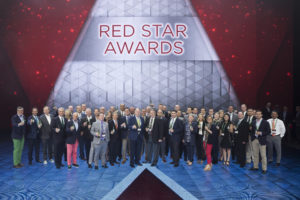 HEINEKEN USA announced that Andrews Distributing of Dallas, TX received the organization's Red Star Award for its efforts in driving the success of the HEINEKEN USA portfolio at the company's annual National Distributor Conference last week.
The program is designed to honor the balanced efforts by distributors against the drivers of HEINEKEN USA volume, distribution, and display execution. Distributors across the U.S. compete against peers of similar size and geography, and the award is given to the distributor partners who go above and beyond the average market results. Four Region Groups are divided into three Regional Tiers defined by total HEINEKEN USA volume. A winner is selected in each Region, at each Tier, resulting in 12 Regional winners and one Overall winner.
In line with HEINEKEN USA's new sales vision, "Profit From a World of Experience," Andrews has helped provide locally and culturally relevant solutions in partnership with the HEINEKEN USA team, while helping connect retailers, bars and restaurants with the right HEINEKEN beers and ciders, in the right places that drive accelerated growth. Andrews was honored for its execution that crossed portfolio lines and results that exceeded industry standards. In a year where the industry was declining overall, the Red Star Award winner grew the HEINEKEN USA business +6.9% in 2016, led by Tecate Light +54%, Dos Equis Lager +11%, Heineken +4%, and Strongbow Cider +8.2%. In line with HEINEKEN USA's focused on-premise strategy, Andrews also added 143 new handles of Dos Equis Lager in the North Texas Market and increased draught volume 14.3%.
"Each year, we present the Red Star award to honor a distributor partner who delivers the highest levels of support into our mutual business," said Ray Faust, Vice President, Sales, HEINEKEN USA. "From broad investments in the portfolio to incremental work both on premise and off, our partners' efforts are essential in driving success. Last year, Andrews showed that they are not afraid to invest in our portfolio, and the results for both parties have been tremendous."
"It's a huge honor to be recognized by a partner like HEINEKEN USA as the top distributor in the country, and even more fulfilling to receive the award in our hometown," said Jill Newman, Andrews Director of Import Brands. "The Andrews team strives to perform at the highest level each day. This is made possible by the support we receive from HEINEKEN USA with their great portfolio of products, consumer market insights and the teams who help us deliver against our goals."
In addition to driving the success of the HEINEKEN USA portfolio, Andrews serves as an industry leader in promoting a responsible consumption culture with its employees, customers and community. Andrews was awarded the 1864 Award for Responsibility in 2015 for its best-in-class practices with Heineken USA to elevate responsible consumption in both the Dallas-Fort Worth and Corpus Christi markets.
"We are very proud each time we are recognized by our partners at HEINEKEN USA," CEO Barry Andrews said. "This year's Red Star Award is proof of the continued growth, improvement and strength of our people, this partnership and portfolio. We are grateful to our partner, HEINEKEN USA, for the effective tools and continued trust in our team members to win at retail. Our team looks forward to continued success."
About HEINEKEN USA
HEINEKEN USA Inc., the nation's leading high end beer importer, is a subsidiary of HEINEKEN International NV, the world's most international brewer. Key brands imported into the U.S. are Heineken®, the world's most international beer brand, the Dos Equis Franchise, the Tecate Franchise and Strongbow Hard Apple Ciders. HEINEKEN USA also imports Amstel Light, Amstel Xlight, Indio, Carta Blanca and Bohemia brands. For the latest information on our company and brands, follow us on Twitter @HeinekenUSACorp, or visit HEINEKENUSA.com.
About Andrews Distributing
Andrews Distributing Company is one of the nation's largest beer distributors with facilities in Dallas, Allen, Corpus Christi and Fort Worth, Texas. Andrews employs 1,500 proud team members who manage distribution centers totaling more than one million square feet and deliver more than 35 million cases annually. The Andrews team distributes over 700 beer brands to 26 North and South Texas counties. Andrews is dedicated to being a marketing and technology leader in the industry with the focus of Building Brands and celebrating a winning team culture. For additional information, visit www.andrewsdistributing.com.