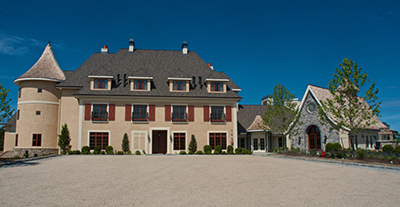 When Mirbeau Inn & Spa at The Pinehills and its signature Henri-Marie restaurant make their June 29, 2014 debut in Plymouth, Mass., guests will be privy to a Belle-Époque-inspired dining experience. A classic Art Deco painting, "Portrait of Mrs. Allan Bott" by Tamara de Lempicka, one of the most important female artists of the 1920s and 30's, will grace the entrance of Henri-Marie, and set the tone for a unique culinary journey, from the birth of haute cuisine through the Jazz Age.
Executive Chef Stephen Coe will take his culinary cues from the La Belle Époque – "The Beautiful Years" – an era that saw Auguste Escoffier revolutionize French cuisine and Cesar Ritz do the same for hospitality – bringing French-inspired cuisine to the forefront with a fresh, light and modern touch. Among Henri-Marie's offerings is a multi-course tasting menu created by Chef Coe, and service touches will include dishes finished tableside.
The building in which Henri-Marie is located overlooks The Pinehills' Village Green and was designed to replicate a 19th century family chapel built on the grounds of a private estate outside Paris. Its interiors will reflect an Art Deco style reminiscent of the 1920s, featuring extensive beam work and an alabaster light fixture.
Offering a more casual dining experience, The Bistro & Wine Bar will bring to life the spirit of The Jazz Age – a time when America's most talented bartenders fled to Europe during prohibition, establishing American-influenced bars in Europe's top cities while illicit speakeasies flourished stateside. The menu will showcase bistro classics as well as spa-oriented fare and inventive salads. Focusing on handcrafted, small-production spirits, the cocktail list will celebrate classics from the golden age of bartending, interpreted with modern twists, with Chef Coe hand-preparing many of the key ingredients.
In warm weather, guests of Henri-Mariemay dine al fresco on the restaurant's outdoor patio featuring an open-sided fireplace, and The Bistro & Wine Bar's patrons may enjoy a meal on the large porch overlooking Mirbeau's Monet-inspired pond and gardens.
Henri-Marie and Le Bistro will share a wine program, with selections sourced from top producers across the globe, focusing particularly on those from U.S. and France. The list will showcase vintages from well-known small wineries as well as unique "discovery" wines that offer tremendous value. Specially selected wines will be recommended to complement the menu and enhance the dining experience.
For more information on the Inn & Spa, please visit mirbeau.com/pinehills.
About the Mirbeau Properties
The Mirbeau Inn & Spa is an intimate, year-round retreat for rejuvenation and romance, offering gracious hospitality, award-winning cuisine, and world-class spa treatments. Steeped in elegant French country style, Mirbeau Inn & Spa is graced by signature Monet-inspired pond gardens. The legacy Mirbeau Inn & Spa, in the heart of New York's Finger Lakes wine region, is the only Forbes Four-Star Award winner for hotel, spa and restaurant in New York State, and an AAA Four-Diamond winner. It is also distinguished by the Wine Spectator Award of Excellence, Top Ten Spas in the World in the categories of romance, boutique, yoga and cuisine in Spa Finder's Annual Readers' Choice Awards, and Top Five Spas for Couples in the World in back-to-back years of Spa Magazine's Silver Sage Readers' Choice Favorites. It has been awarded a spot on Condé Nast Traveler's Top 30 Small Resorts in the US for three years in a row, and won a 2011 SpAWARD for Most Romantic Spa. For more information, visit www.mirbeau.com.