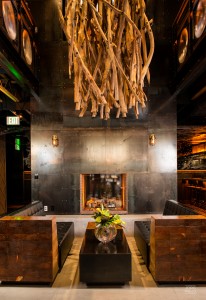 San Diego's Little Italy section has morphed into a culinary craft hotspot, with exciting new restaurants pushing food and beverage boundaries like never before. Among the array of notable establishments that have cropped up is the hip hotspot Kettner Exchange. This lively, impeccably-designed, multi-level restaurant (boasting Little Italy's only rooftop patio) is the current see-and-be-seen "it" eatery—and with good reason. Decidedly swag vibe and pretty people aside, Executive Chef Brian Redzikowski masterfully imbues refined Asian flare and other ethnic infusions into comfort-style favorites while skillfully serving up unique spins on everyday fare. His fan-favorite Big Eye Tuna "Pizza" ($18) is case in point. However, not to be outdone, bar manager Steven Tuttle's specialty craft cocktail program is also lauded as "unique and forward-thinking." All combined this restaurant has a sure-fire recipe for success.
While Kettner Exchange, which opened in October 2014, may be the cool new kid on the block, the restaurant pays homage to San Diego's rich maritime history dating back over one hundred years. For starters is the restaurant's namesake, William Kettner–a Democratic Congressman in the early 1900's credited with bringing the Navy to San Diego among other notable accomplishments. The reverence for Kettner's contributions, and the county's nautical roots at large, duly extends into the restaurant's décor, which exudes a warm and dignified seafaring sensibility that's not overly theatrical. Notable interior design touches like antique brass sconces, antique binoculars, a custom chess set with pieces designed after famous San Diego landmarks, and an early 20th century topographic map of the San Diego Bay embellishing a dark mirrored wall and ceiling all serve as reminders of San Diego's legacy in the Naval community, as does the compulsory portrait of William Kettner above the fireplace. However, the overarching effect is not "old fashioned" or stuffy, but rather the space is quite bright, airy and contemporary.
Kettner Exchange is the brainchild of the same folks who brought other notable eateries to San Diego like Firehouse American Eatery + Lounge in Pacific Beach and both Vin De Syrah and Analog downtown. While design elements of the eatery may harken back to days of yore, its approach to food and beverage service is quite contemporary, featuring Chef Redzikowski's personal interpretation of progressive American cuisine. And he has much experience to draw from having worked for some of the best restaurants and chefs in the country, including New York City's acclaimed Le Cirque 2000, Colorado's Nobu Matsuhisa Aspen and Yellowtail Restaurant in the Bellagio Hotel and Casino Las Vegas. Chef Redzikowski also competed in Iron Chef America, which is proof-positive that he can think creatively on-the-fly and manage a team under extreme pressure.
At Kettner Exchange, Chef Redzikowski's pedigree shines through. "He is constantly adding new menu items and expressing his culinary expertise by leveraging new and interesting local finds and putting them to work on the menu," notes spokesperson Carrie Barrett. "For example, foie gras has recently made its way into various nightly specials that change each week to surprise and delight guests." Though I didn't opt for it, on the evening of my own dinner service visit the Hudson Valley Foie Gras ($19) was a preparation with mango, Brussels sprouts and balsamic-teriyaki.
The menu at Kettner Exchange is decidedly sharing-friendly, prompting my party of four to eat family style. We chose a diverse range of "shared plate" and "small plate" starters, two "large plate" entrees and two desserts. Much to our delight, the overarching epicurean experience excelled in all key areas—what I have affectionately coined my "5 P's": dish planning (conception), presentation, preparation, proportion and piquancy.
Amid the numerous dishes I sampled that evening, there were certainly a number of "most memorables." From the "shared plate" category, the Japanese Okonomiyaki ($12) pancake was a delight. Just the right amount of crunch on the outside with a soft and moist interior, the mild pancake was juxtaposed with two savory sauces (one crème-based, one glaze) that worked equally well for the sweet, firm grilled shrimp playfully perched on top. A dash of diced daikon radish, scallions and fresh micro greens added just the right amount of crisp and earthy notes.
Another "shared plate" standout was the Grilled Skuna Bay Salmon ($14). Mild and tender, the buttery fish was served atop a bed of sautéed shiitake mushrooms that added more meaty mouthfeel to the dish, and both texture and flavor were further bolstered by a topping of crispy fried onion strings and diced scallion. While I don't often include Brussels sprouts in my fish recipes, the addition of the leafy vegetable to this dish worked really well. A drizzling of sassy caramelized mustard tied the components together beautifully.
From the "small plate" section, we loved the Cauliflower Tempura ($14). While simple conceptually, execution was on point. A glistening beurre rouge sauce soaked into the light batter encasing the deep fried vegetable, which was also topped with fresh uncooked cauliflower shavings. A sprinkling of blue cheese crumbles and tender, slightly peppery mustard frills balanced out the flavor profile.
The fresh and fragrant Fatty Crab Salad ($19) was my favorite among all of the starters. With Alaskan King crab, mango, long beans, bok choy, cilantro and crunchy onion strings, this salad was a symphony of texture. An extremely light citrus dressing added the necessary touch of acid that made this dish sing.
As for the entrees, the taste of the New York Strip Steak ($37) was nearly outdone by the gorgeous rustic presentation. The perfectly cooked sliced steak, dripping with natural juices, was anchored on a bed of rich, buttery, sour cream-enhanced brittany mashed potatoes along with thick-cut wild mushrooms and squash blossoms—some tempura fried. A tempura fried onion ring and fresh greens rounded out the garden aesthetic of this insanely delicious dish.
From turn to surf, the Alaskan Black Cod ($32) was just a touch too sweet for our taste given the heavy hand on the miso glaze. A shame since the fish was otherwise impeccably cooked. Luckily there was a copious amount of grainy, wholesome quinoa and broccoli rabe, and just enough red pear onion to cut through the strong glaze flavor and make the dish less one-note.
Desserts held their own, with every drop of the creamy, pudding-like Caramel Budino ($8) with crème fraiche and Maldon sea salt being duly devoured. The Chocolate Cup ($9) with Nutella powder, banana froth and vanilla bean ice cream was just as enthusiastically received.
Also worth mentioning is that, in addition to its regular dinner service, Kettner Exchange holds private Chef's Table dinners allowing patrons to enjoy a "behind the scenes" look at Chef Redzikowski's domain. The Chef's Table is tucked into a cozy back corner of the kitchen where there is a bird's eye view of the bustling brigade. The space accommodates eight guests at a time and is available for private bookings only. Each $125 seat includes a specially-designed five course meal with food and wine pairings conceived by Chef Redzikowski along with the restaurant's in-house Sommelier, Jonathon Brennan.
Whether you opt to dine at Kettner Exchange's Chef's Table or in its main dining room, you're certain to experience gratifying food and drink in an upbeat atmosphere sure to keep you coming back for more.
~~
"The Luxe List" Executive Editor Merilee Kern scours the luxury marketplace for exemplary travel experiences, extraordinary events, and notable products and services. Submissions are accepted at www.TheLuxeList.com. Follow her on Twitter here: www.Twitter.com/LuxeListEditor and Facebook here: www.Facebook.com/TheLuxeList.
Some or all of the accommodations(s), experience(s), item(s) and/or service(s) detailed above were provided at no cost to accommodate this review, but all opinions expressed are entirely those of Merilee Kern and have not been influenced in any way.