MAKING IT THE 80,000th MEMORABILIA PIECE
Elvis Presley's 24-karat Gold Leaf Grand Piano Joins the World's Largest Music Memorabilia Collection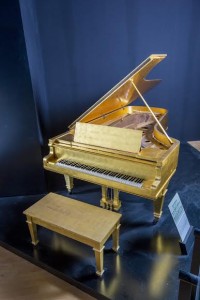 Hard Rock has 80,000 reasons to celebrate its world-famous memorabilia collection this week. At the recent Icons & Idols: Rock n' Roll Auction event at Julien's Auctions Beverly Hills, Hard Rock International, known for its memorabilia at locations worldwide, has acquired its 80,000th piece — Elvis Presley's 24-karat gold leaf grand piano. The most important piano to be offered from Elvis Presley's history will join Hard Rock's priceless collection of invaluable memorabilia pieces including handwritten lyrics, clothing and instruments from new and legendary music stars like Taylor Swift, Imagine Dragons, Motley Crue, Cheap Trick, Aerosmith, The Beatles, Lady Gaga, Rihanna, Jimi Hendrix and many more.
"Elvis Presley's iconic gold piano has now become a cornerstone addition to our world-famous collection, and we couldn't be happier to celebrate such a milestone with The King's prized possession," said Hamish Dodds, Chief Executive Officer at Hard Rock International. "Hard Rock has been curating its priceless music memorabilia collection and sharing with guests around the world for more than 43 years, and Elvis' piano is an important piece of music history that we can't wait to share with our guests."
Presley's grand piano was played by the King of Rock and Roll inside a music room at his Graceland home in Memphis, Tennessee. Presley originally purchased the piano for his mother in 1955 and installed it in his new home on Audobon Street. The piano was placed into storage after Presley's mother's death, until Priscilla Presley decided to adorn the piano in 24-karat gold-leaf finish as a gift for the couple's first wedding anniversary.
"Hard Rock has a far-reaching connection to music history and we're always looking to add show-stopping pieces to our collection, such as the King's priceless piano," said Jerry Fraize, Director of Memorabilia for Hard Rock International and winning bidder on the piece. "While we are still deciding where this piece will reside within our properties, the front-runner at the moment would be the Seminole Hard Rock Hotel and Casino in Tampa, fitting for one of the most successful casino properties in the world."
Hard Rock Cafe, Hotel, Casino and Live venues across the country host some of the world's most fascinating pieces of memorabilia that celebrate defining moments throughout music history. Some of the most popular and iconic pieces include Jimi Hendrix's Gibson Flying V guitar, John Lennon's handwritten draft of "Imagine" lyrics and The Rolling Stones' Vox Phantom Mark III Guitar.
Hard Rock Memorabilia Through the Ages
Hard Rock International is the world's original curator of music memorabilia and with its newest additions has now expanded to an 80,000 piece collection. Hard Rock memorabilia is showcased at Hard Rock Cafes, Hard Rock Live venues and Hard Rock Hotels and Casinos around the world to keep music history accessible to its guests. At each of its properties, Hard Rock creates authentic and unique music memorabilia experiences that resonate and pays homage to music history in each city. Among the pieces in the collection are guitars and other instruments, clothing and costumes, platinum and gold LPs and other rare artifacts.
The story of the birth of Hard Rock International's memorabilia collection is of itself a part of music history. The collection was started when Eric Clapton, a regular customer at the original Hard Rock Cafe London, asked the staff if he could hang his guitar on the wall to mark his favorite bar stool as "his spot." They did, and one week later, a package from The Who's Pete Townshend arrived with a guitar and a note bearing the message, "Mine's as good as his! Love, Pete."
For more information on Hard Rock's memorabilia collection and the newest acquisition, visit memorabilia.hardrock.com