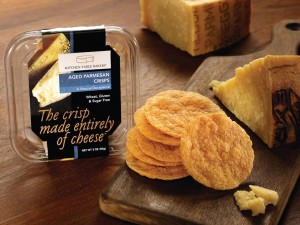 Kitchen Table Bakers, makers of the original, premium, hand-made 100% Parmesan cheese crisp, has moved production of its award-winning ParmCrisp™ Minis and the Original ParmCrisps Wafers to a newly opened state-of-the-art facility. The new facility enables greater flexibility, enhanced quality control, and increased capacity to meet growing consumer demand for the company's Mindful Munching™ line of ParmCrisps™. Nearly doubling its previous space, the 10,000 square foot facility includes new, automated equipment that allows the brand to increase production and packing capabilities. Most importantly, the facility is specifically designed to ensure the quality and unique taste profile that only the small batch natural oven baking process can provide.
Since 2003, Kitchen Table Bakers' all natural, oven baked Parmesan Crisps have garnered a loyal foodie following, including discerning consumers who want to snack more mindfully. To guarantee the new facility would be able to produce the same high quality Parmesan Crisps followers have come to expect, the team sought the expertise of industry veterans with decades of knowledge in production flow, research and development. Through exhaustive testing and tastings, the team designed an exclusive system utilizing multiple revolving ovens, specially designed rack systems, and custom depositing equipment to deliver the one-of-kind oven baked ParmCrisp™ taste.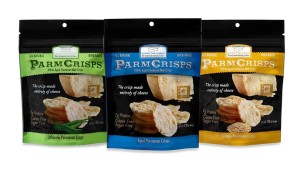 "Our new gluten-free, nut-free, and allergy friendly facility is truly game changing for our company and our brand. This move gives us complete control over the baking process, quality assurance, and purity of all of our products. It will also allow our Grab-n-Go ParmCrisps™ Minis to retail at a lower price point," says Seth Novick, Kitchen Table Bakers' Vice President. "Our signature taste, texture, and quality rely on traditional, slow oven-baking. It's not the fastest or cheapest way, but it's the only way to consistently deliver safe and delicious crisps for our family of retailers, foodies, fans and those on restricted diets."
Kitchen Table Bakers ParmCrisps™ Minis and the original Wafers are available in the US and Canada in service delis, cheese departments, national grocery chains, natural food stores, hotels, restaurants and other custom Food Service packaging as well as online.
To learn more about Kitchen Table Bakers, please visit http://www.kitchentablebakers.com, http://www.facebook.com/kitchentablebakersand http://www.twitter.com/ParmCrisp.