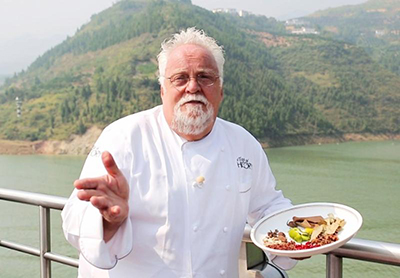 Victoria Cruises is rolling out some fresh changes to its culinary offerings for 2014 with the introduction of new recipes and the implementation of dining room protocols designed to enhance the overall gastronomic experience for all passengers. Through its longtime relationship with Celebrity Chef and Emmy award-winning host of PBS's A Taste of History, Walter Staib, founder of Concepts By Staib, Ltd., Victoria Cruises has continually ensured its culinary program remains at the forefront of the river cruise industry and light-years ahead of other lines on the river.
Chef Staib recently traveled to China in order to oversee the implementation of new menu items, conduct training exercises and film footage for one of his upcoming episodes highlighting Victoria Cruises and the Yangtze.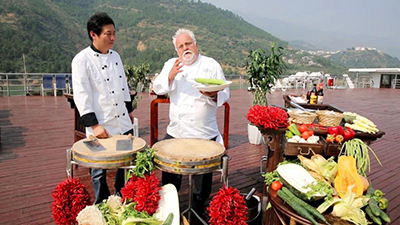 "Chef Staib has been a major component of our gastronomic superiority within the cruise industry in China," said Larry Greenman, manager of public relations and customer service for Victoria Cruises. "We are extremely excited to be a part of his award-winning television series so that viewers can catch a glimpse of the splendors of the mist-shrouded Yangtze as well as the five-star service and amenities enjoyed by our discerning passengers."
Executive Chef Jack Shapansky works under Staib and had been stationed with Victoria Cruises on the Yangtze in 2009 and 2013. In that time he's consulted with Victoria Cruises' culinary teams to train and equip the staff and kitchens with all the recipes, ingredients and expertise needed in order to exceed guests' expectations.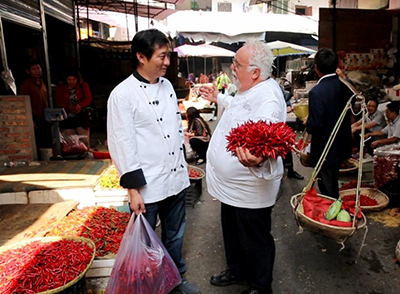 Under Staib and Shapansky's guidance, Victoria Cruises has recently introduced new Western items for its buffet and a la carte menus on all ships, from Steak Diane, Breast of Chicken Kiev and Smoked Duck entrées to tantalizing soups such as Italian sweet basil and tomato.
"Training with Walter Staib has been an inspirational experience," said Chen Gang, an executive chef onboard the Victoria Anna. "He showed us how to approach cooking from a completely different perspective – more like an art form than an exercise in food preparation," he noted. "The reaction from passengers has been extremely gratifying."
Beyond delectable tastes and aromas, Concepts By Staib recognizes that presentation is also a fundamental aspect of the culinary experience and has been working with dining room supervisors and staff to guarantee a world-class setting. From aesthetic design to the correct pronunciation of dishes, passengers who book with Victoria Cruises will enjoy comfort and peace of mind sailing with an American-managed company that adheres to strict Western standards and ensures English-speaking wait staff are able to answer any questions guests may have.

For more information or to book, or for a list of tour operators which include the Yangtze River in their China programs, contact Victoria Cruises toll-free at 800-348-8084 or visit www.VictoriaCruises.com.
About Victoria Cruises
New York-based Victoria Cruises established new standards of excellence for sailing China's Yangtze River when its first ship edged out of port in 1994. Celebrating its 20thanniversary in 2014, Victoria Cruises remains the service leader on the Yangtze River with each ship earning the coveted five-star rating from the China National Tourism Administration. Victoria Cruises has earned numerous awards and recognitions over the years including the 2011TravelAge West WAVE Award Editor's Pick for Best River Cruise Line as well as Best New River Cruise Ship in 2010 with the launch of the luxurious Victoria Jenna. In that same year,Travel Weekly also selected the Victoria Jenna as a Silver Award Winner for the Magellan Awards' River Cruise Ship category. The cruise line operates a variety of itineraries on the Yangtze ranging from four to nine days.
For more information and a free color brochure or promotional DVD, contact Victoria Cruises at 136-18 39th Avenue, 12th Floor, Flushing, NY 11354; phone (800) 348-8084, (212) 818-1680; fax (212) 818-9889. For more information please visit www.victoriacruises.com.