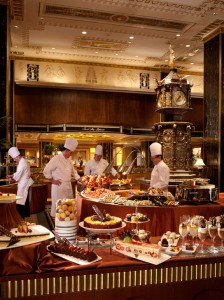 The iconic Waldorf Astoria New York hotel—world-renowned for five-star accommodations and premier amenities—is notorious for its impeccable standards whereby luxury and refinement reign supreme in all that it offers. This includes the property's award-winning food and beverage program that has stood the test of time, making itself as relevant and revered today as in storied years past.
One need not be a guest of the hotel to partake in gastronomic pleasures at the Waldorf Astoria New York. Whether you're staying at this prestigious Park Avenue hotel or are simply seeking a memorable dining experience in the heart of Manhattan, this haute hotel boasts two premier epicurean experiences that are a perennial draw unto themselves: Bull & Bear Prime Steakhouse and Sunday Brunch at Peacock Alley. These two dining options are very different, but both deliver everything a patron would expect of fine dining in one of the world's most illustrious luxury hotels.
Bull & Bear Steakhouse
Bull & Bear Prime Steakhouse, the signature restaurant located inside the Waldorf Astoria New York, is home to one of the most historic and well-recognized bars in New York City. Here, Italian fabrics, leathers, dark wood, plush carpet, decorative mirrors and painted artwork lend an air of casual sophistication to the old-school lounge ambiance of this former men's club. The signature bronze Bull & Bear statues stand behind the legendary bar as commanding reminders of the steakhouse's significance to city's financial sector and its rich history—ultimately serving as the location's namesake.
"In the late 1800s, the New York Stock Exchange was the place where businessmen and burgeoning industrialists staked and won their fortunes," explains General Manager Gilbert Bolivar. "At The Waldorf Astoria Bar, now Bull & Bear Steakhouse, New York's giants of real estate and finance hammered out deals while drinking elbow to elbow. In honor of this patronage, the hotel placed two magnificent bronze statues–a bull and a bear. Over time, so many deals were struck 'at the Bull and Bear' where the gilded statues stood that regular patrons adopted the moniker as the bar's unofficial title."
Mere steps away from numerous Fortune 500 companies, the Bull & Bear caters to sophisticated tastes. Bolivar notes, "Our food and beverage is top notch–everything is sourced as locally as possible, including ingredients coming from the hotel's rooftop garden. Bull & Bear is also one of the only restaurants in NYC to offer real Satsuma Wagyu beef [Grade A-5 Black, "600" day grain fed, hand cut and aged 35 days] imported from Japan. We are constantly working to lead the food and beverage trends. We change our signature cocktails seasonally and our culinary team is always looking at ways to enhance our dishes. I continue to be my own critic and every day we look for ways to improve."
And those efforts are paying off amid the modern marketplace, with Bolivar pointing out recent accolades, including a 4-star rating on Tripadvisor, Yelp and Opentable, and earning the 2014 OpenTable Diners' Choice Award. The New York Times also cited the restaurant's mahogany bar as one of the world's greatest. In his quest to continually curate exceptional dining experiences, Bolivar also shared that among the restaurant's short term goals is achieving a 5-star rating on all platforms, "exceeding the expectations of customers daily." This the restaurant will work toward one divine dish at a time.
For his part, Bolivar's favorite item from this fairly traditional steakhouse menu is the 30-ounce Porterhouse ($62), a robust combination of a sirloin and a filet. In my own visit to the eatery, I couldn't resist the opportunity to indulge in the 6-ounce Satsuma Wagyu New York Strip Steak ($115). Although the house recommends this superlative steak be served at rare temp, my personal preference (in line with recommendation on how to optimally prepare Wagyu steak), is to achieve medium temp to achieve the peak richness and flavor point. Sauce options for all of the steak dishes include peppercorn, bordelaise, béarnaise or Bull & Bear's own steak sauce.
Baroque beef aside, I can also personally vouch for the restaurant's Chilled Maine Lobster Cocktail starter—a half lobster served with a fine herb aioli ($29); Dover Sole Meuniere in brown butter sauce ($59) entree; Parmesan Truffle Fries ($14); and the Lobster Mac & Cheese ($16). Of course, don't miss the opportunity to eat a fresh, crisp and light Waldorf Salad ($19) at its birthplace. The Bull & Bear also serves the Waldorf Astoria's Private Label Caviar (Gold Selection $100; Premium Selection $130). For dessert, you simply can't miss with the New York Cheese Cake ($16), of course, served with an orchard fruit sorbet. Divine indeed.
Peacock Alley and Sunday Brunch
While the Bull & Bear is the quintessential venue for making high-octane deals and celebrating life's good fortune, Peacock Alley is another popular place to "see and be seen." This eatery's scintillating Sunday brunch, held seasonally from 10:00 a.m. to 2:00 p.m. ($98/adult, $65/child), flows out of the restaurant's various dining rooms into the Waldorf Astoria's expansive main lobby—the promenade area that connects the once separate Waldorf and Astoria hotels. Today, the space is utilized to deliver a lavish power brunch like none other—one that that pays homage to the hotel's culinary history as the birthplace of American breakfast staples like Eggs Benedict.
Executive Chef David Garcelon elaborates on the scope and significance of what has become a highly anticipated weekly affair: "I believe we are the only hotel in Manhattan with a full, gourmet buffet brunch. The buffet features over 100 meal options and is highlighted by a seafood station with shellfish, smoked fish and caviar, chefs preparing omelets, eggs benedict and carving beef wellington and, of course, a bountiful display from our pastry chefs around a molten chocolate fountain. I love our latest chef station that features one of our a pastry chefs making made to order 'Baked Alaska Lollipops' using Top of the Waldorf Honey Ice Cream, coated in meringue and browned with a blow torch."
"While dining with us at the Sunday Brunch, you will be able to taste the best that New York has to offer while enjoying the legendary and renowned Waldorf Astoria New York lobby atmosphere," states Julien Pierlas, Director of Restaurants who can be seen meandering through the dining rooms to meet and greet patrons tableside. "Then, you will be transported back in time as you listen to the pianist perform on Cole Porter's piano while the harpist in the back room lulls you into a relaxed Sunday mood."
Pierlas continues, "Our beverage program is also of the best out there. With specials like the Waldorf Buzz Beer made exclusively for us by the Finger Lakes' own Empire Brewing Company, with the honey produced on the rooftop. In fact, many of the ingredients grown in the hotel's rooftop garden are used in Peacock Alley specials, from daily dish specials to creative cocktails. Or, try 'The Bloody Bunny,' a twist on the original Bloody Mary, made with fresh carrot juice."
I've had the pleasure of eating at Peacock Alley's Sunday Brunch, and the bounty can overwhelm at first. One sumptuous station unfolds after the other, each with an allure all its own. Among other notable aspects of the buffet is the abounding raw bar replete with various types of caviar and accoutrements as well as clams, oysters, lobster and shrimp. Multiple soups, salads, breakfast fare, pasta dishes and a bevy of meat carving stations are among the other fine fare options rounding out the savory pageant of provisions. The sweet finish consists of more than 100 gourmet desserts displayed in delectable form. At this buffet, check your diet at the door and fully immerse yourself in this one-of-a-kind experience.
Indeed, this is a brunch designed to be distinctive. When asked about future plans for Peacock Alley, Pielas replies, "Our goals are to keep food quality, food presentation and drink specials at such a high level, that guests won't find it anywhere else." Garcelon concurs. "Of course we want to continue to focus on quality and continuing to tweak the offering while maintaining the items that people love. We are very fortunate to have a large group of loyal New York guests who come on a regular basis."
For over a century, the chefs of The Waldorf Astoria New York have been renowned for their culinary excellence. This heritage continues to be celebrated through Bull & Bear and Peacock Alley's Sunday Brunch—two classic dining experiences that inspire patrons to slow down, soak in the scene and savor a life being well lived.
~~~
"The Luxe List" Executive Editor Merilee Kern scours the luxury marketplace for exemplary travel experiences, extraordinary events, and notable products and services. Submissions are accepted at www.LuxeListReviews.com. Follow her on Twitter here: http://twitter.com/LuxeListEditor and Facebook here: www.Facebook.com/TheLuxeList.
Some or all of the accommodations(s), experience(s), item(s) and/or service(s) detailed above were provided at no cost to accommodate this review, but all opinions expressed are entirely those of Merilee Kern and have not been influenced in any way.