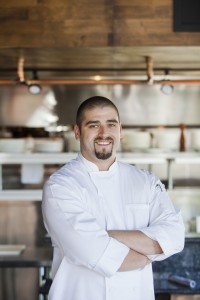 Amid a renaissance underway in San Diego's Little Italy neighborhood, one new restaurant—Sirena—promises to bring Latin flair to the fare served up in this burgeoning community. This South American-inspired seafood restaurant, which opened up to the public in October of 2014, dishes up a creative, sustainable and fresh-forward menu that offers guests something new in the urban downtown neighborhood.
From daily Empanadas ($8); to fresh Dressed Oysters ($15) served with pickled vegetables and toasted squid-inked black bread; to Chilean-inspired El Chileno Ceviche ($15) prepared with red snapper, octopus, and scallop proteins marinating in a tastefully tart uni leche de tigre; to Chicken a lo Macho ($20)—a succulent breast stuffed with cheese, yucca, tomato, red onion and cilantro served with a shrimp hot sauce, Executive Chef Jaime Chavez's menu highlights natural and regional Latin American ingredients from land and sea in inspired ways.
During my interview with Chef Chavez, he provides insight into what makes Sirena so distinctive in San Diego's bustling culinary scene.
The Luxe List: If you had to summarize what makes Sirena particularly special, what would that be?
Chef Chavez: Sirena's menu highlights fresh ingredients, prepared in a way that showcases and elevates their natural beauty and tastes. Guests won't find menu items that have been overdone or seasoned beyond recognition–we do our best to show how sometimes the best food can be simple food. We believe many of the Latin traditions of preparing and serving food that we use are the perfect way to experience some of the most delicious dishes.
TLL: Tell me about your background – what are some career highlights?
CC: I was born in a small town in Chile and into a family of cooks and chefs. I was cooking before I was even reading! I began my culinary education in 2004, while also working in kitchens. From fast food to taco shops, Asian bistros to fine dining establishments, I worked at nearly every kind of eatery while in school. I also had the opportunity to work at El Cingle under iconic Chef Montse Estruch, where I would eventually be hired as the Chef de Cuisine shortly after my graduation. It was an incredible experience. Eventually, I did leave Spain to move to Tijuana with my wife for new opportunities, which led me over the border to San Diego, where I have worked in several top restaurants in the city. I was asked to be the Executive Chef at Sirena and the rest is history. I am excited and very happy to be sharing my passion for fresh food and Latin-inspired cooking for San Diegans.
TLL: How would you sum up Sirena's approach to Latin American cuisine?
CC: With our menu, we like to take pieces of Latin culture and intertwine them into the menu, through cooking or preparing the dishes. It can be the way we season our fish, to how we prepare our ceviche or how we cook a steak. Many of the techniques I have learned as I cooked my way through Spain and Mexico.
TLL: Sirena boasts a "sustainable and fresh-forward menu" – please describe what patrons can expect.
CC: We do our best to ensure we have the freshest, seasonal produce and even grow many of our herbs and vegetables on local farms. We also ensure that the seafood we source is sustainable and we are choosing fresh fish that are local or regional to the Baja California area.
TLL: Does Sirena have a "signature dish"?
CC: Our unique ceviche style I would say is a signature dish. The El Peruano is Catch of the Day, lime juice, amarillo chili, "uni leche de tigre" (a preparation made from fish broth, ginger, key lime juice, garlic, cilantro, salt pepper and amarillo chili paste), red onion, cilantro, cancha and sweet potato. It's very reminiscent of a dish we used to prepare in Peru, highlighting the natural flavors of the seafood that has been cooking in this marinade.
TLL: What is your personal favorite item on the menu?
CC: My personal favorites are the ceviche and the scallops.
TLL: Menu aside, what is your personal favorite aspect of the eatery?
CC: I love the design of the restaurant. The hand-painted octopus on the walls is one of my favorite elements.
TLL: Why is San Diego's Little Italy section the optimal spot for this restaurant?
CC: It offers something different in the area, while maintaining the high caliber of cuisine in the neighborhood.
TLL: What other qualities set this restaurant apart from other dining options in the area?
CC: The best thing about having our restaurant in Little Italy is that this neighborhood is really becoming an iconic food destination in the city and is showing that it's much more than just pasta. Sirena offers something different to diners in the area by just the tastes, colors and textures they will get to enjoy here. We are a smaller restaurant, but we do things in a big way.
TLL: How will Sirena maintain and/or elevate its image?
CC: We believe Sirena is a very well-designed, chic eatery that truly is built around the quality and caliber of our menu. We will never try to be something we are not, and we will always continue to use only the freshest and most local ingredients whenever possible. It's about creating a beautiful, creative and simple menu with robust and elevated flavors.
TLL: What are some of your long and short term goals for the restaurant?
CC: My short term goal would be to have many, many locals and visitors visit Sirena for lunch, dinner or weekend brunch. We are so proud of these menus and the work that has gone into the restaurant, and we hope to share it with many people. Long term, I hope to introduce new flavors and tastes into the lives of our diners.
~~~

"The Luxe List" Executive Editor Merilee Kern scours the luxury marketplace for exemplary travel experiences, extraordinary events, and notable products and services. Submissions are accepted at www.LuxeListReviews.com. Follow her on Twitter here: http://twitter.com/LuxeListEditor and Facebook here: www.Facebook.com/TheLuxeList.
Some or all of the accommodations(s), experience(s), item(s) and/or service(s) detailed above were provided at no cost to accommodate this review, but all opinions expressed are entirely those of Merilee Kern and have not been influenced in any way.