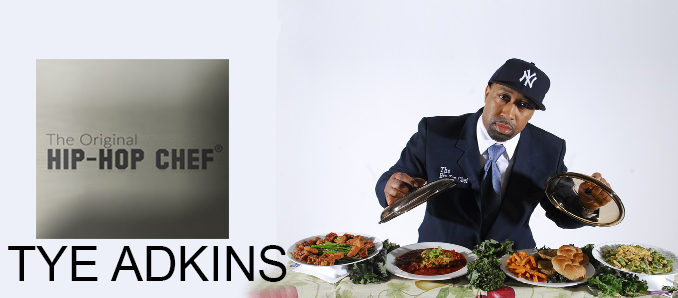 Meet Tye Adkins, "The Original Hip-Hop Chef"® (The One & Only)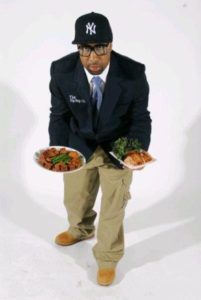 Celebrity Chef Tye Adkins is the face and founder of the now famous brand, The Original Hip-Hop Chef. Tye Adkins came to a realization years ago that Hip-Hop was not always going to consist of the five basic elements of Hip-Hop. From early on in the onset of Hip-hop, Tye understood that Hip-hop would eventually develop into a worldwide culture and, being a staunch supporter of the culture, his love for Hip-Hop and cooking helped him become a significant part of Hip-Hop culture.
Such a concept did not exist before he coined it and he wanted to become the originator of such a movement in the culinary arts and the culture of Hip-Hop. He made a mark in the industry of food and Hip-Hop by paving a new path for himself in the Hip-Hop and entertainment industry.
Before Tye Adkins started The Original Hip-Hop Chef, there were no other African American chefs who were given mainstream coverage through any media outlets like TV, the internet, magazines or by food bloggers and food journalists. He wanted to make a change and he brought it all about on his own. Tye's understanding of this fact might have seemed like he was an underdog but it actually played in his favor. He is a lot more than just a chef, he is a visionary who has been on a mission to cater to the rap industry and cook for artists in the Hip-Hop industry, record labels, music industry moguls, R&B singers, and A-list actors. He was always ahead in the game and gained success, having become the innovator who introduced a branch of culinary arts to Hip-Hop culture. Some of his signature Hip-Hop style chef dishes consist of Freestyle Friend Chicken,
Microphone Mac and Cheese, and Money Hungry Collar Greens.Having said that, Tye Adkins is not someone who wants fame and success all to himself but, instead, wants to use the success that he has gained as a platform to be able to help others. Tye is always encouraging to all younger chefs who are having a hard time trying break into the industry. Using his innate skills and knowledge of the industry combined with his experience, Tye maintains a healthy mentoring role for younger enthusiasts. Along with his busy schedule, he makes it a point to feed the hungry and homeless people that he can reach out to once a week. He is giving back to society.
Having had humble beginnings, pursuing his passion for cooking as a young boy in his grandmother's
kitchen, Tye Adkins has come a really long way having been trained under chefs like executive Chef
Jonah Brandon. He has also had the opportunity to cook for rap artists like Tupac, LL Cool j, and even
Biggie Smalls. The man is on a mission and has already realized his goal of being able to trademark the words "Hip-Hop Chef" and is the only man to be able to boast that. Tye's brand is endorsed by legendary hip-hop artists Kurtis Blow and T.I., with his big break coming from the time he was working under the former Def Jam Records President Kevin Liles. He became one of the few to be really given mainstream coverage on Bet Networks and even Hip-Hop Weekly Magazine, XXL, and King Magazine. Rufus Estes is reputedly the first
African-American Chef, but Tye Adkins will always be known as the first Chef of Hip-Hop. To quote the
famous rapper, Paul Wall, from his statement in XXL Magazine, "It is good that we got our own Hip-Hop
The chef that represents us and cooks what we like to eat and, plus, he's from the hood!"