Pump up the volume on traditional cranberries served during the holidays with this Good Earth Pomegranate Burst Mostarda. This is a great condiment or side with turkey, pork roast, or game birds. Also great on a sandwich or panini.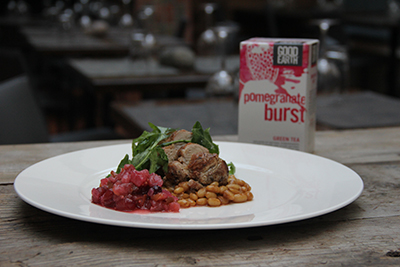 Pomegranate Burst Mostarda
Ingredients:
3 Apples, preferably golden, pink lady, or gala apples.
1 cup cranberries or dried cranberries
1 tea bag Good Earth Pomegranate Burst Tea (tag removed from the tea bag)
2 cups sugar
1/2 cup honey
1 shallot, minced
2 tsp yellow mustard seeds
1/2 cup white wine vinegar
1/2 cup water
Directions:
Chop up the apples to a small dice with skin on.
Combine the apples with all of the other ingredients in a saucepan.
Bring to a simmer for 5-8 minutes or until apples are translucent.
Turn of heat and cool.
Squeeze out the tea bag and discard,
Serve chilled or at room temperature.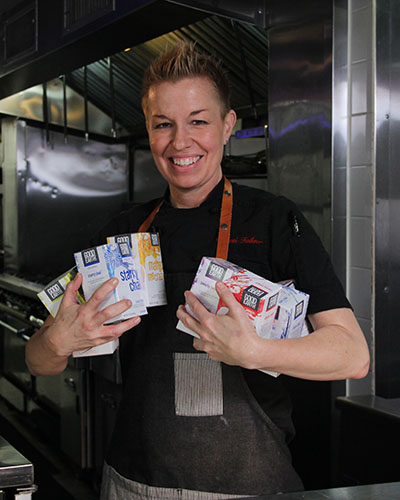 Chef Elizabeth Falkner is one of the culinary world's most recognizable chefs and a leader in the culinary scene. For more than twenty years, she wowed the San Francisco/Bay Area with her desserts, then with two Michelin- recommended restaurants – Citizen Cake, a multiple award winning restaurant, bar and patisserie, and Orson, a popular restaurant and bar.
Today, she is the Executive Chef of Corvo Bianco, a Coastal Italian restaurant on Columbus Avenue in the Upper West Side of New York City.
Falkner is a multiple award winning chef and a James Beard Foundation Award nominee. In 2006, Bon Appetit named her "Pastry Chef of the Year" and three years prior, hailed her as one of "America's 10 Top Pastry Chefs." In 2005, she was nominated for "Pastry Chef of the Year" by the James Beard Foundation and has been a featured guest chef for Foundation dinners. Named "Best Pastry Chef" by San Francisco magazine and a "Rising Star Chef" by the San Francisco Chronicle, Falkner also has been both a leader and a mentor to many other chefs, working closely with Women Chefs & Restaurateurs (WCR), who awarded her a Golden Bowl award in 2003.
A lover of culinary competition, Falkner has competed in multiple culinary competitions including Food Network's "Next Iron Chef, Redemption," "Iron Chef America" and "Next Iron Chef, Super Chefs," in which she was a finalist and runner up. She has been a three time competitor on "Food Network's Challenge," as well as a contestant on Bravo's "Top Chef Masters." In addition to competing, Falkner also has acted as judge on several network shows including Bravo's "Top Chef Just Desserts," "Top Chef Masters" and "Top Chef."
Falkner's first cookbook, Demolition Desserts (2007) was a finalist for IACP's Julia Child Best First Cookbook award in 2008. Cooking Off the Clock, her second book, was released August 2012.
Falkner currently serves on the board of directors of Women Chefs and Restaurateurs and is the incoming president. She is a member of Les Dames d'Escoffier. 

A graduate of the San Francisco Art Institute with a particular interest in film, and a long time soccer player, Falkner often finds culinary inspiration in film, art, music and sculpture as well as team sports.