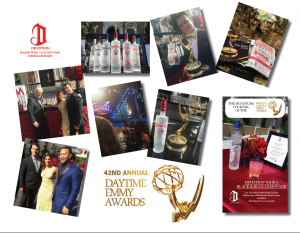 More than 1,200 guests descended on Warner Bros. Studios in Burbank, CA., on Sunday, April 26 to attend the 42 Annual Daytime Emmy® Awards, hosted by The National Academy of Television Arts & Sciences (NATAS). As part of the festivities, celebrities and VIPs in attendance had the opportunity to "Get Devoted" and enjoy specialty cocktails from Devotion Vodka – the world's first gluten-free, sugar-free and 100% Made in the USA flavored vodka family.
The exclusive spirits partner for the sold-out awards gala, Devotion Vodka enjoyed an expansive on-site presence throughout the evening. With a line-up of six refreshing flavors, Tiki Tea, Coconut, Wild Cherry, Black & Blue (blackberry/blueberry), Blood Orange, and the Perfect Cosmo, along with the original, Devotion Vodka was available at all bars throughout the venue, while Devotion Black & Blue Lemonade served as the Signature Drink of the Daytime Emmys. Other specialty cocktails available included the Devotion Vodka Martini, Owl's Brew Orange Tea (with Devotion Blood Orange) and the Perfect Devotion Cosmopolitan. Additionally, all Devotion flavors were available for guests at a selection of the popular Emmys after parties.
"The atmosphere at the Daytime Emmy awards was electric, and we are thrilled that Devotion Vodka had the opportunity to support such a first class gala," said Michael Calleja, COO, Devotion Vodka. "It was exciting to see so many guests and award winners enjoy their favorite specialty cocktails, all made throughout the evening exclusively with Devotion Vodka, on the Warner Bros. Lot, in Burbank, California"
The award-winning vodka (Wine Enthusiast – Top 50 Spirit, Beverage World- Breakout Brand and Beverage Information Group- Rising Star Growth Brand Award '14 & '15) continues to expand distribution nationwide. As gluten-free and sugar-free living is now an accepted lifestyle for millions of individuals who must adhere to dietary restrictions, as well as those who choose to adopt specific diets, Devotion Vodka is the perfect alternative for adults 21+ who want to enjoy a cocktail from time to time, but are more conscious about ingredients.
Devotion Vodka, which has an SRP of $19.99 is currently available at prominent National grocery retailers, major restaurant chains and retail stores, bars and nightclubs across the U.S.
For more information, please visit www.devotionvodka.com.
About Devotion Spirits, Inc.
Launched in November 2009, Devotion Spirits, Inc. (DSI) is the first company in the world to offer a completely new category in premium spirits, and marketed under a single brand – Devotion Vodka, World's First Sugar-Free, Gluten-Free American Made Vodka Family. The Company was created by entrepreneur Drew Adelman, a nightlife and dining aficionado and fitness advocate, searching for a way to marry his two passions. Devotion Vodka boasts 80 proof, six-column distilled vodka (made from the finest American Corn), and is the only flavored vodka brand made exclusively in the USA.