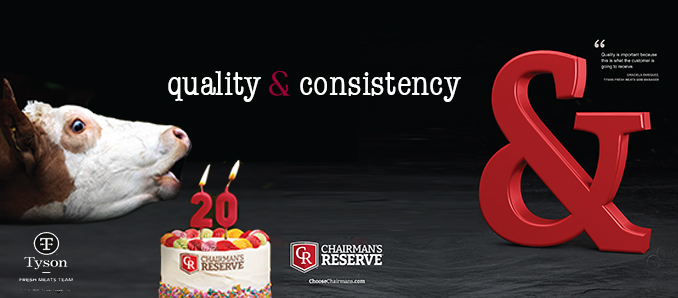 QUALITY & CONSISTENCY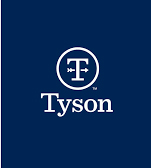 CONSISTENT PLATES, HAPPY DINERS
Turn first-time diners into repeat customers by offering high-quality, consistent products they can't wait to try again. For these attributes in fresh beef and pork, look no further than Chairman's Reserve® Meats, part of the Tyson Fresh Meats portfolio.
"Pleasing customers with good food really comes down to consistency," said Andrew Burger, executive chef at Kahill's Chophouse in Sioux City, Neb. "They have it once and they can come back and have that same memorable meal, time and time again. That's our job."
HAND-CRAFTED
Each cut of beef and pork from Chairman's Reserve Meats is hand-selected and hand-trimmed. This allows the Tyson Fresh Meats Team to be certain every cut carrying the brand's name is consistently high quality. Meat from the Chairman's Reserve brand goes through an intensive selection process before leaving the processing facility. The Quality Systems Management (QSM) Team inspects each piece of meat on the line and as finished products.
"Quality is very important because this is what the customer is going to receive," said Graciela Enriquez, QSM manager at Tyson Fresh Meats. "Customers keep on coming back to us – there must be a reason for it."
A TEAM COMMITTED TO QUALITY
Each person who touches the Chairman's Reserve brand is committed to providing the best possible product – from the ranchers who raise the cattle and hogs, all the way to the team members at the processing facility. When our meat arrives in the kitchen, you can be sure that you're serving beef and pork that is second to none.
PREMIUM & PRIME
AN EXCEPTIONAL TWENTY YEARS
For 20 years, the Chairman's Reserve brand has offered high-quality meats, beginning with premium beef. Over time, the brand has evolved to offer beef and pork in two quality tiers – premium and prime. "Consumers today want more and expect more from the products they consume," explained Ozlem Worpel, senior brand manager at Tyson Fresh Meats. "That's where Chairman's Reserve Meats comes into play. This is the top-quality beef and pork that we have in our Tyson Fresh Meats portfolio."
GRADED FOR QUALITY
Offering two proteins in two quality tiers is part of what makes the Chairman's Reserve brand unique. The brand you and your customers trust for prime ribeye steaks can also deliver premium pork for your sliced pork tenderloin sliders.
Worpel explained that Chairman's Reserve Prime Beef is all USDA Prime quality grade while premium beef is upper 2/3 USDA Choice or higher. Pork, though, is graded differently using marbling, color and pH to determine if a cut is premium or prime. These strict standards mean that every piece of Chairman's Reserve Meats is tender, juicy and full of flavor.
A HIGH-QUALITY FOODSERVICE SOLUTION
"I put Chairman's Reserve on the menu because of the quality of the ingredients, the consistency and the working relationship we have with Tyson," Chef Burger said. "It allows me to trust that I'll be getting the same product every time and that my customer is getting the same product every time."