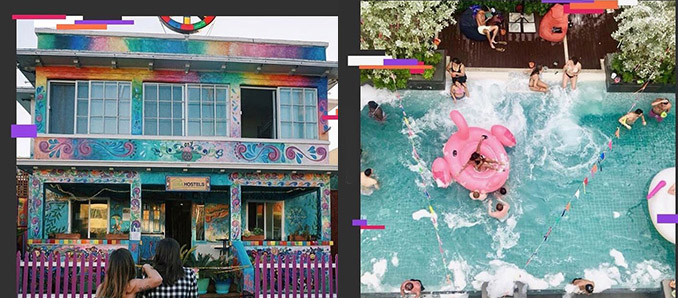 With the likes of Mariah Carey and 50 Cent apparent fans of hostel travel—where low prices, shared accommodations and sociable common areas reign supreme—it's no wonder that this hospitality category is going gangbusters. In fact, findings from Phoscuswright's Global Hostel Marketplace 2016-2020 in one published report indicate tremendous hostel market growth, which is estimated to reach a whopping $6.4 billion in 2020. That's a lot of revenue for an industry that hangs its hat on reasonable prices that are often well below market-standards.
One company doing more than its fair share to spur the success of this sector is Hostelworld, the leading hostel-focused online booking platform. In fact, their new travel report found that recent travelers who went on extended trips of three weeks or more, visiting multiple destinations, over four in five (81%) chose to stay in hostels.
Exemplifying this burgeoning sector popularity, Hostelworld recently showcased its longevity by celebrating its 20th year anniversary in epic form this summer, having thrown 20 parties over 20 days in 20 countries worldwide. The company's "20 Years Young" parties as they were coined were hosted in all corners of the globe—from San Diego, Marrakech, Paris, Tokyo and beyond, ultimately coming to a wrap in London. The parties, with each themed around a particular year among the last twenty, lit up social media thanks to venues that were kitted out with party props as well as the bevy of travel influencers who hosted games and activities with much fanfare. This included a collective of Instagram Live streams said to have helped bring guests together in a way only the true hostel experience can.
If you need more convincing about how grand Hostelworld's "20 Years Young" party tour was, just read the schedule below to appreciate how awe-inspiring this celebration was.
Berlin, Germany: St. Christopher's Berlin Mitte – Party Like It's 1999
San Diego, USA: USA Hostels Ocean Beach – Millennium Party
Cancun, Mexico: Selina Cancun Downtown – Double Denim Party
Tayrona National Park, Colombia: Viajero Tayrona Hostel Colombia – Sk8er Party
Phuket, Thailand: Lub D Phuket – Under the Sea Party
Barcelona, Spain: Unite Hostel Barcelona – Funky Gym Party
Montreal, Canada: M Montreal Hostel – Jungle Party
Siem Reap, Cambodia: White Rabbit Hostel – Farewell Pluto Party
Sydney, Australia: Wake Up! Sydney Central – Pirate Party
Paris, France: JO&JOE Paris Gentilly – Lost Temple Party
Tel Aviv, Israel: Abraham Hostel Tel Aviv – Vampire Party
Ubud, Indonesia: Puri Garden Hotel & Hostel – Greek Myths Party
Cusco, Peru: Wild Rover Hostel Cusco – Witches and Wizards Party
Marrakech, Morocco Rodamon Riad Marrakech Hostel – Superhero Party
Goa, India: Jungle by Thehostelcrowd – Festival Party
Venice, Italy: Wombats City Hostel Venice Mestre – Emoji Party
Tokyo, Japan: Emblem Hostel Nishiarai – #MeetTheWorld Party
Sao Paulo, Brazil: O de Casa Hostel Bar – Unicorn Party
Lisbon, Portugal: The Independente Hostel & Suites – Superstar Party
London, England: Palmers Lodge Swiss Cottage – Birthday Party
"The hostels for each of our events had been carefully selected to provide guests with the best possible experience, as we know today's travelers expect far more than just a bed for the night from their accommodation," noted a Hostelworld spokesperson. "As well as being perfectly located to explore, party guests were greeted by fabulous amenities like a cinema room in Mexico, a Muay Thai boxing ring in Thailand, and morning yoga in Indonesia."
According to research by Hostelworld, it seems meeting and commiserating with people from all over the world is of escalating importance to American travelers, ranking "social space as the most important consideration when choosing where to stay," which is certainly an area where hostels excel. "Another factor helping spur category growth is the importance of free activities that hostels often offer their guests," the company spokesperson said.
Keeping the celebration going, Hostelworld continues to offer killer deals and free activities that help travelers make lasting memories. For example, USA Hostels Ocean Beach in San Diego offers visitors free shuttles to La Jolla and Tijuana, in addition to relaxing yoga classes and social barbeques.
So if you have that itch to get out of Dodge this fall, holiday or beyond and are looking to save a buck or two in the process—and meet and mingle with some interesting folks along the way—give a hostel stay a go. It just might result in the most memorable adventure of your lifetime.
~~~
As the Executive Editor and Producer of "The Luxe List," Merilee Kern, MBA is an internationally-regarded brand analyst, strategist and futurist. As prolific consumer trends, lifestyle and leisure industry voice of authority and tastemaker, Merilee keeps her finger on the pulse of the marketplace in search of new and innovative must-haves and exemplary experiences at all price points, from the affordable to the extreme. The best-of-the-best across all product, service and travel categories—as well as noteworthy marketplace change makers, movers and shakers—are spotlighted in her exclusive cross-media platform that reaches multi-millions each month through several syndication channels: print and online publications as well as broadcast TV and terrestrial radio. Connect with her at www.TheLuxeList.com / Instagram www.Instagram.com/LuxeListReviews / Twitter www.Twitter.com/LuxeListEditor / Facebook www.Facebook.com/TheLuxeList / LinkedIN www.LinkedIn.com/in/MerileeKern.
Some or all of the accommodations(s), experience(s), item(s) and/or service(s) detailed above may have been provided at no cost or sponsored to accommodate this review, but all opinions expressed are entirely those of Merilee Kern and have not been influenced in any way.
Sources:
https://blueswandaily.com/often-overlooked-hostel-industry-shows-huge-upside-as-investors-attempt-to-appeal-to-millennials/
https://www.phocuswright.com/Travel-Research/Consumer-Trends/The-Global-Hostel-Marketplace-2016-2020-Second-Edition
http://www.hostelworldgroup.com/~/media/Files/H/Hostelworld-v2/reports-and-presentations/the-evolution-of-the-hostel-traveller-v1.pdf