The Great Resignation is affecting restaurants big and small and shows no sign of letting up. According to Restaurant Business Online, restaurant employment has been down about 8% since the pandemic began, and the industry has already lost over one million workers. On the podcast "A Deeper Dive," Checkers CEO Frances Allen said that, "Of those million workers, 30% found new office jobs. I don't believe we're necessarily going to get them back."
As Reuters reported, with quit rates reaching an all-time high, restaurants are implementing new initiatives to retain their existing employees. Higher pay, better working conditions, and flexible hours are just a few ways restaurants are incentivizing employees to stay. However, many businesses are still struggling to get new labor in the door.
For other restaurants, a lack of available employees means having to cut operating hours, increase the workload of existing employees, or close completely. The Great Resignation is devastating in an industry already fraught with razor-thin profit margins and high closure rates.
Thankfully, The Great Resignation comes at a time when employees and owners alike are reevaluating what it means to work in the restaurant industry. For many, reimagining labor by combining their existing labor force with automated self-ordering solutions has proven powerful in combating The Great Resignation. In addition to easing hiring struggles, implementing automation to work alongside employees can help retain your existing restaurant staff, and repurpose them to other essential functions of the restaurant, thus maximizing labor.
Embrace Automation
The Great Resignation poses a significant problem for everyone: restaurant owners are losing money, workers are struggling to meet demand in understaffed restaurants, and customers are experiencing long wait times and poor service.
In the past, traditional restaurants, particularly quick-service restaurants, have dealt with operational challenges by allocating additional minimum wage staff to problems, thus inhibiting their technological innovation. For this reason, the restaurant industry has lagged behind other industries, such as banking and travel, in implementing self-ordering technology.
However, as The Great Resignation continues to stifle hiring efforts and minimum wage continues to increase, adding more staff is no longer a viable option for restaurant owners.
Instead, they need to find other ways to operate their business, particularly with self-service automation.
The latest in self-service automation, the Samsung Kiosk powered by GRUBBRR, is an all-in-one solution proven to help mitigate the labor crisis. GRUBBRR's self-ordering technology directly impacts businesses affected by The Great Resignation by decreasing labor and operating costs and driving incremental revenue.
With GRUBBRR's self-ordering technology, restaurants can stay open with less staff and streamline operations in the process. For consumers, restaurants with automation provide both speed and convenience, as employees can be repurposed from front-of-house tasks to other more impactful business functions. As machines begin to complement human labor in the workplace more frequently, we need to adjust to reap the benefits.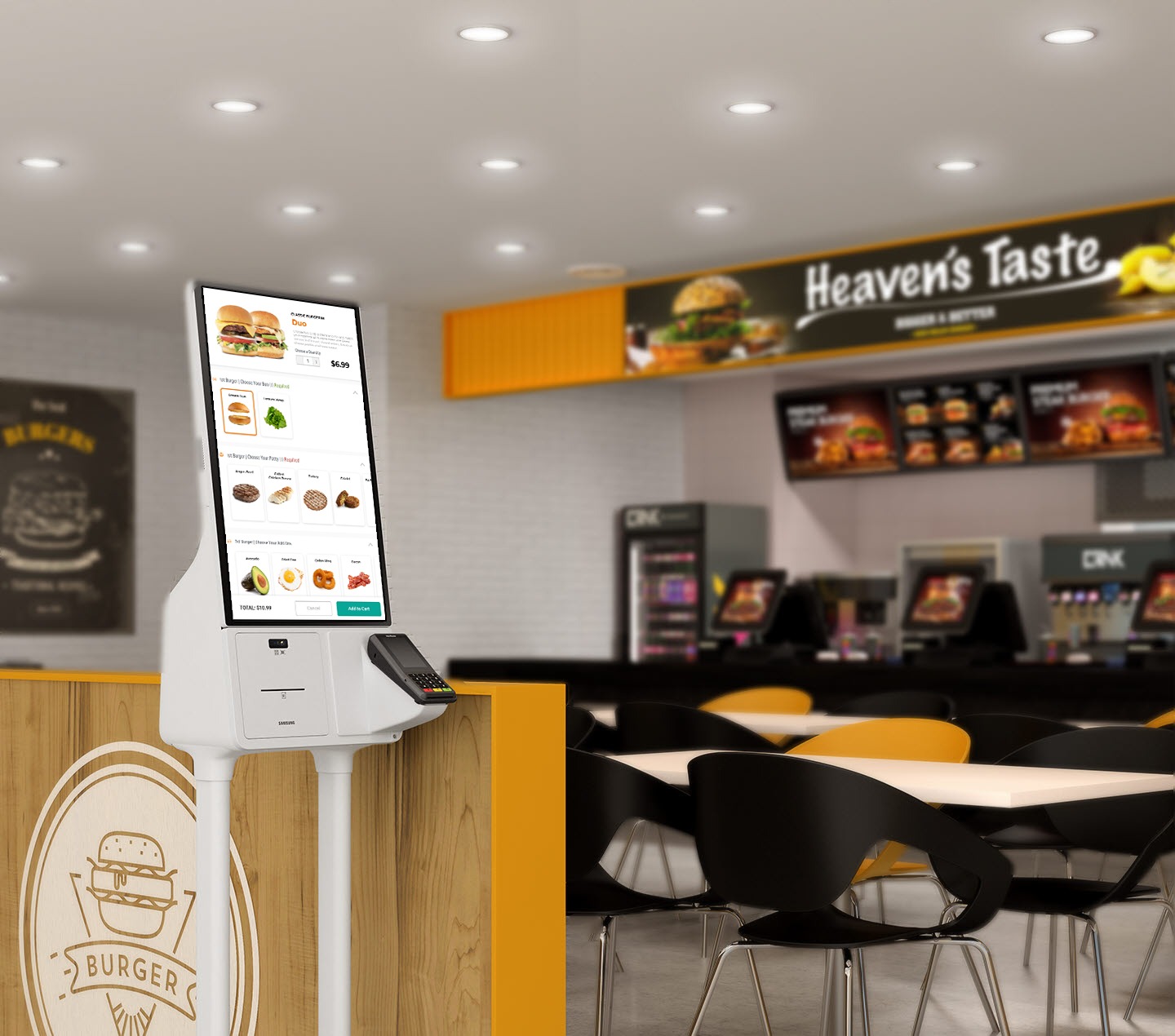 Keep The Employees You Already Have
As mentioned previously, restaurants have resorted to drastic measures to find applicants for their open positions. However, restaurants have not paid enough attention to retaining the employees that they already have.
The first, and arguably most crucial facet of retaining employees, is ensuring consistency. For restaurants looking to franchise, go public or expand, consistency is a
non-negotiable necessity. Think of your favorite restaurant, where they already know your order, and it tastes just as delicious every time. These things are established through consistency of employment, as it is likely the same employees who are greeting you and preparing your food each time.
When establishing a restaurant, consistency is key to building the brand and building a customer base. Customers want consistency. To provide this, restaurants need to retain the employees they already have, especially the good ones. Implementing self-ordering technology serves as the perfect complement to your existing employment. With your long-time employees free to carry out the essential aspects of the business, you ensure that both your employees and customers are satisfied.
In addition, self-ordering technology ensures a consistent customer experience every time. With features such as loyalty programming, restaurants can capture data about their customers to provide a personalized experience and quantify lifetime value. Kiosks never have a bad attitude, always get orders correct, always upsell, and are fast and easy to use, and enables restaurant owners and marketers to curate a customized customer journey.
In addition to implementing self-ordering technology, Nation's Restaurant News has a list of suggestions for keeping current employees, including referral bonuses, free or discounted meals, health benefits, 401k matching, and more. Creating a consistent restaurant experience begins with employees, so retaining the staff you already have while implementing self-ordering technology is vital, especially during The Great Resignation.
Automate Jobs No One Wants
GRUBBRR's core belief is that the cashier is obsolete. The goal of GRUBBRR is not to remove human interaction from business or to take away jobs but rather to help companies adjust to the changing landscape impacted by labor shortages and wage gaps. CNBC Reports that companies like Panera bread are experiencing a turnover rate of over 100%. GRUBBRR and Samsung solve this problem for business owners by filling jobs that people do not want and simultaneously automating commerce.
For cashiers, dealing with customers can become highly repetitive. This is because cashiers must perform the same few tasks: take orders, take cash, relay orders to the kitchen, and repeat. In a cashier position, employees are not engaged in meaningful work that leverages the full range of their abilities. According to research from McKinsey, 30 percent of the activities in 60 percent of all occupations could be automated. Implementing GRUBBRR self-ordering kiosks enables businesses to repurpose employees from cashier positions to other business functions to streamline efficiency, increase revenue and maximize consumer satisfaction.
The one-time cost of a kiosk is a fraction of the price of carrying an employee. On average, a cashier at a quick-service restaurant open 15 hours per day will cost more than
$6,000 per month (with all associated carrying costs), whereas GRUBBRR self-ordering systems are a fraction of that price. In addition, kiosks always show up, don't call in sick, and are ready to work 24/7. Automating your cashier position with self-ordering technology will not only save you money but also drive incremental revenue through customized upselling and increased average ticket size.
Repurpose Employees to Other Business Functions
When you're running on limited staff, as many restaurants are post-pandemic, every task must be completed as quickly as possible to keep operations running smoothly and ensure a positive customer experience. GRUBBRR's self-ordering solutions make repurposing employees to streamline efficiency a fast and frictionless process.
The All-In-One Samsung Kiosk powered by GRUBBRR can take orders and accept payments without the need for a cashier. The Kiosk has a built-in card reader and receipt printer and even includes integrated NFC technology to accept mobile payments and credit cards and a scanner that enables self-checkout. This frees up employees to help out in the kitchen or other areas so that orders can be fulfilled faster and more accurately, and customers will enjoy better, more consistent service.
GRUBBRR's ecosystem of self-ordering solutions, including Kitchen Display Systems, also streamlines back-of-house operations through smart-station routing, inventory management, and order processing. This way, the transition from cashier to back-of-house is an easy adjustment, and employees can gain new skills working alongside automation.

Automating the essential functions of your restaurant and repurposing employees also paves the way for increased revenue through expanded, in-house delivery services or even management experience. For a restaurant to run smoothly during The Great Resignation, it is essential to increase employee satisfaction, which is aided by self-ordering technology.
In addition to increasing revenue, decreasing operating costs, and enhancing the customer experience, GRUBBRR's self-ordering solutions also minimize human contact, provide reliability, and allow consumers to interact with businesses in a way that improves the experience for all parties involved.
When deciding how to proceed during The Great Resignation, making the most of your employees with self-service automation offers restaurants tremendous benefits. Not only can you automate tedious tasks and repurpose employees within the business, but it also helps retain existing employees by providing more opportunities for growth and improved business function.