New Line Features Four Flavor Offerings Including First-of-its-kind Tropical Chai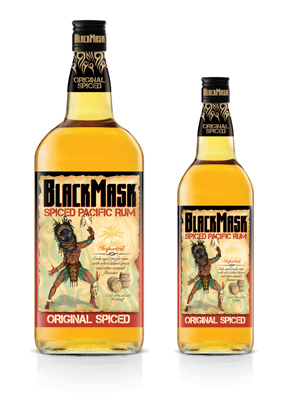 International Beverage USA announced the launch of BlackMask Spiced Pacific Rum to the U.S. market with initial release in Southern California. BlackMask is crafted with oak-aged premium rums blended with mellow Pacific Island spices and natural flavors.
This uniquely spiced rum is brought to life by the mysteriously exotic BlackMask Medicine Man who is highlighted on the product label. As the story goes, BlackMask was possessed by the distilled concoction that he created from spices and native plants to heal returning wounded warriors. Along with this restorative spirit, he also crafted enchanted masks for the men to wear back into battle.
It is golden amber in color with intense vanilla top notes, rich tones of cinnamon and nutmeg on the tongue and a smooth smoky toffee finish. The original spiced rum will be joined by three flavor extensions – Island Coconut, Tropical Chai and Black Premo. Mixed, punched, frozen or on the rocks, Black Mask delivers a premium rum experience that always finishes smooth and ready for more.
"Spiced rum is a hot category right now, making BlackMask an exciting addition to our U.S. portfolio. It's also the first rum brand to have a Chai offering, which is a flavor consumers demand," said Patrick Graney, President of International Beverage USA. "We think it will resonate with the target market as a fun brand with a big personality and a bit of adventure."
Black Mask will be available at specialty retailers in Southern California such as Hi-Time Wine Cellars, Emilio's Beverage Warehouse and Total Wine & More for a suggested retail price of $13.99 beginning July 1, 2013. For more information about the legend of BlackMask visit www.blackmaskrum.com.
Black Mask cocktail suggestions: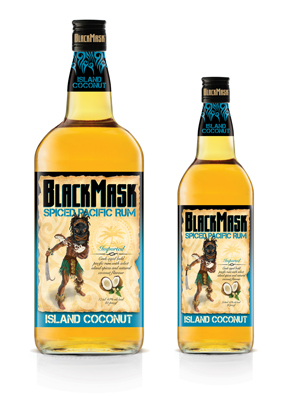 The Unknown Idol
2 oz Black Mask Original Spiced Rum
4 oz Cola
.75 oz fresh squeezed lime juice
Build cocktail over ice and stir to combine
Garnish with a lime wheel
Rhumsfeld's Painkiller
2 oz Black Mask Original Spiced Rum
4 oz pineapple juice
1 oz cream of coconut
1 oz fresh squeezed orange juice
Add ingredients to an ice-filled cocktail shaker and shake well
Strain into a chilled highball glass filled with fresh ice
Dash of Nutmeg and a pineapple wedge for garnish
About International Beverage
International Beverage, Inc. was established in 2005 as the international arm of ThaiBev, one of South East Asia's leading alcohol beverage companies. With a network of regional offices in Asia, Europe and North America, the company is responsible for the production, sales, marketing and distribution of a portfolio of premium global brands in more than 80 countries and territories. The company's success is built on a strong understanding of local cultures and markets along with the creation of a global operational network.