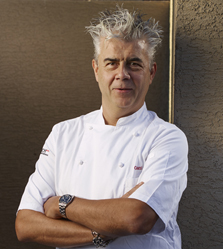 MacPherson is slated for major 2013 culinary events including the "Take A Stand" benefit dinner on opening night of Las Vegas "Life Is Beautiful Festival", and "Worlds of Flavor" at CIA in Napa Valley.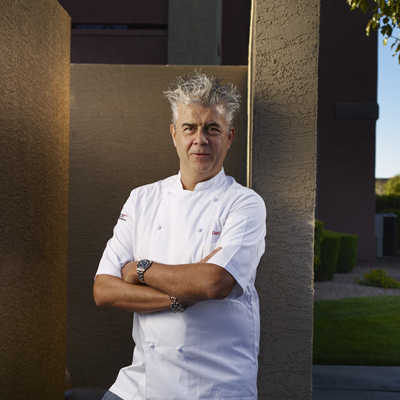 Internationally known Chef Grant MacPherson's career spans five continents, four decades, and some of the world's most iconic and celebrated dining and hospitality destinations. MacPherson announces this week his formal return to Las Vegas, which he is establishing as the base of international operations for his company Scotch Myst. Scotch Myst develops, consults, and implements highly customized culinary solutions and services for restaurants and hotels worldwide.
Before founding his own firm in 2010, MacPherson spent a decade with the Wynn Organization in Las Vegas and Macau—he was originally recruited by Steve Wynn in 1998 to head culinary operations for the opening of the Bellagio Resort & Casino in Las Vegas.
"I am incredibly thrilled to return my business to Las Vegas and run Scotch Myst from there," Chef MacPherson says. "We have identified a space and plan to open the new facility by the end of the calendar year. Las Vegas has always been near and dear to my heart."
Current Scotch Myst projects include overseeing The Merrywell gastro-pubs at the Crown Perth and Crown Melbourne in Australia, which he opened in collaboration with Chef Sammy DeMarco in 2012. In Russia, MacPherson is leading the restaurant and kitchen remodel for the luxurious and historic Grand Hotel Europe by Orient Express in St. Petersburg, Russia, where he is traveling this month. Stateside, he is working with Crescent Hotel Group in Beverly Hills, CA on new developments. Earlier this year (2013), MacPherson was named Global Culinarian for Beech Ovens, Jade Range and Viking Commercial Range. He has been Viking Commercial's Executive Chef since 2010, and created the 2011 cookbook In The Viking Kitchen with them. MacPherson also officially represents the American Pistachio Growers.
In addition to running Scotch Myst, MacPherson keeps a busy schedule touring the United States and the world to appear at a wide variety of major culinary events. In August, he was one of four master chefs at "Modern 48 Classics," for a weeklong promotion at Resort World Genting (a.k.a. Genting Highlands) in Malaysia. Most recently, MacPherson was among the talent cooking earlier this month at the third annual Hawaii Food & Wine Festival in Oahu, an event chaired by chefs Roy Yamaguchi and Alan Wong.
Next up are two dates in Las Vegas—the International Baking Industry Exposition (10/6-8), and the Life Is Beautiful Festival (10/25-27), a star-studded, food/music/art/learning mash-up. For the latter, MacPherson is cooking on opening night at the $5,000 per-person charitable dinner "Take A Stand," hosted by Hubert Keller and Elizabeth Blau. A rarefied culinary experience limited to 40 guests, it benefits Las Vegas non-profits Three Square Food Bank and Communities in Schools. MacPherson's 2013 calendar continues with the 16th annual Worlds of Flavor (11/14-16) at Culinary Institute of America's historic Greystone campus at St. Helena in Napa Valley, a James Beard Foundation dinner in Chicago (11/18)—hosted by MK Restaurant and chef/owner Michael Kornick, and also featuring chefs Charlie Trotter, Grant Achatz, Paul Kahan, and pastry chef Mindy Segal—and the 10th annual San Diego Bay Food + Wine Festival (11/20-24).
A native Scotsman who grew up in Johannesburg, South Africa and Alberta, Canada, he began his start at a southern Ontario, Canada restaurant more than 30 years ago. MacPherson has cooked adventurous five-star food, developed menus, designed and run kitchens, and built top-notch teams at iconic places including Raffles Hotel—the legendary "Grand Old Lady of Singapore; Bellagio Las Vegas; Wynn Las Vegas; Wynn Macau, Regent Hotels in Sydney, Kuala Lumpur, and Singapore; Four Seasons Hotels in Toronto, Vancouver, and London, England; Ritz Carlton Big Island of Hawaii, and Sandy Lane Hotel in Barbados.
While looking to the future with Scotch Myst, MacPherson relishes sharing tales of his colorful experiences, extraordinary mentors, and storied accomplishments so far. He collects many of them in Word Of Mouth, a limited edition coffee-table volume brimming with mouth-watering photos, recipes, memoir, and quotes from a stellar array of culinary world colleagues. The book is available for sale on www.scotchmyst.com.