CHEF MICHAEL MINA TO OPEN FIRST RESTAURANT IN NASHVILLE
Highly Anticipated JW Marriott Nashville Chosen as Location for James Beard Award-Winning Chef's Bourbon Steak Nashville

Turnberry Associates, the developer of JW Marriott Nashville, today announced the luxury hotel will welcome Michelin Star Chef Michael Mina to Tennessee. Set to open with the 533-room property in 2018, Bourbon Steak will offer guests a modern American steakhouse and timeless dining experience with a twist. With striking interiors conceptualized by renowned hospitality designer, Adam D. Tihany, the opening of Bourbon Steak at JW Marriott Nashville will further position the five-star property as a must-visit destination in the heart of downtown.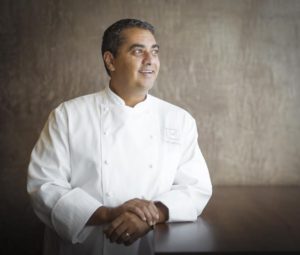 "Turnberry Associates is thrilled to have the opportunity to expand our relationship with MINA Group," said Jeffrey Soffer, Co-Chairman and CEO at Turnberry Associates. "Our continued success with Chef Mina at Bourbon Steak at Turnberry Isle and both StripSteak and Pizza & Burger at Fontainebleau Miami Beach is a testament to the draw of Mina's cuisine.
Located on the top floor of the 33-story JW Marriott Nashville, the indoor-outdoor venue is poised to become a destination in its own right, where locals and guests alike will convene to socialize while indulging in Bourbon Steak favorites. Menu highlights include a mix of Mina specialties such as prime cuts of chargrilled, butter-poached beef, a Michael Mina signature preparation, and Maine Lobster Pot Pie as well as innovative new offerings to be revealed at a later date. All dishes are made with the highest quality fresh, seasonal ingredients without sacrificing flavor or flair. Featuring floor-to-ceiling windows, patrons will enjoy sweeping views of nearby landmarks like The Music City Center from one of the highest elevations in the city. When outfitting the 280-seat restaurant, Tihany envisioned a design to perfectly complement the masculine aesthetic of JW Marriott Nashville. Satin bronze metal accents, red gum wood and bourbon-inspired hues were selected for the contemporary dining venue.
Upon entering Bourbon Steak, guests are greeted by a deep walnut corridor leading to the reception desk. The main dining room is outfitted with a collection of warm taupe banquettes, chestnut chairs and white linens, with seating around the periphery to allow for unmatched views of the restaurant and surrounding city. A bronze-toned liquid metal bar is the focal point of the space and showcases the restaurant's extensive liquor collection set against a gold etched mirror. The al-fresco terrace lounge of terrazzo granite, travertine limestone and flecked marble beckons diners to enjoy a craft cocktail or Mina signature steak while overlooking Nashville.
"I have always admired the hospitality of Nashville and we are thrilled to be collaborating with a venerable hotel, JW Marriott Nashville, as well as our longtime partners at Turnberry Associates," said Michael Mina, chef and founder of MINA Group. "We are excited to join the community and bring the Bourbon Steak experience to locals and visitors alike."
Bourbon Steak will also cater to meetings and events with two separate private dining rooms. Accommodating up to 20 guests, the private dining rooms' décor complements the tones and textures conceptualized by Tihany throughout the restaurant's public spaces.
Learn more at www.BourbonSteakNashville.com and follow the restaurant at @BourbonSteakNSH.
About Turnberry Associates
Turnberry Associates is one of America's premier real estate development and property management companies. Founded more than 50 years ago, the company's diverse projects have revolutionized the living, working, leisure and shopping habits of millions of people across the country. Turnberry Associates has to its credit the development of more than $10 billion in commercial and residential property including approximately 20 million square feet of retail space, more than 7,000 apartments and condominium units, 1.5 million square feet of class "A" office space and in excess of 3,000 hotel and resort rooms. The company's diverse residential, hospitality, retail and commercial projects have received accolades for revolutionizing the living, working, leisure and shopping habits of millions of people across the country. From Turnberry Ocean Colony, Porto Vita, Aventura Mall, Turnberry Ocean Club, Fontainebleau Hotel in Miami Beach and Turnberry Isle Resort in Aventura to signature properties in Las Vegas, Washington D.C. and the Bahamas, Turnberry Associates is known for superb quality and impeccable service.
About JW Marriott Hotels & Resorts
JW Marriott is part of Marriott International's luxury portfolio and consists of beautiful properties in gateway cities and distinctive resort locations around the world. These elegant hotels cater to today's sophisticated, self-assured travelers, offering them the quiet luxury they seek in a warmly authentic, relaxed atmosphere lacking in pretense. JW Marriott properties artfully provide highly crafted, anticipatory experiences that are reflective of their locale so that their guests have the time to focus on what is most important to them. Currently, there are more than 75 JW Marriott hotels in over 25 countries; by 2020 the portfolio is expected to encompass more than 115 properties in over 35 countries. Visit usonline, on Instagram, Twitter and Facebook.
Visit Marriott International, Inc. (NASDAQ: MAR) for company information. For more information or reservations, please visit our web site at www.marriott.com, and for the latest company news, visit www.marriottnewscenter.com.
About MINA Group
MINA Group is a San Francisco-based restaurant management company specializing in creating and operating upscale, innovative restaurant concepts. MINA Group is led by Chef/Founder Michael Mina whose accolades include James Beard Foundation "Who's Who of Food and Beverage" inductee in 2013, Bon Appétit Chef of the Year, Food Arts Silver Spoon Award Winner, San Francisco Magazine Chef of the Year, and International Food and Beverage Forum's Restaurateur of the Year. Operating since 2003, Mina Group currently manages 30 concepts including MICHAEL MINA in San Francisco (Esquire Magazine's Restaurant of the Year 2011); RN74 at the Joshua Green Building in Seattle; PABU and THE RAMEN BAR at 101 California in San Francisco; CLOCK BAR at The Westin St. Francis on Union Square in San Francisco; BOURBON STEAK, BOURBON PUB and Michael Mina's Tailgate at Levi's Stadium in Santa Clara; STRIPSTEAK Waikiki at the International Market Place; STRIPSTEAK at Mandalay Bay in Las Vegas; MICHAEL MINA Bellagio at Bellagio in Las Vegas; BARDOT BRASSERIE at Aria Resort & Casino in Las Vegas; PABU at Millennium Tower in Boston; PIZZA & BURGER and STRIPSTEAK at Fontainebleau Miami Beach; Locale Market and FarmTable Kitchen at Sundial St. Petersburg in Florida; and THE HANDLE BAR in Jackson Hole. For a complete list of restaurants please visithttp://michaelmina.net.
Follow Michael Mina on Facebook at Michael Mina, Twitter at @ChefMichaelMina and Instagram at @ChefMichaelMina.
About Adam D. Tihany
Widely regarded as the world's preeminent hospitality designer, Adam D. Tihany has created innovative hotel and dining interiors at some of the most iconic properties around the globe, including The Beverly Hills Hotel, The Breakers Palm Beach, Belmond Hotel Cipriani in Venice, Mandarin Oriental Las Vegas, and Four Seasons Resort Dubai DIFC. He was one of the first designers to collaborate with internationally acclaimed chefs such as Thomas Keller, Heston Blumenthal, Daniel Boulud and Charlie Palmer to create signature restaurants. Now setting his sights on the seas, Tihany is bringing his visionary design concepts to the Holland America and Seabourn vessels. Tihany frequently lectures at universities and conferences around the world, and is the present Art Director of the Culinary Institute of America. He has published several books on his work and his latest monograph is Tihany: Iconic Hotel and Restaurant Interiors (Rizzoli, 2014).