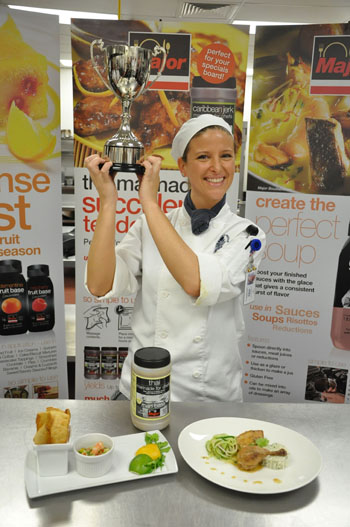 Major Products Co. teamed up with Las Vegas Le Cordon Bleu Culinary School to offer students from the school the chance of winning a prestigious prize by entering the Major Challenge competition last weekend.
Students competing in the Challenge trophy were asked to prepare a shrimp starter incorporating the stunning Major Shellfish Glace, and a chicken entrée of their choice using one of the selected Major Mari Base marinades.
After a grueling three hours, the dishes were then analyzed by a judging panel and judged on a set criteria including, presentation, creativity, and sanitation. The competitors worked extremely hard and overcame a number of challenges but there was an outright winner in the form of Brazilian student Lulu Tigre. Lulu excelled, not only in taste but also in presentation, creativity and her exceptional culinary skills. Her appetizer dish consisted of Avocado Shrimp 'Ceviche' served with shrimp infused chips, which clearly impressed the judging panel. Lulu's entrée was a delicate coconut Thai chicken, which she coupled with coconut jasmine rice and pickled cucumber salad.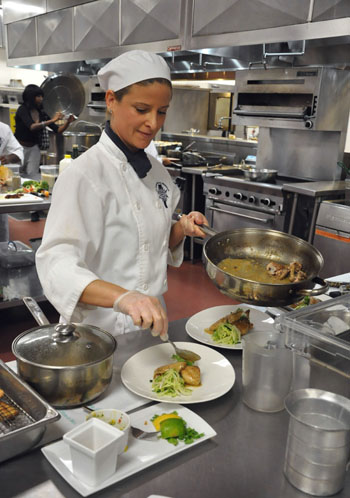 Major feel that it's particularly important to support developing and aspiring Chefs in the catering industry. "We believe that it is crucial to provide an opportunity for young people to enhance and acquire further skills to allow progression and to have a platform to move on from. Major use the finest ingredients to deliver exceptional flavors with authentic tastes and aromas. Le Cordon Bleu is a fantastic college and we were very impressed with many of the competitor's dishes. Lulu and the other contestants showed us a range of great dishes and it was a very close call between Lulu and Blake, winner of the second place prize." Comments David Bryant, Sales & Marketing Director of Major Products.
"I really enjoyed working with Major Products. The shellfish glace really accentuated the natural flavors of the shrimp, and the Thai Mari-Base that I chose made it so easy to cook a quick and delicious sauce for the chicken. I experimented a lot with the products prior to the event and they can be used in many different ways." Comments Lulu, the winner of the Major Challenge Trophy.
Lulu, originally from Brazil had a passion for food from a young age eating homemade food watching her father cook. Winning a green card lottery 2007 enabled her come to the US but it wasn't until earlier this year that she decided it was time for a change and to make her dream reality by starting her training at Le Cordon Bleu. After completing her certificate program in culinary arts she has just landed her first externship at Elizabeth Blau and Chef Kim Canteenwalla's restaurant Honey Salt.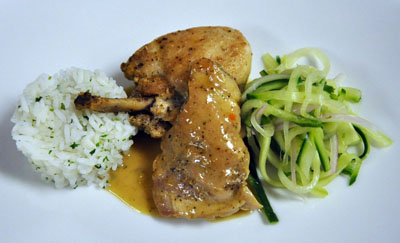 Lulu was delighted that she took home the first prize of £200 and the Major challenge trophy, closely followed by Blake and Charles, both winning £100 and a smaller trophy, all donated by Major Products.
At Le Cordon Bleu, students learn the way to prepare for a career in the culinary arts or patisserie and baking. Building on over 100 years of tradition, the college provides career-focused training to aspiring cooking school students who want a creative future that's anything but ordinary. Major's long term plan is to continue with this type of industry support, especially with young up and coming chefs if the future.
If you would like further information on Major Products, please contact 1-(800) 222-1296.
About Major Products Company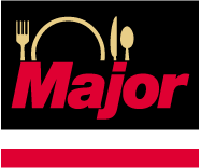 With an innovative team and state of the art manufacturing facilities, quality is of upmost importance at Major Products. This is just one of the many reasons that Major remain on top of their game and continue to be labeled 'the stock and sauce specialist' for over 60 years.
Major Products Company a family owned, International food manufacturer of soup bases, stocks, marinades, bouillion cubes, fruit bases, gravies and sauces originated in 1951.
Founded by Daniel DeRose Sr., along with his son Daniel DeRose Jr., Major Products started in a small garage in Newark, NJ. After several years of initial growth and with the foresight of a true businessman and entrepreneur, Daniel DeRose Jr. moved the production to a state of the art facility in Little Ferry, NJ. Sixty-two years later the company's corporate headquarters are still in that exact location.
From small beginnings to current times, Major Products has grown significantly. Now a global leader in the market, Major can effectively service its customers through multiple plant locations. In North America, our strategic manufacturing in New Jersey and Nevada effectively services all fifty United States and Canada.
In 1989, Major Products expanded into the European Market by starting an operations plant in Northamptonshire, England. With successful growth, Major has expanded again with additional manufacturing in the Netherlands servicing our customers in over 40 countries worldwide.
Major Products continues to be a true family business. Daniel DeRose Jr.'s two children, Daniel DeRose III, and Valerie DeRose are moving the business forward and continue to maintain the strict quality standards and values that Major Products has always adhered to.
We work closely with the catering industry's most aspiring chefs and professional chef organisations. All our products have been created by chefs, for chefs because every one deserves a little help in their kitchen!
Find Major Products Co on Facebook and Twitter.
* Photo Credits Joe Coomber Photography