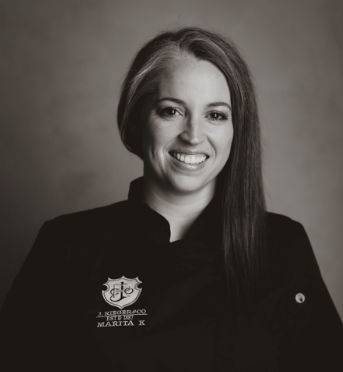 The new J. Rieger & Co. distillery in Kansas City will open on July 12. We are pleased to announce that Chef Marita Swift is the latest addition to the J. Rieger & Co. team. Marita will oversee culinary operations for the distillery's full-service bar and lounge spaces: The Monogram Lounge and The Hey! Hey! Club, as well as special events. Most recently, Marita served as the executive chef at former Californos in the historic Westport neighborhood of Kansas City, and brings years of experience in teaching and creative menu development to her new role as Culinary Director of J. Rieger & Co. She plans to leverage her local knowledge to showcase regional ingredients with a focus on shareable plates that complement the cocktail experience. For a sneak peek at some of the new menu selections and copy of her bio and photos, click here.
Read more about the new J. Rieger & Co. distillery in the historic Electric Park neighborhood of Kansas City here. Please reach out to amanda@gregoryvine.com with questions, including interview requests with Culinary Director Marita Swift and President/co-founder, Andy Rieger. Samples are also available for ongoing coverage.
About Marita Swift; Culinary Director at J. Rieger & Co.
Marita K. Swift is the new Culinary Director at J. Rieger & Co. She is a lover of all things food and an avid creator of edible art. Most recently, Marita was the Executive Chef at the former Californos in the historic Westport neighborhood of Kansas City. Marita has curated menus for more than a thousand weddings, catered within the Kansas City business sector, conducted coursework in the culinary arts, and been featured on several live cooking segments. She is a bold innovator, with extensive professional experience working alongside some of the most respected individuals in her culinary community. When she isn't developing new recipes or expanding on the classics, she has an active family life with three young children, and husband Jared, a professional butcher. She enjoys gardening with her family, exploring the lawn at the Nelson-Atkins, and running on the trail in Hyde Park. Marita attributes her passion for food to her mother, an award-winning chef. Whether at home or on the job, a conversation with Marita will inevitably involve newly discovered flavor combinations, elevated meals with minimal preparation, and the appreciation that some old recipes remain unchallenged favorites. In her world, "going to the market is a guilty pleasure, and recipe books are the narrative of life."
About J. Rieger & Co.
Jacob Rieger & Company was originally founded in 1887 in Kansas City's West Bottoms Livestock Exchange district. The distillery produced over 100 alcoholic products on a national basis, including the iconic Monogram Whiskey, but it was forced to close in 1919 with the advent of Prohibition. In 2014, 95 years after Prohibition, the brand was relaunched as J. Rieger & Co. by hospitality entrepreneur, Ryan Maybee, and Andy Rieger, the great-great-great-grandson of Jacob Rieger. The current distillery is located in the historic Electric Park district of Kansas City and will unveil a significant expansion in the East Bottoms of Kansas City on July 12, 2019. J. Rieger & Co. products include Kansas City Whiskey, Midwestern Dry Gin, Caffè Amaro, and Premium Wheat Vodka, and are available nationally in AR, CA, CO, DE, GA, IL, IN, KS, KY, LA, MD, MN, MO, NE, NJ, NY, OH, PA, TX, WI and DC.