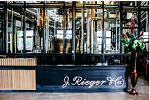 J. Rieger & Co. has opened its new distillery and spirits destination in the historic Electric Park neighborhood of Kansas City. Guests can enjoy an array of innovative cocktails and craft spirit experiences, including: a custom-engineered 40-foot slide to ferry guests from the second-floor Monogram Lounge to the first floor; a whiskey bottling station; a 3,500-square foot Kansas City historical exhibit; two full-service cocktail bars and lounge spaces (The Monogram Lounge and The Hey! Hey! Club); daily distillery tours open to the public; educational seminars and on-site events; multiple private event spaces, and more. The distillery encompasses a significant expansion to 60,000 square-feet, allowing the team to increase production capacity while offering a world-class hospitality center.
Founded by Andy Rieger and Ryan Maybee in 2014, J. Rieger & Co. traces its origins back to the pre-Prohibition era in Kansas City. Co-founder and President Andy Rieger is the great-great-great-grandson of Jacob Rieger, who launched one of the country's most successful mail order spirits companies in 1887. Ryan Maybee, co-founder and VP of Sales & Hospitality, is a nationally acclaimed hospitality entrepreneur, who has received multiple James Beard and Tales of the Cocktail recognitions for his work at Manifesto and The Rieger.
J. Rieger & Co. hosted VIP and media guests in their first discovery of the distillery with an official ribbon-cutting ceremony on Friday, July 12. The many honorable officials in attendance included Mayor Sly James of Kansas City together with representatives of the Kansas City Council and the Economic Development Council of Kansas City. The team also acknowledged key investors and influencers for their profound contributions, including: The City of Kansas City Missouri, the Economic Development Council of Kansas City, MoBank, U.S. Bank, Alt-Cap, and Great Southern Bank.
In a joint statement, Rieger and Maybee shared their enthusiasm for the next chapter in Kansas City's history: "We are proud to be at the forefront of a modern spirits renaissance. Our focus has been to create the highest quality whiskey, gin and other spirits inspired by our vibrant history. We are extraordinarily driven by the national growth and recognition that we have accomplished and will apply that same high standard to shaping the future of our new home here in Electric Park. With this expansion and the incredible talent of our new hospitality team, we can add a visitors' experience to our story while investing in our city and community."
Bill Carson, Business Development Officer with U.S. Bancorp Community Development Corporation, added: "U.S. Bank is proud to be a New Markets and Historic Tax Credit investor in this project. We're excited about J. Rieger & Co.'s expansion in the community and thrilled it will be bringing new life to the former Heim Brewery bottling plant. It not only restores the historic brewery building but brings an economic boost to the re-emerging Electric Park community."
Click here for background information and photos of the new J. Rieger & Co distillery. The architect/designer is GastingerWalker&, and construction was overseen by A.L. Huber. For more information, including interview requests, please contact Amanda Davis, amanda@gregoryvine.com, or Helen Gregory, helen@gregoryvine.com.